Helichrysum aureonitens Sch.Bip.
Family: Asteraceae
Common names: golden everlasting (Eng.); goue sewejaartjie (Afr.); toane-ntja, toane-poli (S. Sotho); impepho-emphlope, indondokozane, inkondlwane (Xhosa)
Introduction
The silvery-white leaves of Helichrysum aureonitens contrast well with green plants and create a sense of coolness in a garden. The golden flowers are also a bonus.
Description
Description
This perennial Helichrysum has many slender, erect, stems, about 300 mm high, arising from a creeping rootstock. The stems and leaves are pale grey because they are covered in white woolly hairs that grow flatly appressed to the surface. The leaves are narrowly oblong to oblong-spathulate, with margins flat or a little revolute (rolled to the underside of the leaf). Each leaf has a tiny, hard, hairless tip.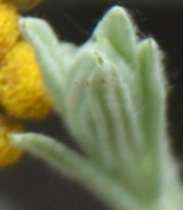 Globose flower heads are borne in terminal, compact clusters. The bracts around each head and all the tiny flowers therein are bright yellow, often tinged with brown. Flowering time is from September to February. The fruits are one-seeded and each bears a number of fine bristles.
Conservation Status
Status
The conservation status of Helichrysum aureonitens is of little concern, as it is very common.
Distribution and habitat
Distribution description
Helichrysum aureonitens is widespread in grassland from Limpopo, North-West, Gauteng, and Mpumalanga in the north, then south through Swaziland, eastern Free State, Kwazulu-Natal and western Lesotho, to Eastern Cape, as far as King William's Town. Hence it is found in the summer rainfall parts of South Africa. It grows in full sun in moist to well-drained places, in sandy loam soils.
Derivation of name and historical aspects
History
About 240 species of Helichrysum are indigenous to South Africa. The name Helichrysum is derived from the Greek words helios, sun, and chrysos, gold, as there are many species with yellow flower heads. In Latin aureonitens means gold and shiny.
Ecology
Ecology
From dried specimens it would appear that new shoots form regularly, or perhaps after fire. The tiny seeds are probably blown or washed away from the parent. This species of Helichrysum acts as a good soil binder.
Uses
Use
Many Helichrysum species are used in traditional medicine. H. aureonitens is used 'to invoke the goodwill of ancestors, and by diviners to induce trances' (Pooley 1998). It is also used as a remedy for bed-wetting in children and for treating a wide range of infections. In rural areas it is used to kindle fires by friction. It can be used to keep red mites away.
Growing Helichrysum aureonitens
Grow
Helichrysum aureonitens is not usually cultivated, but it has good potential as its golden flowers and silvery-white foliage are very attractive, although small. Dividing large clumps may be a successful method of propagation. Seeds are usually difficult to grow as they need to be stimulated by fire to germinate. Treatment with smoke essence may be effective. A well-drained sandy soil, with plenty of compost would probably be a suitable growth medium with moderate water.
This plant would look good if planted with other yellow-flowered plants such as Bulbine frutescens or Senecio tanacetopsis. If mixed colours are preferred, plant this Helichrysum next to Scabiosa africana with mauve flowers, or place it behind dark pink Pelargonium reniforme subsp. reniforme. The leaves of the last plant are greenish grey and it would make an interesting partner, even when not in flower.
References
Afolayan, A.J., Meyer, J.J.M. & Leeuwner, D.V. 1997. Germination in Helichrysum aureonitens (Asteraceae): effects of temperature, light gibberellic acid, scarification and smoke extract. South African Journal of Botany 63: 22.
Fabian, A. & Germishuizen, G. 1997. Wild flowers of northern South Africa. Fernwood Press, Vlaeberg, Cape Town.
Hilliard, O.M. 1983. Flora of southern Africa, vol. 33, part 7: Inuleae, fascicle 2: Gnaphaliinae (first part).
Joffe, P. 1993. The gardener's guide to South African plants. Tafelberg, Cape Town.
Pooley, E. 1998. A field guide to flowers of Kwazulu-Natal and the Eastern Region. Natal Flora Publications Trust, Durban.
Pooley, E. 2003. Mountain flowers. Field guide to the flora of the Drakensberg and Lesotho. Natal Flora Publications Trust, Durban.
Watt, J.M. & Breyer-Brandwijk, M.G. 1962. The medicinal and poisonous plants of southern and eastern Africa, edn 2. Livingston, Edinburgh and London.
Credits
J. Ready
National Herbarium, Pretoria
December 2007
Plant Attributes:
Plant Type: Perennial
SA Distribution: Eastern Cape, Free State, Gauteng, KwaZulu-Natal, Limpopo, Mpumalanga, North West
Soil type: Sandy
Flowering season: Spring, Early Summer
PH:
Flower colour: Yellow
Aspect: Full Sun
Gardening skill: Average
Special Features:
Medical plant
Horticultural zones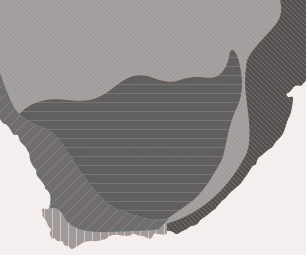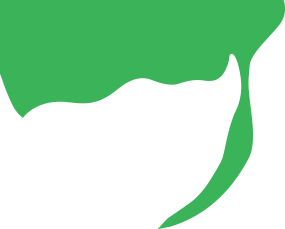 Zone 1 Coastal summer rainfall, frost free
Zone 4 Summer rainfall Karoo and Highveld, Frost in winter
Zone 5 Bushveld summer rainfall, Light frost
Google QR Code Generator