Helichrysum foetidum (L.) Moench
Family: Asteraceae
Common names: stinking strawflower, stinking yellow everlasting (Eng.); muishondblaar, geelsewejaartjie, vleisewejaartjie (Afr.); isicwe (Zulu)
Introduction
The glossy, deep yellow flowerheads of Helichrysum foetidum catch the eye. This hardy, water-wise plant could enhance many gardens.
Description
Description
This Helichrysum is a robust, biennial, strong-smelling herb. The stem is simple or sparsely branched from the base, 0.3-1 m tall, and the young parts thinly white-hairy. The leaves are grouped at the stem base, but they wither at the time of flowering. They are up to 120 x 150 mm and elliptic with a clasping base. The upper surface is sparsely hairy, whereas the lower is thinly white-woolly. Many flowerheads are borne in a large, leafy, spreading umbrella-like inflorescence. The involucral bracts (surrounding the flowerheads ) are in 8 to 9 series, imbricate, the inner ones much longer than the flowers. The achenes (fruits) are 0.75-1 mm long and glabrous. Each has a set of pappus bristles whose bases cohere lightly by means of tiny hairs.
H. foetidum is much confused with H. cooperi which has leaves that are decurrent on the stem and lack the white wool underneath. It is also mistaken for H. decorum which overlaps in distribution from the Cape Peninsula to the Bashee River mouth on the Transkei coast and inland to the Baziya mountains in the Engcobo District. H. decorum is slightly aromatic when fresh but lacks the strong, persistent, foetid odour of H. foetidum. The flowerheads of the latter are smaller than those of H. decorum. H. foetidum leaves are always thinly white woolly below, whereas those of H. decorum are woolly on one or both surfaces. The flowering time is from October to May.
Conservation Status
Status
According to the Red List of South African Plants (Golding & Mössmer 2002), the species is not threatened. However, its status can change as it grows mostly along the coast where much development is taking place.
Distribution and habitat
Distribution description
H. foetidum has been recorded from the Umtentu River in the Eastern Cape to the hills around Komga, King Williams's Town and Stutterheim, the Amatola Mountains and Katberg, thence along the coastal mountain ranges to the Cape Peninsula and northwards through Worcester and Tulbagh to the Cederberg. The plants are generally adapted to resist both drought and frost and thrive in rocky, well-drained slopes in the mountains or hills. They are also found particularly in damp places along streams or on forest margins. The biomes include Sub-Escarpment Grassland, Drakensberg Grassland, Sub-Escarpment Savannah, Indigenous Forest, Indian Ocean Coastal Belt, Albany Thicket and Fynbos-Renosterveld. The habitat ranges in altitude from 5 to 1670 m.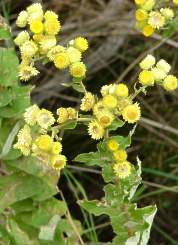 Derivation of name and historical aspects
History
The genus Helichrysum Mill. was named by Phillip Miller (1691-1771), a British gardener who was superintendent of the Society of Apothecaries, Chelsea Physick Garden from 1722 to 1770. The name Helichrysum comes from the Greek helios meaning sun, and chrysos meaning gold. Most helichrysums have golden yellow flowers, thus the name describes this genus well. The specific epithet foetidum (Latin) means evil smell.
The species name was first published by Linnaeus (1707-1778), the famous Swedish professor of medicine and botany at Uppsala from 1740 to 1778, and founder of modern plant systematics and nomenclature. He used the name Gnaphalium foetidum in Species plantarum (1753). It was combined later by Conrad Moench (1744-1805), a German botanist, chemist and pharmacist, and professor of botany at Marburg University (1785-1805), with Helichrysum as H. foetidum in Methodus plantas (1794).  There are 600 Helichrysum species largely in Africa and Madagascar, but also in Europe, Asia and Australia. In southern Africa there are 245 species which are widely distributed. There is a considerable variety of form and habit in this genus which includes annuals, perennials and dwarf shrubs. They all bear the glossy, papery flowers, that are found in a wide range of colours and in single and double forms.
Ecology
Ecology
H. foetidum is pollinated by bees, wasps, butterflies and yellow spiders that match the flowerheads exactly in colour.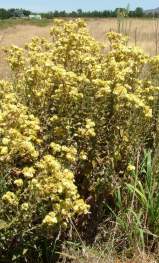 The fruits have pappus bristles, so are easily dispersed by wind. H. foetidum leaves are roughly hairy above and thinly white woolly below. This may help reduce water loss. The woolliness may also make the plant unpalatable to most herbivores, especially sheep. These plants are fire ephemerals in fynbos patches. They grow rapidly, flower profusely in the first few years and produce large numbers of tiny seeds. These are capable of persisting in the soil until the next fire; whereafter they germinate. Hence fire is unlikely to interfere with their reproduction.
Uses
Use
The leaves of Helichrysum foetidum are said to make an excellent dressing for a festering sore and are used as a circumcision wound dressing. The plant is also used traditionally by some young girls to relieve menstrual pains. In East Africa roots are used for eye complaints and the leaves for influenza. Together with H. decorum and H. stenopterum, H. foetidum is inhaled by traditional healers to induce a trance. Chemical constituents: involucral leaves contain helichrysin (Watt & Breyer-Brandwijk 1962).
H. foetidum is easily confused with H. cooperi, an ointment of which is made from dried leaves and applied to the body as a love charm by men. If the flowers are dried well, they keep their colours for winter decoration. Horticulturally helichrysums are hardy plants, have many uses and create lovely displays: an example is the ground cover H. argyrophyllum. This plant has attractive felty, silvery grey leaves that show up beautifully where it trails over an embankment, walls or stones.
Growing Helichrysum foetidum
Grow
Plant  in a warm, sunny position in well-drained, sandy soil, adding plenty of compost. Do not overwater. If conditions are too moist and the drainage is bad, this plant tends to die back in large patches. If cut back by frost it will recover rapidly in spring.
Propagate from seed or by lifting rooted runners. After flowering, the flower stalks should be cut back. Snails are a common pest and can be removed by hand.
References
Germishuizen, G. & Meyer, N.L. 2003. Plants of southern Africa : an annotated checklist. Strelitzia 14. National Botanical Institute, Pretoria,
Goldblatt, P & Manning, J. 2000. Cape plants. A conspectus of the Cape flora of South Africa, Strelitzia 9. National Botanical Institute and Missouri Botanic Garden Press, St Louis.
Golding, J.S. & Mössmer, M. 2002. Southern African plant Red Data Lists. Southern African Botanical Diversity Network Report No. 14.
Hilliard, O.M. 1983. Asteraceae, Gnaphaliinae (first part). Flora of southern Africa 33, Part 7, Fasc. 2. National Botanical Institute, Pretoria.
Hutchings, A., Scott, A.H., Lewis, G. & Cunningham, A.B. 1996. Zulu medicinal plants: an inventory. University of Natal Press, Pietermaritzburg.
Joffe, P. 2003. Easy guide to indigenous shrubs. Briza Publications, Pretoria.
Smith, C.A. 1966. Common names of South African plants. Memoirs of the Botanical Survey of South Africa No. 35.
Van Wyk, B-E. & Gericke, N. 2000. People's plants. A guide to useful plants of southern Africa.Briza Publications, Pretoria.
Watt, J.M. & Breyer-Brandwijk, M.G. 1962. The medicinal and poisonous plants of southern and eastern Africa. Livingstone, Edinburgh and London.
Credits
Swelankomo Nonkululeko
National Herbarium, Pretoria
November 2005
Plant Attributes:
Plant Type: Perennial, Shrub
SA Distribution: Eastern Cape, Western Cape
Soil type:
Flowering season: Early Summer, Late Summer
PH:
Flower colour: Yellow
Aspect:
Gardening skill: Average
Special Features:
Attracts butterflies
Drought resistant
Medical plant
Feeds honeybees
Horticultural zones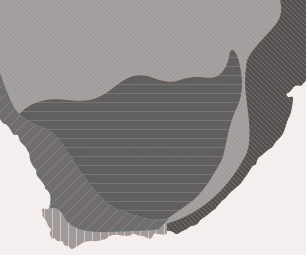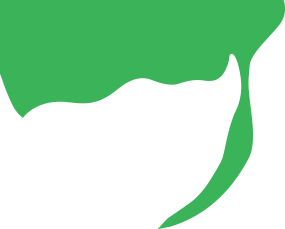 Zone 1 Coastal summer rainfall, frost free
Zone 4 Summer rainfall Karoo and Highveld, Frost in winter
Zone 5 Bushveld summer rainfall, Light frost
Google QR Code Generator