Helichrysum molestum Hilliard
Family: Asteraceae
Common names:
Introduction
Helichrysum molestum is one of the attractive everlastings with bright yellow flower heads. The taxonomy of this group caused Dr Hilliard so much trouble when she did the revision that she just had to name one of the species molestum, meaning troublesome!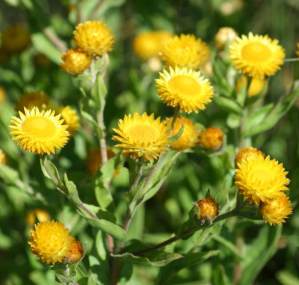 Description
Description
Helichrysum molestum is a perennial herb up to 1 m tall, producing several stems that are simple below and branching into compound inflorescences. Branches are stout and sticky with numerous tiny glands. The uppermost parts are cobwebby and closely leafy. Leaves are mostly 65-100 x 18-32 mm, smaller on the inflorescence branches, oblong or oblong-ovate, the tip acute with a sharp point and the base clasping the stems. Both leaf surfaces are glandular and sticky.
Flower heads are large and somewhat flattened, ± 11-14 mm long, 20-30 mm across the radiating bracts. Many flower heads are borne in an open, branched inflorescence. Bracts are much longer than the florets, glossy, bright yellow and radiating. Pappus bristles are many and the same length as the florets. It flowers mainly in March and April.
Helichrysum molestum can be easily be confused with H. difficile, but is usually more robust, with larger leaves; it is distinguished from H. cooperi by its perennial habit and larger heads.
Conservation Status
Status
According to the SANBI Threatened Species Programme, the conservation status of Helichrysum molestum is Least Concern, widespread and not declining.
Distribution and habitat
Distribution description
Helichrysum molestum favours moist ground in rough, usually disturbed grassland or at the margins of scrub or forest patches. Recorded with certainty from the highlands of Mpumalanga, from Mount Anderson south to the Barberton Mountains, but possibly ranges as far north as the Soutpansberg, west along the Magaliesberg, and south to northern KwaZulu-Natal. It grows in the Grassland and Savanna Biomes.
Derivation of name and historical aspects
History
The genus Helichrysum was named by Philip Miller (1691-1771), who was the chief gardener at the Chelsea Physic Garden in London from 1721 until shortly before his death.
The genus name Helichrysum comes from the Greek words helios, meaning sun, and chrysos, meaning gold. Most species of this genus have golden yellow flowers.
The species name molestum is Latin meaning irksome, troublesome, burdensome, annoying. This name was given by Dr Olive M. Hilliard, a well known South African botanist with special interest in the flora of Natal and particularly in the taxonomy of Streptocarpus, the Asteraceae and Scrophulariaceae.
Ecology
Ecology
Pollination is by a variety of insects, including bees, flies and beetles. Seed dispersal is by water or wind.
Uses
Use
Helichrysum molestum leaves are very aromatic and can used for potpourri (a mixture of dried, natural fragrant plant material, used for natural scent usually placed in a decorative bowl). The flower heads keep their bright yellow colour for many years.
Growing Helichrysum molestum
Grow
This species should grow easily from seed but can become a troublesome weed. It will do well in temperate wetland areas.
References
Gunn, M. & Codd, L.E. 1981 Botanical exploration of southern Africa. Balkema, Cape Town.
Hilliard, O.M. 1983. Asteraceae: Inuleae: Gnaphaliinae (first part). Flora of southern Africa 33, part 7, fascicle 2. Botanical Research Institute, Pretoria.
Leistner, O.A. (ed.). 2000. Seeds plants of southern Africa : families and genera. Strelitzia 10. National Botanical Institute, Pretoria.
Credits
M Koekemoer & JJJ Mnengwane
National Herbarium Pretoria
March 2007
Plant Attributes:
Plant Type: Perennial
SA Distribution: Gauteng, Limpopo, Mpumalanga
Soil type:
Flowering season: Late Summer
PH:
Flower colour: Yellow
Aspect: Full Sun
Gardening skill: Easy
Special Features:
Wet sites
Horticultural zones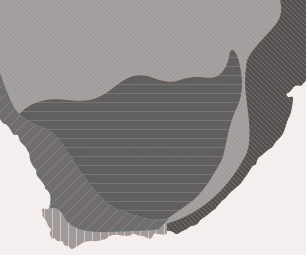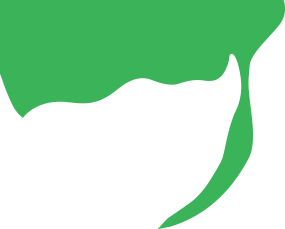 Zone 4 Summer rainfall Karoo and Highveld, Frost in winter
Zone 5 Bushveld summer rainfall, Light frost
Google QR Code Generator