Helichrysum splendidum (Thunb.) Less.
Family: Asteraceae
Common names: cape gold (Eng.); geelsewejaartjie (Afr.); phefo-ea-loti, toanae-moru (S.Sotho)
Introduction
Helichrysum splendidum is indeed a splendid shrub, with shining, silver-grey foliage and a mass of golden everlasting flowers in midsummer.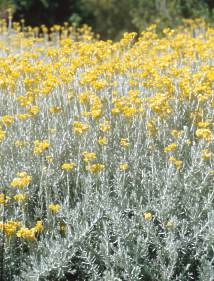 Description
Description
A fast-growing shrub, Helichrysum splendidum can grow to 1.5 m x 1 m within 2 years, forming a dense grey mound. The new growth on the outside is stiff, but not woody. The older branches at the base and in the middle of the bush turn hard and brown with age. The stems are covered with a thick felt of woolly white hairs. The soft young leaves are also covered with grey woolly hairs. The leaves are aromatic with a slight camphor scent when rubbed. Pointing upwards, the leaves overlap each other, almost completely covering the stem. Typical for this species, the leaves are narrow (10-30 mm x 1-2 mm) and tipped with a short hard point. The leaf margins are rolled to the underside making the leaves even narrower. In mid-summer, from November to February, the shrub is covered with bright yellow flowers. The compact flower heads at the tip of the stems are densely packed with small everlasting flowers. The tight buds of bright yellow papery bracts open slowly over several weeks to reveal the darker yellow flowers in the centres. The flowers have a slightly sweet perfume.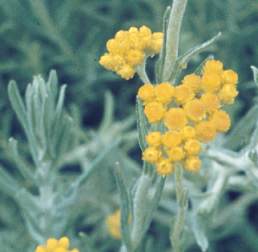 Distribution and habitat
Distribution description
Helichrysum splendidum occurs naturally in the summer rainfall areas of South Africa, from the Swartberg and Outeniqua mountains in the southern Cape through Eastern Cape, KwaZulu-Natal, Free State, Swaziland, Lesotho to tropical Africa. Along this wide distribution, this evergreen and frost-hardy shrub can be found on rocky slopes, forest margins, stream gullies and mountain tops.
Derivation of name and historical aspects
History
The name Helichrysum is derived from the Greek helios meaning sun, and chrysos meaning gold, referring to the bright yellow colour of the flower heads. The species name splendidum means splendid in Latin. The Afrikaans common name, sewejaartjie, is given to most of the helichrysums with papery, everlasting flowers, and is derived from the belief that the flower heads last for seven (sewe) years (jaar) when kept in the house. The prefix geel means yellow.
Helichrysum splendidum belongs to the Asteraceae or daisy family, one of the largest and best-known families. Worldwide there are 1 530 genera and about 22 800 species in this family. In the genus Helichrysum, also known as strawflower, strooiblom or sewejaartjie, there are about 500 species, which are found mainly in Africa.
Ecology
Ecology
The grey colour, woolly covering and narrow leaf shape are adaptations to help the plant reduce its water loss. The grey colour reflects the sunlight, while the woolly hairs and small leaf surface reduce transpiration.
Uses
Use
Helichrysums are well-known and very popular for traditional medicine in South Africa, their uses often linked to their distribution. Elsa Pooley mentions in the field guide to the Flora of the Drakensberg and Lesotho that Helichrysum splendidum has been used to treat rheumatism and that it is a good fuel plant in the mountains. It is also used in potpourri, and lasts well in a vase as a cut flower. In the garden, Helichrysum splendidum makes a colourful display for Christmas and the summer holidays when one spends time outdoors, especially in the evenings when the silver-grey foliage stands out. Attractive even when not in flower, it is most effective planted in large groups along the edge of the lawn and path, or as a backdrop at the back of a bed. Flowering at the same time as agapanthus, the grey and yellow shrub makes a lovely contrast with the dark blue flowers in front of it.
Growing Helichrysum splendidum
Grow
This easy-to-grow shrub requires very little maintenance provided that it is given a large enough area to spread without smothering its neighbours. Like most plants with grey foliage, Helichrysum splendidum needs to be planted in the full sun and should not be over-watered. Planted in a well-composted bed with good drainage, full sun and occasional good watering, Helichrysum splendidum can grow for many years before becoming too woody or untidy. To shape and encourage new growth, the shrub can be pruned lightly after flowering.
New plants can be propagated from seed or cuttings. At Kirstenbosch most of the new plants are propagated from cuttings made from new non-flowering shoots. Young plants do not last very well in bags before they get untidy, and should be planted out as soon as their root systems are well developed.
References
Germishuizen G & Meyer NL, 2003. Plants of Southern Africa, Strelitzia 14, Pretoria, National Botanical Institute
Goldblatt P & Manning J, 2000. Cape Plants, Strelitzia 9, Pretoria, National Botanical Institute
Goldblatt P, Manning J; Wildflowers of the Fairest Cape; ABC Press; Cape Town; 2000
Hilliard O M, 1983. Flora of Southern Africa, Volume 33, Botanical Research Institute
Joffe P, 2003. Indigenous Shrubs, Pretoria, Briza
Pooley E, 2003.Mountain flowers, A field guide to the Flora of the Drakensberg & Lesotho, Durban, Flora Publications Trust
Smith, C.A. 1966. Common Names of South African Plants. Dept. of Agricultural Technical Services, Botanical Survey Memoir No 35, Government Printer.
Credits
Liesl van der Walt
Kirstenbosch National Botanical Garden
December 2003
Plant Attributes:
Plant Type: Ground Cover, Shrub
SA Distribution: Eastern Cape, Free State, KwaZulu-Natal, Mpumalanga, Western Cape
Soil type:
Flowering season: Early Summer, Late Summer
PH:
Flower colour: Yellow
Aspect: Full Sun
Gardening skill: Easy
Special Features:
Feature plant
Fragrant
Medical plant
Horticultural zones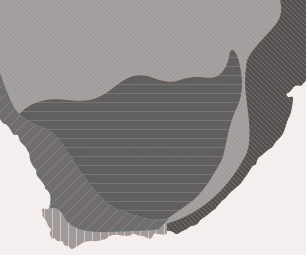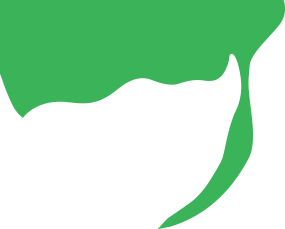 Zone 1 Coastal summer rainfall, frost free
Zone 2 Coastal winter rainfall, frost free
Zone 3 Winter rainfall Karoo, light frost
Zone 4 Summer rainfall Karoo and Highveld, Frost in winter
Zone 5 Bushveld summer rainfall, Light frost
Google QR Code Generator