Hermannia saccifera (Turcz.) K. Schum.
Family: Malvaceae
Common names: cumin hermannia (Eng.); komynbossie (Afr.)
Introduction
Hermannia saccifera is fairly widespread along the southern coast of South Africa, where it occurs on stony clay slopes from the Riviersonderend mountains and Bredasdorp in the Western Cape to Uitenhage in the Eastern Cape.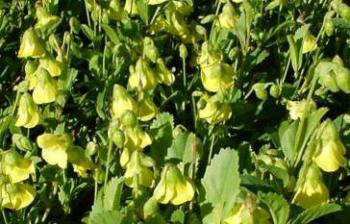 Description
Description
In its natural habitat the plant is a low sprawling strangling shrublet to 400 mm, however in cultivation, although still a sprawler, it maintains a very compact habit, rarely exceeding 100 mm in height. The leaves are smooth, hairless, shiny, regularly toothed and bright green in colour.

The flowers, usually 2 per peduncle, are bright yellow, pendulous, bell-shaped and cover the plant during spring (August to October), making quite a show.
Conservation Status
Status
Hermannia saccifera is not threatened.
Distribution and habitat
Distribution description
Hermannia saccifera grows on stony clay slopes in the Riviersonderend Moutains to Bredasdorp in the Western Cape into the Eastern Cape.
Derivation of name and historical aspects
History
Hermannia saccifera was first described in 1858 as Mahernia saccifera by Turczanimow. It was later transferred to the genus Hermannia, by K. Schuman. Hermannia is named after Paul Herman (1640-1695), German professor of botany at Leyden and one of the first travellers and collectors at the Cape, while Mahernia is an anagram of Hermannia, although missing an n, and has no significance other than that. The specific name saccifera is Latin and loosely translated means 'carrying or bearing a bag'. It is known locally as the komynbossie (cumin bush), and honey made from the nectar is known as komynheuning (cumin honey), presumably because the flavour it gives the honey is reminiscent of cumin.
There are about 180 species of Hermannia, approximately162 of which occur in southern Africa and 11 in tropical Africa with 30 southern African species that extend their ranges into tropical Africa. There are only 3 species in America and 1 or more in Australia.
Ecology
Ecology
Hermannia saccifera flowers are well visited by bees.
Uses
Use
No cultural or medicinal uses are known. Hermannia saccifera can be used as a groundcover, a container plant, or a hanging basket plant, and is suitable for coastal gardens. It works particularly well as a groundcover on a slope, hanging over a wall, in a rockery, or in terraforce walls.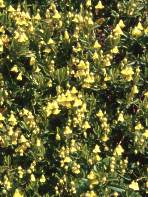 Growing Hermannia saccifera
Grow
Hermannia saccifera is a medium to fast growing, evergreen, prostrate, mat-forming herbaceous perennial. It is best on a slope in a sunny position, in acidic to neutral, well-drained, sandy loam soil. A single plant can be expected to cover one square metre in a year. Hermannia saccifera is wind tolerant, but is sensitive to frost and requires protection in the colder regions of South Africa. It also qualifies as a water-wise (drought tolerant) plant, and when established tolerates the winter rainfall - summer drought conditions in the Western Cape very well, but does require at least a weekly watering in summer to look its best. It has no major pests or diseases, and can be pruned to shape as required.
Propagation is by seed or cuttings, but seed grown plants appear to make stronger plants and are quicker to establish themselves when planted out than those produced by cuttings. Seed is best sown in late summer to autumn, or in spring. The seedlings should emerge within 10 days and can be pricked out when large enough to handle. Softwood or herbaceous cuttings should be taken from a vigorous actively growing mother plant in spring to early summer, treated with a rooting hormone, and placed in a propagation unit with bottom heat of up to 28C (80F) and intermittent mist. Rooting should occur within 4 weeks, with a 40% success rate.
References
Saunders, R. 1987, A plant worth cultivating - Hermannia saccifera, Veld & Flora, Volume 73(1):24-25
Goldblatt, P. & Manning, J., 2000, Cape Plants, A Conspectus of the Cape Flora of South Africa, NBI, Pretoria & Missouri Botanical Garden Press, Missouri
Smith, C.A., 1699, Common Names of South African Plants, Dept. of Agricultural Technical Services, Botanical Survey Memoir No 35, Government Printer.
Jackson, W.P.U., 1990, Origins and Meanings of Names of South African Plant Genera, U.C.T. Printing Dept., Cape Town.
Kirstenbosch Horticultural Notes
Leistner, O.A. (ed.), 2000, Seed plants of southern Africa: families and genera, Strelitzia 10., National Botanical Institute, Pretoria.
Credits
Bernard Brown & Alice Notten
Kirstenbosch National Botanical Garden
August 2001
Plant Attributes:
Plant Type: Ground Cover, Scrambler, Shrub
SA Distribution: Eastern Cape, Western Cape
Soil type: Sandy, Clay, Loam
Flowering season: Spring
PH: Acid, Neutral
Flower colour: Yellow
Aspect: Full Sun
Gardening skill: Easy
Special Features:
Good potplant
Feeds honeybees
Horticultural zones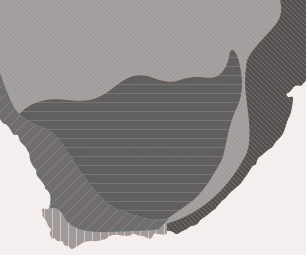 Zone 1 Coastal summer rainfall, frost free
Zone 2 Coastal winter rainfall, frost free
Google QR Code Generator