Heywoodia lucens Sim
Family: Phyllanthaceae
Common names: stink-ebony, Cape-ebony, foetid-ebony, black-ebony (Eng.); stinkebbehout, swartebbehout (Afr.); umnebelele (Xho.); umnebelele, ibeyana (Zul.)
SA Tree No: 306
Introduction
Cape-ebony or stink-ebony as it is also known, is a tall, evergreen tree and the only species in the genus Heywoodia; it is usually found growing in coastal, riverine and scarp forests in eastern South Africa.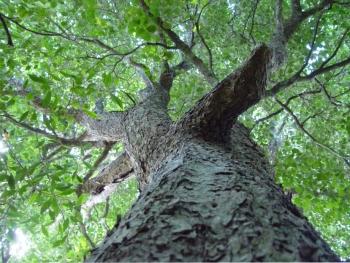 Description
Description
Heywoodia lucens is an evergreen, high-branching tree, that grows up to a height of 25 m. The canopy or crown of the tree is much branched and the shape the tree takes usually is determined by the trees that grow around it. It has a silvery green to grey-brown or dark brown stem that gets rough and flakes away in thin and large patchy pieces, as the tree gets older. The trunk is usually straight and bare and may reach 1 m in diameter when it is fully developed.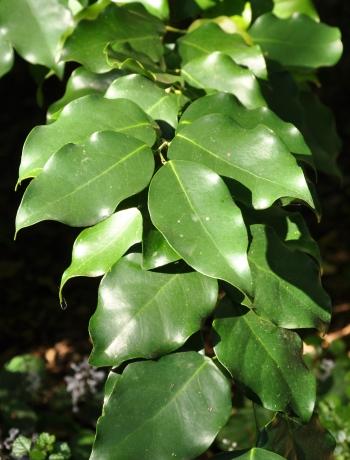 The leaves are dark glossy green, leathery with clear veins. They are simple, alternate, ovate to lanceolate, the tip tapering, whereas the base is rounded to broadly tapering.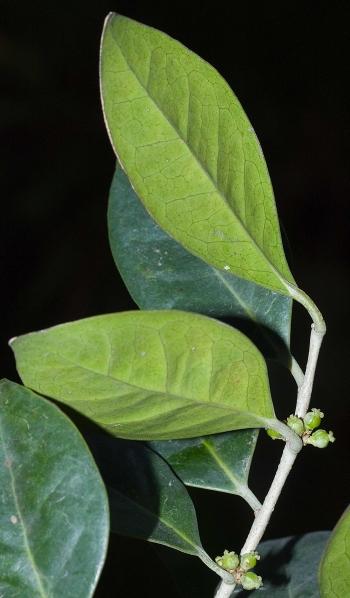 The flowers are produced in small, dense axillary heads, greenish cream-coloured, not showy and they drop very easily. H. lucens is dioecious with male and female sexes occurring on separate trees.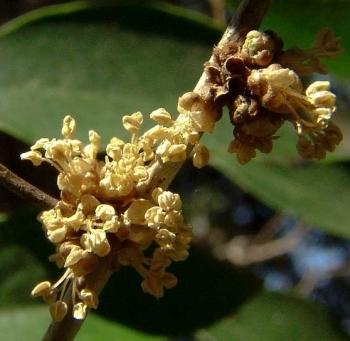 Male flowers are stalkless and are borne in dense clusters and in greater numbers than the female flowers.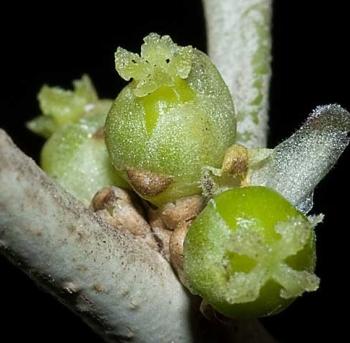 The female flowers have short stalks and are borne in the axils of the leaves in small clusters or singly.
The fruits grow in small bunches on fruiting stems; they are yellow-green, roundish, fleshy capsules, 10 mm long and 20 mm wide, smooth when fresh, wrinkled when dry, splitting explosively into 5 valves, each of which splits again and forms 10 segments. Seeds are narrowly oblong, light brown, smooth and shiny. The flowering period is in spring (October) followed by the fruits, which are on the trees in early summer (from October to December).
Conservation Status
Status
The stink-ebony is assessed as Least Concern (LC), according to the SANBI Red List of South African plants.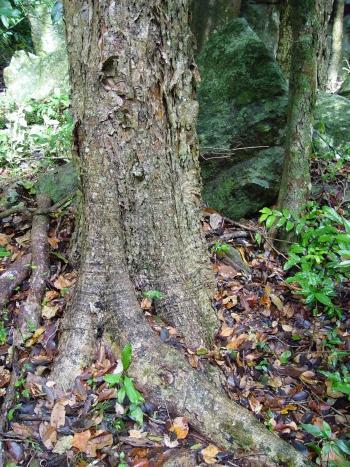 Distribution and habitat
Distribution description
Heywoodia lucens occurs naturally in evergreen forests and grows in small groups, usually in dry and sandy soils. It is quite a dominant canopy tree in scarp and riverine forests and in dune swamp forests of the Eastern Cape and KwaZulu-Natal Provinces of South Africa; also in Swaziland and the southern part of Mozambique. This species has a disjunct distribution and also occurs 2 600 km away from Kenya and Uganda to northern Tanzania. H. lucens is not endemic to South Africa.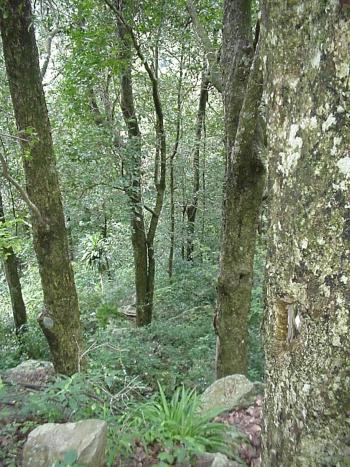 Derivation of name and historical aspects
History
Heywoodia is named after A.W. Heywood who was a conservator of the Tsitsikama and Transkei forests, during the 1800s. The species names lucens, means 'shiny' or 'shining', referring to its glossy leaves.
The genus Heywoodia is classified under the Phyllanthaceae family, which comprises about 2 000 species. The genus Heywoodia is monotypic, which means it is the only member of this taxonomic group and contains only 1 species.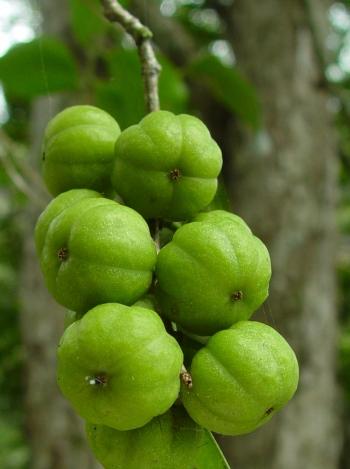 Ecology
Ecology
Heywoodia lucens is dioecious, meaning that the male and female flowers are present on separate plants. In order for pollination to occur, a male and female plant must be present, as it is physically impossible for self-pollination to occur. It is necessary to plant Heywoodia in groups with at least 1 male tree that will serve to pollinate a number of female trees around it.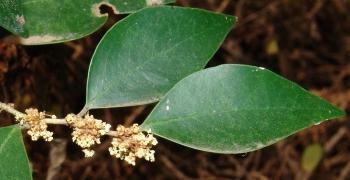 Uses
Use
The heartwood is hard and heavy, close-grained and strong, dark purple, drying black, and strong smelling. The wood of this tree is used to make poles, sleighs, tool handles and wooden spoons. It is suitable for heavy construction, flooring, railway sleepers, toys, etc. The wood is also used for firewood and for charcoal production.
Heywoodia is a slow-growing plant; therefore it will be more suitable for large and long term gardens, such as botanical gardens and parks. Potentially H. lucens makes a great specimen tree. At Kirstenbosch National Botanical Garden this tree is planted in the Aboretum, where the 'Boomslang' Tree Canopy Walkway is situated, and also in various other sections in the garden, with some specimens planted over twenty years ago.
Growing Heywoodia lucens
Grow
Heywoodia lucens is best grown from seed sown in summer, as well as throughout the year. Sow in a potting mix of fine bark, sand and compost (fine bark 2: river sand 2: compost 2) adding a slow-release fertilizer to promote growth, as soon as the seeds have germinated. Cuttings take longer to root and do not root as easily, as the stem is hardwood even on young growth. If one has to take cuttings, tip cuttings may be used, as they are usually softer.
It may be grown in a sunny to semi-shaded position in the garden. This type of tree doesn't respond well to coppicing, which means cutting back trees to ground level, in order to stimulate growth or encourage shoots to develop their own roots. H.lucens is a better performer when planted in rather small groups.
References
Coates Palgrave, K. 1983. Trees of southern Africa. Struik, Cape Town.
EOL, Encyclopedia of Life, Heywoodia lucens. Accesssed 19 February 2018. http://eol.org/pages/1142971/overview
Milne-Redhead, E. 1957. Heywoodia lucens Sim. A tree new to tropical Africa. Bulletin du Jardin botanique de l'etat a Bruxelles. Accessed via JSTOR https://www.jstor.org/stable/3666967?seq=1#page_scan_tab_contents
Oyen, L.P.A., 2011. Heywoodia lucens Sim. [Internet] Record from PROTA4U. Wageningen, Netherlands. . Accessed 19 Feby 2018.
Palmer, E. & Pitman, N. 1972. Trees of southern Africa . Balkema, Cape Town.
Radcliffe-Smith, A. 1996. Heywoodia lucens. Flora zambesiaca, Vol 9, Part 4 accessed via JSTOR http://plants.jstor.org/stable/10.5555/al.ap.flora.fz6783
Thomas, V. & Grant, R. 2004. Sappi tree spotting: KwaZulu-Natal and Eastern Cape. Jacana Media, Johannesburg.
Credits
Sisanda Alakhe Velembo
Kirstenbosch National Botanical Garden
March 2018
Acknowledgments: The author thanks Geoff Nichols for the images of Heywoodia lucens in flower and fruit, and in habitat.
Plant Attributes:
Plant Type: Tree
SA Distribution: Eastern Cape, KwaZulu-Natal
Soil type: Sandy, Loam
Flowering season: Spring
PH: Acid, Neutral
Flower colour: Green, Cream
Aspect: Shade, Morning Sun (Semi Shade), Afternoon Sun (Semi Shade)
Gardening skill: Average
Special Features:
Feature plant
Useful plant
Horticultural zones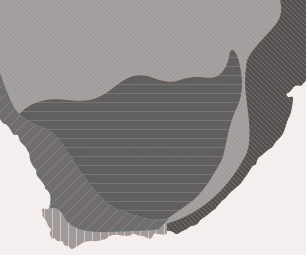 Zone 1 Coastal summer rainfall, frost free
Zone 2 Coastal winter rainfall, frost free
Google QR Code Generator