Hibiscus tiliaceus L.
Family: Malvaceae
Common names: wild cotton tree, coast hibiscus, lagoon hibiscus, tree hibiscus (Eng.); wildekatoenboom, kusvuurblom (Afr.)
SA Tree No: 464
Introduction
Hibiscus tiliaceus is the only Hibiscus species which really becomes a small tree. It belongs to a family that is unmistakable when in flower, the cotton or hibiscus family.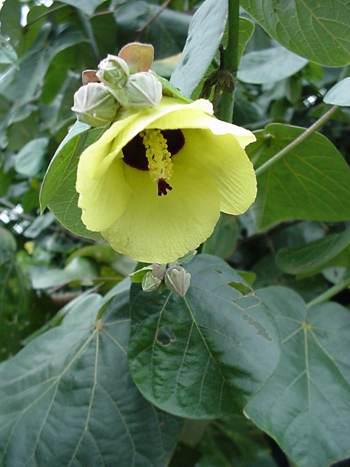 Description
Description
H. tiliaceus is a large, stout, open-branched shrub or small tree with spreading branches. It grows to a height of 3-6 m. Stems long and flexible. Young branches, buds and flowers densely covered with short soft hairs. Bark pale greyish brown, smooth or with lenticels (small corky dots on young stems allowing gas exchange between plant and environment), becoming rough with age.
Large dark green simple leaves are heart-shaped to almost circular, or broader than long, 30-150 mm in diameter or larger; 5- to 9-veined from the base, veins prominent, each of the main veins with a slit or elongated gland near the base; velvety white to greyish, densely and finely tomentose below , olive-green and glabrescent (becoming hairless) on the upper surface ; apex abruptly pointed; base deeply lobed; margins entire or minutely toothed; petiole (leaf stalk) up to120 mm long , with stellate (star-shaped) hairs, sometimes hairless; stipules ( small appendages at the base of leaves) broad, up to about 30 x 15 mm, ovate-cordate, caducous (falling off during the life of the organism), sheathing the stem, falling off early to leave a scar almost all the way around the stem.
The inflorescence seems to be cymose (as in an inflorescence in which the main axis and all side branches end in a flower) but the apparently terminal flowers are really axillary ( arising from the axil of a leaf). Bracts (modified leaves associated with flower) ovate; paired with the stipules, each pair occupies the complete circumference of the stem, leaving a circular scar after falling off.
Flowers large, showy, up to 120 mm in diameter, yellow with dark maroon or blackish centre, deepen to orange or apricot as they mature, flowers fading after 1 day and turn orange-red before they are shed. Flowers have five free petals 60 -70 x 40-60 mm, obovate, twisted. the stamens many, united into a distinctive tube up to 25 mm long around the style.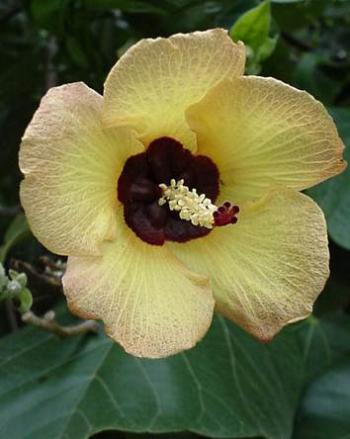 Fruit an ovoid or subglobose capsule, tapering to the apex, 20-25 mm long, covered with golden hairs. Seeds almost kidney-shaped, 4.5 x 3 mm, smooth.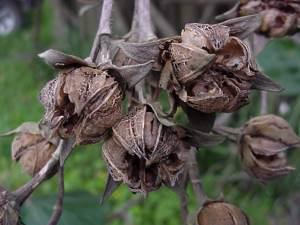 Growth rate of the plant is fast.
Conservation Status
Status
H. tiliaceus is placed in the Least Concern (LC) category (Raimondo et al . 2009).
Distribution and habitat
Distribution description
H. tiliaceus occurs along the coast from the Eastern Cape to Zululand and extends into the tropics where it is widespread along the seashore on margins of watercourses or in tidal-zone thickets. It fringes estuaries and coastal areas along rivers and lagoons.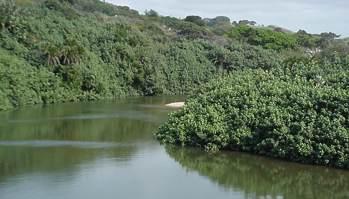 Derivation of name and historical aspects
History
The Malvaceae family sometimes includes three other families: Tiliaceae, Bombacaceae and Sterculiaceae. A useful field characteristic of Malvaceae is the frequent presence of star-shaped hairs that often impart a rough texture to the leaves and are best detected with the aid of a hand lens.
Hibiscus is the Latin name of the marsh mallow. The genus is found in warm countries throughout the world. There are 59 species of Hibiscus in southern Africa, occurring in Namibia, Botswana, Swaziland, Lesotho and all provinces of South Africa. The specific epithet tiliaceus refers to its resemblance to the related Tilia (lime and linden) species. H. tiliaceus grows along lagoons, hence the name `lagoon hibiscus'. This is a very aberrant species, providing a link with the genera Azanza and Thespesia.
Uses
Use
The stems and branches are long and flexuous and are used as living fence posts and fish kraals. The fibre from the bark makes excellent string and rope and is used as such in hut building. This species has also been used as a street tree in Durban.
Growing Hibiscus tiliaceus
Grow
In South Africa the best known members of the cotton family are probably the colourful and popular garden shrubs of the genus Hibiscus . Species of the genus may be grown from seed, which is best sown in September when the warm weather begins. The seeds will germinate in about a fortnight. The plants may also be grown from cuttings. They grow in ordinary garden soil in a sunny or semi-shaded position. Detailed cultivation information may be obtained by cross-reference to Hibiscus praeteritus
H. tiliaceus is suitable for marginal and exposed positions but is not suited to areas which experience frost. It likes plenty of water and exposure to full sun. It is more successfully grown in humid subtropical districts.
References
Coates Palgrave, M. 2002. Keith Palgrave Trees of Southern Africa , edn 3. Struik, Cape Town.
Coates Palgrave K., P. & M. 1985. Everyone's guide to trees of South Africa . Struik, Cape Town.
Eliovson, S. 1973. South African wild flowers for the garden. Macmillan, Johannesburg.
Raimondo, D., Von Staden, L., Foden, W., Victor, J.E., Helme, N.A., Turner, R.C., Kamundi, D.A. & Manyama, P.A. 2009. Red List of South African Plants 2009. Strelitzia 25. South African National Biodiversity Institute, Pretoria.
Van Jaarsveld, E. 2010. Waterwise gardening in South Africa and Namibia . Struik, Cape Town.
Van Wyk, B. & Van Wyk, P. 2006. How to identify trees in southern Africa . Struik Cape Town.
Credits
Nonkululo Phephu
Pretoria National Herbarium
April 2013
Plant Attributes:
Plant Type: Shrub, Tree
SA Distribution: Eastern Cape, KwaZulu-Natal
Soil type: Sandy
Flowering season: Late Summer
PH: Neutral
Flower colour: Red, Yellow, Orange
Aspect: Full Sun, Morning Sun (Semi Shade), Afternoon Sun (Semi Shade)
Gardening skill: Easy
Special Features:
Hedge/screen
Useful plant
Wet sites
Horticultural zones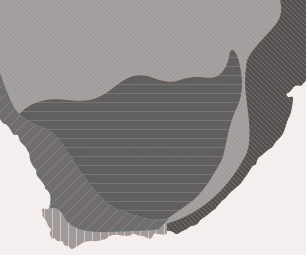 Zone 1 Coastal summer rainfall, frost free
Zone 2 Coastal winter rainfall, frost free
Google QR Code Generator