Hypocalyptus coluteoides (Lam.) R.Dahlgren
Family: Fabaceae
Common names: balloon-pod red-keur (Eng.); rooikeur, rooikeurtjie (Afr.)
Introduction
Attractive, upright, bright pink to magenta flower heads at the ends of the branches are bound to catch one's attention when this lovely shrub is in flower.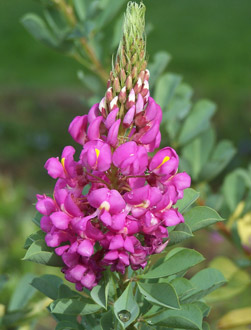 Description
Description
This much-branched tree-like shrub can grow to 3 m tall with a spread of about 1.5- 2 m. The greyish green leaves, from 23-50 mm long and 13-25(-30) mm broad, have 3 obovate leaflets which are paler on their lower surface. The central leaflet is usually a little longer than those to the sides. The midrib of the leaflets ends in a little tip not longer than 0.5 mm. The pink to magenta flowers, which flower between September and November, are sparsely to densely arranged in racemes at the ends of the branches in heads of 6-25 flowers. The upper petal has a rectangular blotch of bright yellow at the base. The flower stalk and calyx are covered with short hairs. The hard, long-stalked, deep brown, inflated pods which are 10-14 mm broad and 23-38 mm long (including the stalk) contain blackish seeds.
Conservation Status
Status
This plant is not endangered, and is in the category of Least Concern (LC) (Raimondo et al. 2009).
Distribution and habitat
Distribution description
Hypocalyptus coluteoides grows on sandstone slopes between altitudes of 50-1150 m, from the Hottentots Holland Mountains in the west to the van Staden's Mountains near Port Elizabeth in the east, mainly along the southern mountain ranges of the Riviersonderend, Langeberg, Outeniqua and Tsitsikamma Mountains, mostly at lower altitudes. In the west, rainfall occurs mostly in winter, but with progression further eastwards it occurs throughout the year and then, further on, increasingly during summer. Although growing on sandy soils, these are usually moist. Some plants have been found growing on the edges of marshes or in stream beds, and on the edges of forest and often amongst bracken.
Derivation of name and historical aspects
History
The generic name Hypocalyptus is made up from two Greek words: hypo, the word for 'beneath', and calyptus from calypto, meaning 'to veil'. Colutea is a genus of plants in the Fabaceae family, which occurs from southern Europe to the Himalayas. The suffix oides means 'similar to'. The coluteas are sometimes referred to as bladder-sennas, alluding to the inflated seedpod which bursts when squeezed. H. coluteoides has similarly inflated pods; therefore this is the 'Hypocalyptus similar to Colutea'.
There are three species in the genus Hypocalyptus and all three are found in the Western and Eastern Cape Provinces. The other two species are H. sophoroides and H. oxalidifolius.
Ecology
Ecology
The yellow marking on the flower is attractive to insects. Species of large bees, such as the carpenter bee, have been observed pollinating the flowers.
Not many ripe seeds are seen as they are dispersed explosively when the ripe capsule bursts open.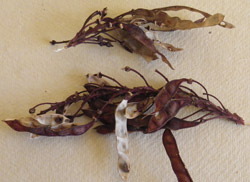 Black weevils have been found on old seed capsules and may be feeding on the seeds. Some of the capsules have holes in them indicating that they have been parasitized by insects.
The plants are associated with damp habitats.
Uses
Use
Other than its horticultural application, there is currently no known use for the plant.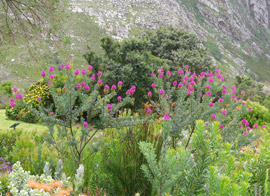 Growing Hypocalyptus coluteoides
Grow
With its rich pink colouring this plant will brighten up a moist flower bed in spring to early summer. As it can reach 3 m, it should be carefully positioned so as not to hide smaller plants. Appropriate companion plants would be shrubs such as grey-leaved species of Helichrysum, various moisture-loving restios and ericas and Aristea capitata. Groupings of these would provide interesting texture and colour combinations.
Seeds may be sown all year round at a depth of 5 mm in a soil mix of 30% loam and 70% clean river sand at a temperature of ± 22°C. Germination occurs within 2-4 weeks of sowing. In the Harold Porter National Botanical Garden the newly sown trays are exposed to smoke treatment before being placed on heated benches, but this is not strictly necessary. Treat with a fungicide to prevent damping off. Pot on into a mix of 50% finely milled, well rotted bark, 30% loam and 20% river sand. At all stages the soil should be kept moist. Cuttings have not been attempted in this Garden, so information is not available on this method of propagation. It would be advisable to check for spider mite infestations and to treat with a suitable acaricide if this problem is noticed. In the Garden the leaves are occasionally chewed by insects, probably beetles or grasshoppers. Should this be a problem, treat with a suitable insecticide.
References
Bohnen, P., 1986. Flowering plants of the Southern Cape. Still Bay Trust.
Dahlgren, R. 1972. The genus Hypocalyptus Thunb. (Fabaceae). Botaniska Notiser 125: 108-111.
Germishuizen, G., Meyer, N.L., Steenkamp, Y. & Keith, M. (eds) 2006. A checklist of South African plants. Southern African Botanical Diversity Network Report No. 41. SABONET, Pretoria.
Goldblatt, P. & Manning, J.C. 2000. Cape plants. A conspectus of the Cape Flora of South Africa. Strelitzia 9, National Botanical Institute, Pretoria and Missouri Botanical Garden, USA.
Kesting, D. (compiler) 2001. Wild flowers of the Cape Peninsula. Botanical names: Origin and meaning. Flora Documentation Project, Friends of the Silvermine Nature Area, St James.
Leistner, O.A. (ed.) 2000. Seed plants of southern Africa: families and genera. Strelitzia 10. National Botanical Institute, Pretoria.
Manning, J. 2001. Eastern Cape. South African Wild Flower Guide 11. Botanical Society of South Africa. Cape Town.
Raimondo, D., Von Staden, L., Fonden, W., Victor, J.E., Helme, N.A.,
Turner, R.C., Kamundi, D.A. & Manyama, P.A. (eds) 2009. Red List of South African Plants 2009. Strelitzia 25. South African National Biodiversity Institute, Pretoria.
Smith, C.A. 1966, Common names of South African plants. Memoirs of the Botanical Survey of South Africa No. 35.
Willis, J.C., 1951. A dictionary of the Flowering Plants and Ferns, edn 6. Cambridge Biological Series. Cambridge University Press.
Credits
Jane Forrester
Harold Porter National Botanical Garden
May 2012
Plant Attributes:
Plant Type: Shrub
SA Distribution: Western Cape
Soil type: Sandy, Loam
Flowering season: Spring, Early Summer
PH: Acid
Flower colour: Pink, Yellow
Aspect: Full Sun
Gardening skill: Average
Special Features:
Wet sites
Horticultural zones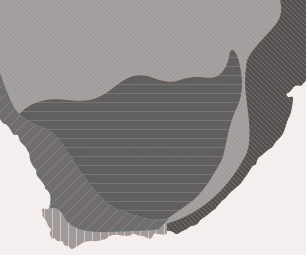 Zone 2 Coastal winter rainfall, frost free
Google QR Code Generator