Ixia mostertii M.P.de Vos
Family: Iridaceae
Common names: there are no recorded common names for this plant. It is one of the extremely rare species in the genus Ixia and has not been well collected.
Introduction
Rare and threatened species are always attractive to most people interested in plants. Ixia mostertii is a strikingly beautiful plant that is highly threatened. To ensure that this species survives we need to create awareness about plants like this and the threatened habitats in which they live.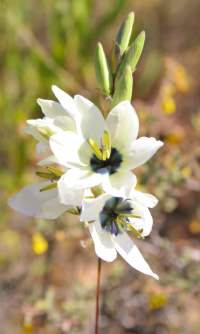 Description
Description
Ixia mostertii is a cormous geophyte growing up to 450 mm high. The corms are globe-shaped and have hard, coarse, fibrous tunics. Stems are unbranched, slender and erect. Leaves are sword-shaped to linear with prominently thickened margins and a mid-vein. There are usually 3-4 leaves present. There are 5-12 flowers per spike, closely packed together at the end of the branches. Flowers vary from deep pink or mauve to pure white, all having large, dark blue, violet or greenish blue, star-like centres. Inside the cup-shaped flower, one can easily see the dark violet stamens and the anthers covered in pollen.
Conservation Status
Status
This species has been listed as Endangered because it is a highly restricted species, only known from three localities in a small distribution range of approximately 320 km sq. The species has also lost a considerable amount of habitat in the past and this is likely to continue. Of the three localities known, only one has been confirmed. One of the localities is already threatened by urban development and is likely to already be destroyed.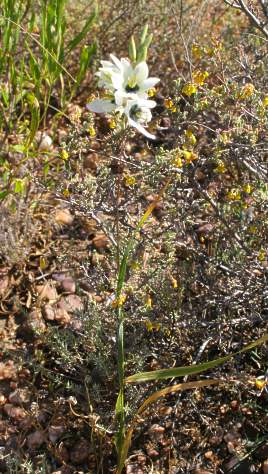 Ixia mostertii is in dire need of protection. None of the existing populations occurs within a protected area. The Stewardship Project, an initiative to encourage landowners to commit their valuable biodiversity land to conservation, has been actively involved in the area where this species occurs. One of the historical localities of Ixia mostertii occurs on a farm that has been identified as a priority for conservation, and the Stewardship Project will be working with the landowner to conserve this critical site. Unfortunately there are no ex situ collections of this species It is critical that seed of this species is collected for propagation and storage. The Custodians of Rare and Endangered Wildflowers (CREW) have been monitoring populations of threatened plants in the Cape Floristic Region and have relocated the one population in 2005. In 2006 we will attempt to find the other historical record and perhaps we can find new populations too.
Distribution and habitat
Distribution description
Ixia mostertii is only known from three localities in the Upper Breede River Valley between Wolseley and Worcester. This species occurs on stony clay soils in Breede alluvium fynbos or Breede alluvium renosterveld. The lowland habitats between Wolsely and Worcester are highly threatened by agriculture and urban expansion. More than 50% of both these vegetations types have been lost and the remaining fragments are classified as endangered.
Derivation of name and historical aspects
History
Ixia mostertii is named after Louis Mostert, a keen and interested landowner in the Wolseley area. During the revision of the genus Ixia for the Flora of southern Africa, there were certain collections from the Worcester/Tulbagh area that were regarded as undescribed species. There are numerous incorrectly identified specimens. In 1985 fresh material was collected and it became possible to properly describe the species. The last collection of this species was in 1986 by Bayers and De Vos. In 2005 the Custodians of Rare and Wildflowers (CREW) organized a field trip to the Worcester/Wolseley area to search for Ixia mostertii, Moraea worcesterensis and Lobostemon gracilis. After finding the species on the first site we visited, this became the first collection in 19 years. The northern part of the site has been earmarked for development. In 2006 the CREW team will do more sampling in the Worcester/Wolseley area to relocate the historical population near Wolseley and hopefully we can find more populations of this highly endangered plant.
Ecology
Ecology
There is very little information available about the ecology of this species. Looking at the floral morphology, Ixia mostertii is very similar to I. versicolor and I. vinacea. Ixia mostertii has the a dark, star-shaped centre and this is usually an indication of beetle pollination. The perianth structure is very similar to other species of Ixia that are pollinated by monkey beetles.
Uses
Use
No uses are recorded for this species. It might have great potential as a horticultural subject but further investigation needs to done to access the species viability on the horticultural market.
Growing Ixia mostertii
Grow
Ixia mostertii is a fairly recent discovery and there are no records of this species being cultivated. Most ixias are suitable for cultivation in pots. This particular species will present a real challenge to an avid horticulturist. There are three really important rules to remember when propagating ixias: 1: a warm, sunny position which receives direct sunlight for at least half the day; 2: well-drained soil-add stone chips to the bottom of the pot and add a mix of coarse river sand and fine compost; 3: a dry dormant period in summer. After the plants have flowered, pots should be left to dry out and once the soil is completely dry the pots can be stored in a cool dry place.
Ixias can be propagated by seeds and offset corms. Seed can be sown in autumn (April-May) in seed trays or pots. It is critical for the survival of the seedlings that the seeds are distributed thinly and good ventilation is maintained to prevent damping-off. Seeds can be treated with a fungicide prior to sowing.
During the summer dormant period the offset corms can be removed when they are large enough and replanted in autumn.
The corms of ixias are prone to attack by mealy bugs. Ixia mostertii is very similar to I . viridiflora in its growing requirements and pest vulnerability. Corms can be treated with suitable fungicide to control Fusarium and Botrytis fungi.
References
Duncan, G.D. 1999. Ixias for pot and garden. Veld & Flora June 1999: 78, 79.
De Vos, M.P. 1988. Three new species of Ixia L. (Iridaceae) from the Cape Province . South African Journal of Botany 54: 596-602.
Goldblatt, P., Bernhardt, P. & Manning, J.C. 2000. Adaptive radiation of pollination mechanisms in Ixia (Iridaceae: Crocoideae). Annals of the Missouri Botanical Garden 87: 564-577.
Lewis, G.J. 1962. The genus Ixia. Journal of South African Botany 28: 45-195.
Manning, J., Goldblatt, P. & Snijman, D. 2002. The color encyclopedia of Cape bulbs. Timber Press, Portland , Cambridge .
Credits
Ismail Ebrahim
CREW
August 2006
Plant Attributes:
Plant Type: Bulb
SA Distribution: Western Cape
Soil type: Clay
Flowering season: Spring
PH: Acid
Flower colour: White
Aspect: Full Sun
Gardening skill: Average
Special Features:
Good potplant
Horticultural zones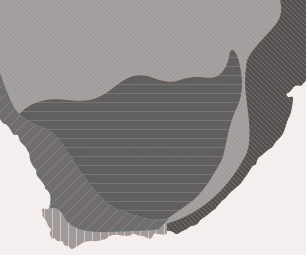 Zone 2 Coastal winter rainfall, frost free
Google QR Code Generator