Jordaaniella cuprea (L.Bolus) H.E.K.Hartmann
Family: Aizoaceae
Common names: koper-rankvygie (Afr.)
Introduction
A creeping succulent, with large bright attractive orange daisy-like flowers, this plant is ideal for water-wise gardens.
Description
Description
This plant is a mat-forming perennial succulent, 12 cm in height, with long stems which trail and creep, rooting at the nodes. The cylindrical leaves are 5-10cm long, opposite, succulent, smooth and triangular (in cross-section) with red tips. The large attractive orange or coppery daisy-like flowers are single, about 9cm in diameter with a yellow centre, and can be produced in abundance as the plants form large mats.
Jordaaniella cuprea flower
Plants flower from July to August. Flowers open around noon and close in the late afternoon (Smith et.al 1988). The flowers once pollinated form dried fruit capsules which remain on the plants for a long time. The seeds are tiny — just under 0.8mm long (Hammer pers.communication 2010). The roots are shallow but spreading.
Conservation Status
Status
Jordaaniella cuprea is not a threatened species.
Distribution and habitat
Distribution description
It occurs mainly on loose coastal sands (alkaline) in strandveld and in the succulent karoo of the winter rainfall area. The distribution area is restricted to southern Namibia and the Northern and Western Cape Provinces of South Africa where rainfall is mainly in winter and ranges from 50 to 400 mm per year (Smith et.al 1988). It would be suited to cultivation in Western Cape gardens and can be used in water-wise gardens.
Derivation of name and historical aspects
History
The genus Jordaaniella was named for Professor Pieter Gehardus Jordaan (1913 to 1987), professor of Botany at the University of Stellenbosch (Smith et.al 1988). There are about 5 species of this genus in southern Africa of which 4 occur in Namaqualand (Le Roux 2005). Jordaaniella spongiosa, the largest member of the genus Jordaaniella, has huge apricot to cerise flowers and is one of the showiest plants in this mesemb family.
Ecology
Ecology
The brightly coloured petals attract small flying insects such as bees, butterflies and moths to pollinate these mesemb flowers.
Uses
Use
There are no medicinal uses for this plant.
This water-wise plant is grown for its soil binding properties and is excellent on steep embankments, where they also protect the soil from erosion and suppress weed growth (van Jaarsveld 2000).
Growing Jordaaniella cuprea
Grow
Plants will thrive in windy, sandy coastal gardens. Ideal companion plants to complement Jordaaniella cuprea would be Aloe arenicola (strandveld aloe) for its attractive foliage and Cotyledon orbiculata (pig's ear) for its interesting foliage and flowers (van Jaarsveld 2000).
Propagate it by lifting rooted runners, or from cuttings. Plant the cuttings at the beginning of the growing season to save water. These plants are adaptable and can be planted at any time of the year as long as sufficient moisture is provided for successful rooting. Cuttings 100 to 150 mm in length are suitable. The cuttings are usually taken in midsummer, once the capsules have hardened. Rooting takes place within a month and the plants may provide a show the following spring. The cuttings can either be planted directly into the beds or first rooted in sand and planted out in autumn. The plant multiplies so easily it can soon become untidy, so it needs re-propagation. When this happens the soil could be improved by adding compost, ample bone meal or fertilizers (Smith et. al 1988).
Sow seed in winter in a shallow tray, in sandy well-drained soil, in between the small stones that have been sifted. Water the tray with a fine mist sprayer; keep the soil medium moist and place in a sunny position. After two weeks the seed should start to germinate. Once the seedlings are large enough they can be planted out in 1 part river sand: 0.5 part loam.
White scale is a pest of this plant and can be controlled by using horticultural-based oil.
References
Hammer pers.communication 2010
Le Roux, A. 2005. Namaqualand South African Wild flower Guide. Botanical Society of South Africa, Cape Town.
Smith, G.F., Chesselet, P., van Jaarsveld, E.J., Hartmann, H., Hammer, S., van Wyk, B.-E., Burgoyne, P., Klak, C. & Kurzweil, H. 1988. Mesembs of the world. Briza Publications, Pretoria.
Van Jaarsveld, E. 2000. Wonderful Waterwise Gardening: A Regional Guide to Indigenous Gardening in South Africa. Tafelberg Publishers, Cape Town.
Credits
Shireen Harris
Karoo Desert National Botanical Garden
April 2011
Plant Attributes:
Plant Type: Ground Cover, Succulent
SA Distribution: Northern Cape
Soil type: Sandy, Clay, Loam
Flowering season: Spring, Winter
PH: Acid, Neutral
Flower colour: Orange
Aspect: Full Sun
Gardening skill: Average
Special Features:
Drought resistant
Horticultural zones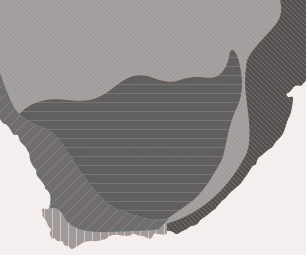 Zone 2 Coastal winter rainfall, frost free
Zone 3 Winter rainfall Karoo, light frost
Google QR Code Generator