Klattia stokoei L.Guthrie
Family: Iridaceae
Common names: Stokoe's klattia, red klattia (Eng.); kwasblom, kwasbos (Afr.)
Introduction
This woody irid, with its crimson-red inflorescences, is one of the unique and breathtaking plant species of the Cape Floristic Region; it is endemic to the Kogelberg Mountain range, one of the richest floral areas in the world, in the heart of the fynbos and the Cape Floristic Region, which covers the southwesterly corner of the African continent.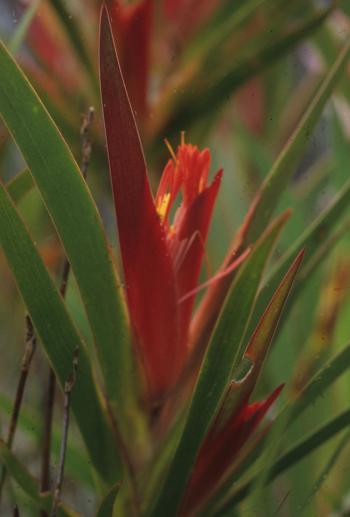 Description
Description
Klattia stokoei is a shrub that grows to a height of 1.2 m in ideal conditions. It produces relatively few, woody stems from the base and the main axis bears several, persistent branches. Stems are simple or irregularly branched, with linear-lanceolate, dark green leaves, 9–15(–20) mm long, 7–14 mm wide, sometimes curving upwards near the tip.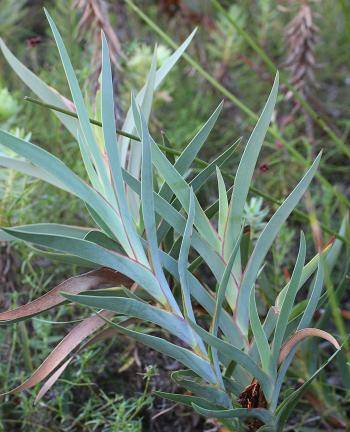 It is a mid-summer flowering plant, flowering from mid-December to early February. The flowers are in congested, brush-like heads, transparent below, colouring reddish above, and orange-red on the outer parts. The tepals are more or less linear. The inner tepals are slightly longer than the outer and turn from pale red to transparent towards the base. The styles are longer than the tepals.
Klattia stokoei, is probably the most outstanding of the Klattia species, due to its large crimson inflorescence bracts, bright red flowers and distinctive wide and usually somewhat sickle-shaped (falcate), green leaves. The other two species Klattia flava and K. partita, have narrow, linear leaves and yellow and blue flowers respectively.
Conservation Status
Status
This species is assessed as Endangered (EN). The total wild population of Klattia stokoei is estimated to be less than 250 mature individuals, known from 10 subpopulations in an area of 200 km2. They are potentially threatened by the extraction of groundwater.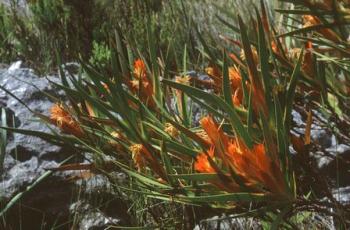 Distribution and habitat
Distribution description
Klattia stokoei is endemic to the Kogelberg Mountains of the Western Cape. It occurs in areas with high rainfall, from the ridges above Steenbras Dam in the west, through to the mountains in Kleinmond in the east. Klattia stokoei favours damp, south-trending slopes, seeps and streambanks, and grows in peaty sand. Fire occasionally burns plants back to their woody bases, and they can resprout vigorously. It grows amongst other very interesting plant species, such as Erica leucotrachela, Osmitopsis asteriscoides, Senecio speciosissimus, and in some areas with Mimetes capitulatus.
Derivation of name and historical aspects
History
The first record of Klattia stokoei appears to be a collection made by Harry Bolus, a Cape Town botanist, near Sir Lowry's Pass in 1900. Bolus's collection remained unnamed (perhaps still preserved in some European herbarium), until additional specimens were discovered by T.P. Stokoe in 1921, and brought back to Cape Town, hence the specific epithet. These include the first flowering specimens known and the description based on Stokoe's collection, was published by the South African botanist, Louise Guthrie, in 1921. The name Klattia honours Friedrich Wilhelm Klatt (1825-97), a German botanist at Hamburg.
Ecology
Ecology
The flowers of Klattia stokoei produce nectar with a low sugar concentration, which causes them to be covered with a shiny, sticky residue. Klattia are primarily adapted to sunbird pollination. The Orange-breasted Sunbird (Nectarinia violacea), has been observed visiting Klattia stokoei near Pringle Bay (Goldblatt 1993: 31) during the flowering period.
Klattia stokoei has a persistent woody base and plants generally survive fires and resprout afterwards. They grow only in seeps where the groundwater is near the surface. Plants are thus sensitive to tampering with water flow or the extraction of groundwater.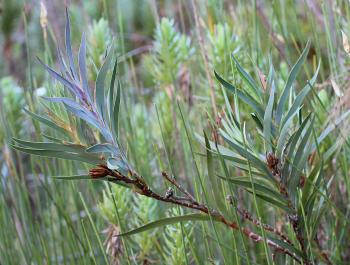 Uses
Use
The South African woody irids, are a fascinating and little studied group of plants that can grow to be true shrubs, producing thickened woody stems. Klattia stokoei, which is from this group, has the potential to make a very good garden plant and a pot plant, if planted in the right conditions. It is best suited to wet areas on south- or east-facing, sandy slopes.
Growing Klattia stokoei
Grow
Despite their beauty and interesting growth form, Klattia stokoei has been difficult to grow. Growing plants from seed is recommended; with smoke treatment being the preferred methods.
Sow freshly collected seeds in March (autumn), as this is when the dormancy in seed is broken, due to the temperature fluctuation (e.g. 20°C-day/10°C-night). Seed trays should be filled with 25% milled pine bark, 25% fine peat moss and 50% coarse river sand, as the rooting mix. Sow seeds evenly on the mix and cover it with a thin layer of sifted, milled, pine bark. Seed trays are placed in a polythene tent and smoke is piped into the tent by means of a plastic pipe coming from a large metal drum. The smoke is generated in the drum by burning a mixture of dry and green, fynbos, leaf and stem material. Smoke is blown into the tent by using an air pump system or blower for at least 2 hours. Seed trays are left overnight in the tent and watered carefully the following day to wash down the smoke deposit into the soil. Instant Smoke Plus Seed Primer disk can also be used, this is produced and supplied by Kirstenbosch National Botanical Garden, and has shown to improve germination of seeds.
Seed will germinate after 3 to 4 months. Once germinated, spray the seedlings with a fungicide to prevent any loss. When the seedlings reach at least 4 sets of leaves, they can be planted out into a soil mixture such as our Fynbos Mix consisting of 25% river sand, 25% loam soil, 25% peat moss and 25% milled pine bark.
Vegetative cuttings should be made from the new shoots that are not too young and soft, and sprayed first with a fungicide to prevent post-emergence fungal infection. The base of the cutting stem is cut at an angle and treated with a rooting hormone. The ratio of the soil mix used for the cuttings is 25% peat moss, 25% perlite, 25% coarse river sand, and 25% milled pine bark. The cuttings are placed in a well ventilated greenhouse with bottom heat set at a temperature of 22–24°C, where they receive misting often throughout the day. When the cuttings show signs of rooting and new growth in the greenhouse, they should be placed under a covered area to harden off first, and watered twice a day, depending on the soil moisture, and avoiding overwatering. They need to be hardened off before being potted up into a Fynbos mix.
Planting time is best during the autumn months, in a well-drained and dampish area, which is sheltered from strong winds, as this gives the plant enough time to stabilize and establish itself. As it is a slow-growing plant, a feeding with a fish emulsion or kelp fertilizer would help with enhancing growth.
References
Goldblatt, P. 1993. The woody Iridaceae: Nivenia, Klattia and Witsenia: systematics, biology and evolution. Timber Press, Oregon, USA.
Goldblatt, P. & Manning, J. 2000. Cape Plants. A conspectus of the Cape flora of South Africa. Strelitzia 9. National Botanical Institute, Pretoria & Missouri Botanical Garden, Missouri.
Jackson, W.P.U. 1990. Origins and meanings of names of South African plant genera. University of Cape Town.
Schutte-Vlok, A.L., Helme, N.A. & Raimondo, D. 2007. Klattia stokoei L.Guthrie. National Assessment: Red List of South African plants version 2015.1. Accessed on 2016/06/20.
Slingsby, P. & Johns, A. 2009. T.P. Stokoe, the man, the myths, the flowers. Baardskeerder, Muizenberg, Cape Town.
Credits
Ebraime Hull
Harold Porter National Botanical Garden
July 2016
Plant Attributes:
Plant Type: Shrub
SA Distribution: Western Cape
Soil type: Sandy
Flowering season: Early Summer
PH: Acid
Flower colour: Red, Yellow, Orange
Aspect: Morning Sun (Semi Shade)
Gardening skill: Challenging
Special Features:
Attracts birds
Good potplant
Wet sites
Horticultural zones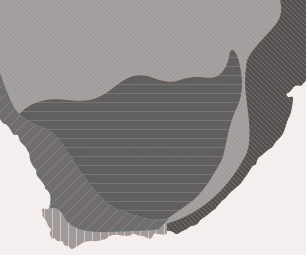 Zone 2 Coastal winter rainfall, frost free
Zone 3 Winter rainfall Karoo, light frost
Google QR Code Generator