Lachenalia orthopetala Jacq.
Family: Hyacinthaceae
Common names: straight-petal lachenalia, Cape hyacinth (Eng.); viooltjie (Afr.)
Introduction
Lachenalia orthopetala, an indigenous hyacinth with striking upward-facing, creamy-white maroon-tipped flowers, is one of the rarest and most rewarding bulbs one can grow.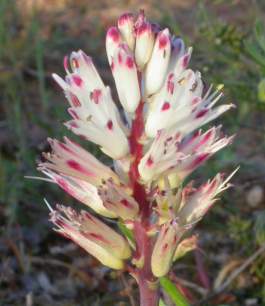 Description
Description
Lachenalia orthopetala consists of a single fleshy bulb about the size of a large marble with multiple narrow, lanceolate leaves, 100-150 mm long, that are deeply channelled above. Unlike some lachenalias, L. orthopetala has no pustules on its leaves. The inflorescence, up to t 150-200 mm tall, is covered with delicate upward-facing, creamy-white flowers that have a maroon marking at the tip of each of the six tepals. The peduncle is often covered with maroon spots or bands. The leaves will start to emerge a few weeks after the first rains in autumn but the flower only appears much later towards the end of the growing season in late spring/early summer (October in the southern hemisphere), usually as the leaves begin to die back.
This species is closely related to Lachenalia contaminata which occupies the same habitat and has a very similar appearance. The flowers of the latter are, however, much denser on the spike and also a lot shorter and flaring.
Conservation Status
Status
Lachenalia orthopetala, according to the latest Red List, is listed as Vulnerable. This is due to the fact that its preferred habitat is under severe threat from ever-increasing farming practices and urbanization. There has consequently been severe habitat loss.
Distribution and habitat
Distribution description
The genus is generally restricted to the winter-rainfall parts of South Africa and Namibia .
Lachenalia orthopetala is currently fairly widespread in the south-western Cape from Piketberg to Durbanville. However, the distribution was probably once far more extensive but through the threats mentioned above, it has been reduced to a handful of scattered populations which in one way or another have managed to escape the plough.
Derivation of name and historical aspects
History
Many members of the hyacinth family, such as the well-known Muscari, originate in the Mediterranean region. In southern Africa we have our own selection of indigenous hyacinths — some with quite nondescript flowers but some with strikingly stunning flowers. One of the biggest hyacinth genera and with the most colourful flowers is Lachenalia. Lachenalias are conventional winter-growing bulbs that are deciduous and are completely dormant during the hot, dry summer months.
Joseph Franz Jacquin, son of Baron Joseph Jacquin, studied the collections of new plants in the Schonbrunn Palace Gardens near Vienna in the late 1700s and gave them the name Lachenalia after Werner de Lachenal, a professor in Basel, Switzerland. The specific epithet orthopetala means 'with straight petals'.
Ecology
Ecology
These plants typically grow in lowland renosterveld-areas on seasonally damp clay flats which dry out during the summer months. In winter the soil becomes partially inundated or very damp. Lachenalia orthopetala is usually found growing in dense stands of sometimes many thousands of plants. It proliferates by means of seed, but also through the vegetative multiplication of the bulbs which is probably a safeguard against complete destruction from moles. It is probably pollinated by bees during the day and perhaps also at night by moths.
Uses
Use
Hyacinths, bulbs well-known worldwide for their heavenly scent and beautiful colours, are commonly used as potplants or sometimes in the garden.
Many of the indigenous Hyacinthaceae, Lachenalia species, are being used commercially in horticulture and are certainly rivalling many of the more common well-known hyacinths on the market. However, there are no known uses of L. orthopetala.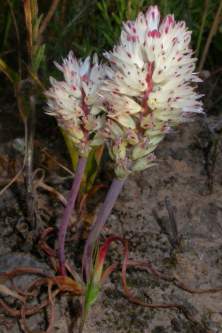 Growing Lachenalia orthopetala
Grow
Lachenalia orthopetala is remarkably easy to grow as a pot plant and is very rewarding. The soil medium should be fairly well-drained and consist of about half coarse washed sand and half finely sieved compost. Place in a sunny position and it will grow very happily outside during the winter months and will probably handle the odd frost. In order to keep the leaves green when they come into flower, watering should be maintained until flowering time. After flowering, watering should be discontinued and the pot should be left to dry out. The bulbs can be lifted and kept in a cool dry place over the summer months or can be left in the pot. Watering should recommence in autumn with one thorough soaking. Wait until the leaves start appearing and then watering can take place once a week or more frequently if required.
Due to the narrow nature of the leaves of this species, propagation by means of leaf cuttings, although perhaps possible, is not likely to be terribly successful in producing bulbils, as is the case in almost all other broader-leaved Lachenalia species.
It is easily raised from seed sown in autumn in a similar medium used for cultivation with a thin layer of soil placed over the seeds. The seedlings germinate within 2 to 3 weeks. Flowering will take two to three years. Ensure the medium doesn't dry out at all during the growing season. A weak application of a damping-off fungicide is always advisable, but Lachenalia seedlings seem to be fairly resilient without any help.
The plants don't have many pests apart from snails and worms (which can be removed by hand) and mealy bug which should be treated with a systemic pesticide. Occasionally lachenalias are susceptible to a fungal infection on the leaves called rust. Once this starts to appear, it spreads quickly from one plant to the next and will eventually destroy the leaves (but not necessarily the bulb). This can be treated with any fungicide recommended for rust.
Not much fertilizing is required for these bulbs as they are not generally very hungry, but they wouldn't be adverse to the odd splash of a dilute low-nitrogen liquid fertilizer.
References
Duncan, G. 1988. The Lachenalia handbook . National Botanical Gardens , Kirstenbosch, Cape Town .
Manning, J., Goldblatt, P. & Snijman, D. 2002. The color encyclopedia of Cape bulbs. Timber Press, Oregon .
Credits
Adam Harrower
Kirstenbosch National Botanical Garden
June 2009
Plant Attributes:
Plant Type: Bulb
SA Distribution: Western Cape
Soil type: Sandy, Clay, Loam
Flowering season: Spring, Early Summer
PH: Acid
Flower colour: Purple, White
Aspect: Full Sun
Gardening skill: Easy
Special Features:
Good potplant
Feeds honeybees
Horticultural zones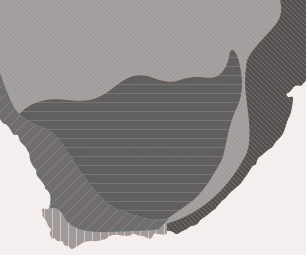 Zone 2 Coastal winter rainfall, frost free
Google QR Code Generator