Lachenalia reflexa Thunb.
Family: Hyacinthaceae
Common names: yellow soldier
Introduction
A bulbous plant with bright yellow, urn-shaped flowers, and ascending, strap-shaped leaves; this winter-flowering plant is in danger of extinction in its natural habitat.
Description
Description
Lachenalia reflexa is a small, indigenous, deciduous, bulbous plant, with 1 or 2, broadly lance-shaped leaves, 60–350 mm long and 15–25 mm wide, dark green and plain or densely spotted on the upper surface, spreading or ascending and flat, or slightly channelled in cross section. Unlike most species in the Lachenalia genus, L. reflexa produces bright yellow, urn-shaped flowers that are borne upright, in spikes, about 250 mm long, that only just emerge above the leaves.
This species flowers over an extended period, stretching from the beginning of winter (June) to the end of spring (October). In spring to summer, after flowering, it produces and disperses small black seeds, 2–3 mm long.
Conservation Status
Status
The natural habitat of Lachenalia reflexa is being destroyed and as a result, it is facing extinction in its natural habitat and is now classified as a Vulnerable (VU) species on the Red List of South African plants. Its population is declining, and this species is now known to occur at fewer than 10 locations, because of competition from invasive alien plants, but mainly because of the destruction of many of the remaining parts of its habitat, caused by urban expansion and farming practices. There has not been any conservation effort of this specific species.
Lachenalia reflexa, commonly called yellow soldier in Australia, was first recorded as naturalized south of Perth, Western Australia, in 1957. After escaping from garden plantings, it became a serious weed and threatened their biodiversity. It invades the banksia (Banksia attenuata) woodlands west of Perth and spreads through tuart (Eucalyptus gomphocephala) woodlands, on sandy, calcareous soils (Department of Environment Australia 2003). Chemical control was unsuccessful because Lachenalia reflexa grows closely among native plants, making it difficult to use selective herbicides or non-selective herbicides, as they kill their native plants as well.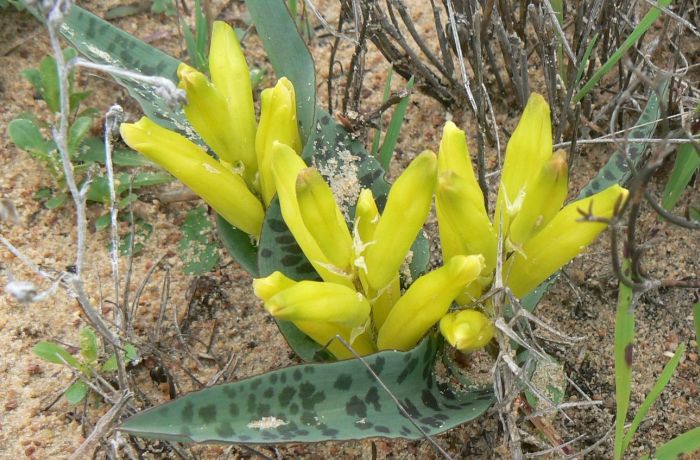 Distribution and habitat
Distribution description
Lachenalia reflexa is endemic (the only area it grows naturally) to the Western Cape and occurs in the Fynbos Biome. It grows in large colonies on seasonally wet sandy flats, between Malmesbury, the Cape Peninsula and Franschhoek. It grows in sandy soil, in sand plain fynbos and renosterveld.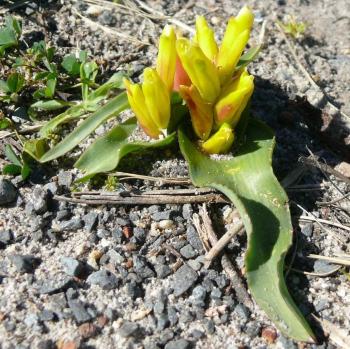 Derivation of name and historical aspects
History
The genus Lachenalia is named after the Swiss botanist Werner de Lachenal (1736–1800). The species name reflexa means 'bent' or 'turned back', which may refer to the upward pointing flowers, where most other lachenalias have flowers that are spreading, nodding or pendulous.
Lachenalia belongs in the Hyacinthaceae, and was previously included in the Liliaceae. The genus is indigenous to South Africa and Namibia, and consists of 133 accepted species that are distributed throughout the winter rainfall region of South Africa. In South Africa, lachenalias occur in the Northern, Western and Eastern Cape Provinces.
With over 100 known species, Lachenalia is amongst the well-represented groups of liliaceous plants in southern Africa. Some of the best known genus members include the tubular-flowered, bright red L. bulbifera, the orange, yellow or multicoloured L. aloides, L.quadricolor and L. luteola (all formerly grouped under L. tricolor), and the speckled pink L. punctata (= L. rubida). Lachenalia has a long history of use in horticulture in Europe since it was exported from South Africa more than 200 years ago (Grace & Van Staden 2003).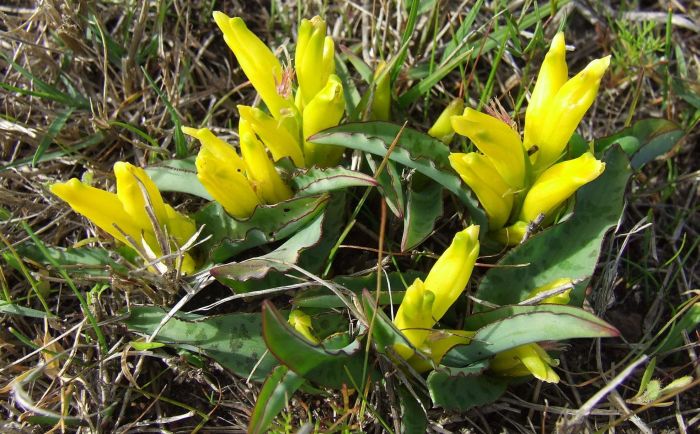 Ecology
Ecology
Lachenalia reflexa is a winter-flowering bulbous plant that grows in sandy soil in full sun. It is adapted to a mild, winter-rainfall climate with hot dry summers with average temperatures of 28ºC. This species produces hundreds of seeds that are not dispersed far from the mother plant, resulting in dense colonies. With its bright yellow flowers, this species attracts birds, bees and butterflies.
Like many other bulbs, yellow soldier stores food material for the next growing season in its underground bulbs, which are short underground stems. It survives the long, hot, dry summer by going dormant.
Uses
Use
Lachenalia reflexa is a showy garden plant that makes a good show of colour along the edges of garden beds. With its elongated spikes, this species is also ideal for pot culture. Lachenalia is known for its breeding success and many hybrids are now available commercially. L. reflexa is an important species when it comes to breeding of new Lachenalia hybrids. It is always important to have new material for further breeding, and Lachenalia reflexa is a significant species. The first inter-species cross was between L. aurea and L. reflexa which was done by Rev. John Nelson in 1876.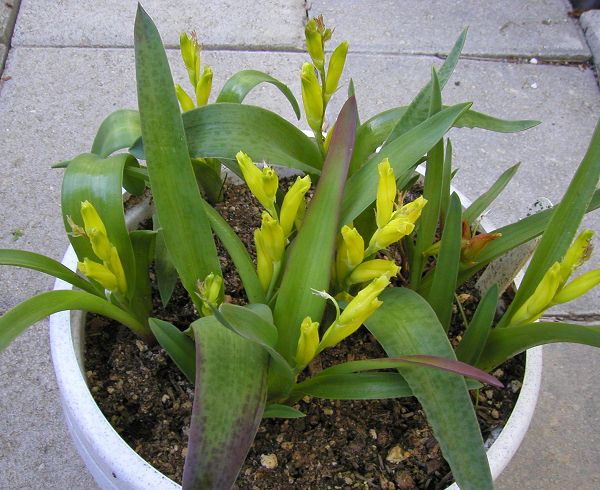 Growing Lachenalia reflexa
Grow
This is an easy bulbous plant to grow and it is a rewarding pot plant. The best medium one can grow Lachenalia reflexa should be fairly well-drained, semi-coarse, washed river-sand and semi-finely sieved compost. This mixture should fill the bottom two thirds of the pot, whereas the remaining third should be filled with pure sand into which the bulbs are planted. The sand layer stays relatively dry, preventing the bulb from rotting should the medium get too wet, while the roots are able to penetrate deep into the lower layer.
The pot should be placed in full sun and outside in winter, provided there is no frost. Keep the bulbs dry in summer. To enhance their performance, one can re-pot them every 2 to 3 years with fresh growing medium.
Lachenalia reflexa can be propagated by leaf cuttings, which can be removed from the plant by slicing them off at the base of the leaf. Slightly lay and cover the base of these leaves in a well-drained sandy medium and leave them in a cool place out of direct sunlight. Keep the medium moist, not wet, to prevent the leaves from rotting, and ensure the humidity is high. In approximately 2 to 3 months, small bulbils will appear along the cut edge at the base of the leaf. Eventually the leaf will wither, but the bulbils can be planted like normal bulbs during the following season. Flowering will take 1–2 years.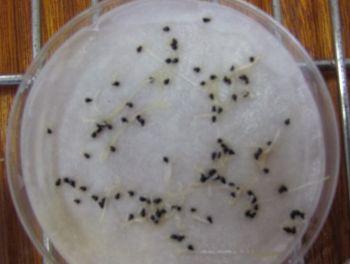 Propagation from seed is relatively easy. Sow seeds in autumn in a similar medium used for cultivation. Cover the seed with a thin layer of sand. Water them gently but regularly in the first few weeks, to keep them moist. The seedlings should germinate within about 2–3 weeks. Flowering will take 2–3 years.
Lachenalia reflexa can suffer attacks from snails and caterpillars, which can be controlled physically (removed by hand) and mealy bug which should be treated with a systemic or contact pesticide. A rust fungus can be problematic and appears as orange blotches on the leaves, often developing where a leaf has been damaged by hail. This is easily treated with common fungicides.
Like many other bulbs, Lachenalia reflexa requires minimal fertilizing, as they generally store their nutrients in the bulb. However, they would respond well to small doses of a diluted low-nitrogen liquid fertilizer.
References
Brown, K., Brooks, K., Madden, S. & Marshall, J. 2002. Control of the exotic bulb, Yellow Soldier (Lachenalia reflexa) invading a Banksia woodland, Perth, Western Australia. Ecological Management and Restoration 3,1: 28–36.
Duncan, G.D. 1988. The Lachenalia Handbook. Annals of Kirstenbosch Botanic Garden, Vol. 17. National Botanic Gardens of South Africa, Cape Town.
Duncan, G.D. 1996. Four new species and one new subspecies of Lachenalia (Hyacinthaceae) from arid areas of South Africa. Bothalia 26,1: 1–9.
Grace, O.M. & Van Staden, J. 2003. A horticultural history of Lachenalia (Hyacinthaceae). South African Journal of Science, 99: 526–531.
Helme, N.A. & Raimondo, D. 2007. Lachenalia reflexa Thunb. National Assessment: Red List of South African plants version 2017.1. Accessed on 2019/05/09.
Kleynhans, R. 2006. Lachenalia, pp.491–516 in N.O. Anderson, Flower breeding and genetics. Springer, The Netherlands.
Kleynhans, R. 2013. The development of Lachenalia cultivars. M.Bilb. Thesis, University of Free State, Bloemfontein.
Manning, J. 2007. Field guide to Fynbos. Struik Publishers, Cape Town.
Pacific Bulb Society. Lachenalia [online]. Available from: http://pacificbulbsociety.org/pbswiki/index.php/Lachenalia [Accessed: 18/04/2016].
Weed Management Guide, Yellow soldier (Lachenalia reflexa) [online]. CRC Weed Management. http://www.environment.gov.au/biodiversity/invasive/weeds/publications/guidelines/alert/l-reflexa.html Accessed: 22/06/2016
Credits
Mpho Mathalauga
KwaZulu-Natal National Botanical Garden
June 2019
Acknowledgments: Images by Gigi Laidler, Helene Preston, Tony Rebelo, Jacques van der Merwe and Caroline Voget, from their observations posted on iNaturalist.org, and by Mary Sue Ittner of Mendocino Coast Botanical Gardens.
Plant Attributes:
Plant Type: Bulb
SA Distribution: Western Cape
Soil type: Sandy
Flowering season: Spring, Winter
PH: Acid
Flower colour: Yellow
Aspect: Full Sun
Gardening skill: Easy
Special Features:
Drought resistant
Good potplant
Horticultural zones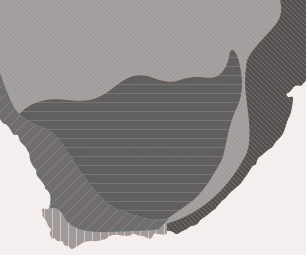 Zone 2 Coastal winter rainfall, frost free
Google QR Code Generator