Lanaria lanata (L.) T.Durand & Schinz
Family: Lanariaceae
Common names: Cape edelweiss (Eng.); kapokblom, perdekapok (Afr.)
Introduction
Lanaria lanata is packed full of surprises. With its grass-like leaves and white, woolly inflorescence, one would think that that would be all it has to offer, but then the star-shaped mauve flowers open. This plant is a gem, though often overlooked and only noticed after fynbos fires.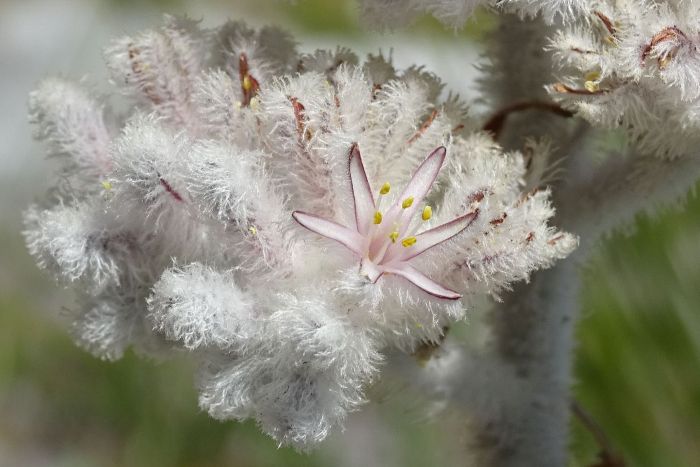 Description
Description
Lanaria lanata is a tufted, evergreen perennial that can reach a height of 300–800 mm. It has a rosette of fibrous, stiff, grass-like leaves, with finely toothed margins, that come from a fire-resistant, thick, black rootstock. Its flowers are small and mauve and are hidden in a densely woolly, white head of flowers. Each flower has 6 tepals and stamens and a 3-chambered, capsular fruit, with 1 seed per chamber. Seeds turn black when ripe. The flowers can be seen in summer, from November to January, but, as seen after the fire that took place in January 2019 in the Betty's Bay area, they started producing flowers from late spring, mid-October and flowered profusely from November until the end of their flowering season.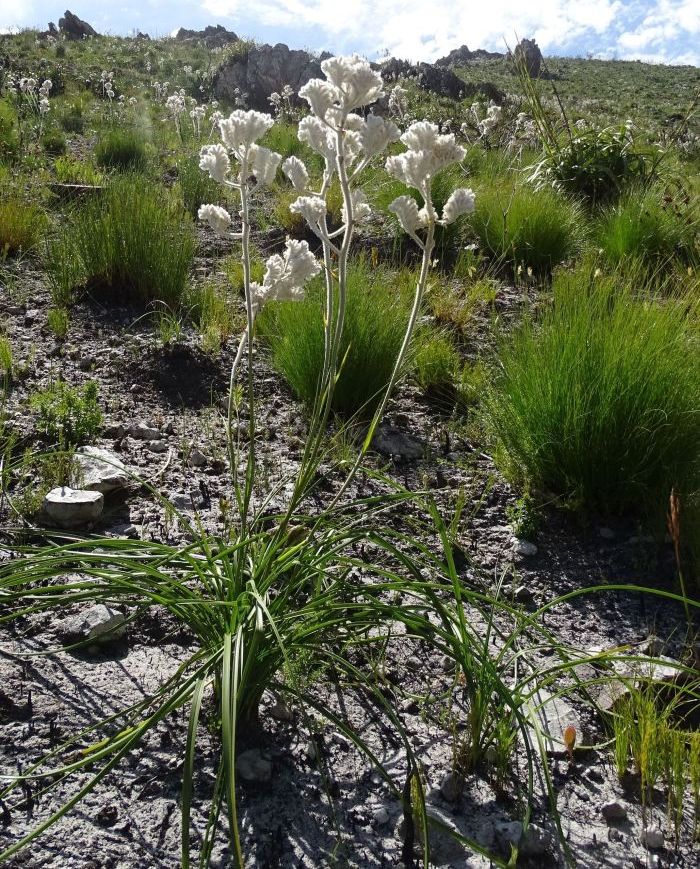 Conservation Status
Status
This species is assessed as Least Concern (LC) on the Red List of South African plants, as its population is considered to be stable.
Distribution and habitat
Distribution description
Lanaria lanata is widespread and quite common. It is found growing on mountain slopes on clay and sandstone soils and occurs from the Hottentots Holland Mountains in the Western Cape of South Africa, to Port Elizabeth in the Eastern Cape. It isn't very conspicuous, however, after a fire it blooms early and profusely, and looks like snow on the mountain side. It can withstand temperatures ranging from ± 5–30ºC and grows in both a winter rainfall and summer rainfall area. 
Derivation of name and historical aspects
History
The genus name Lanaria is Greek, lana means 'wool', whereas -aria means 'connected with'. The species name is Latin and also means 'woolly covering'. The names refer to the woolly white hairs covering the flower stalk.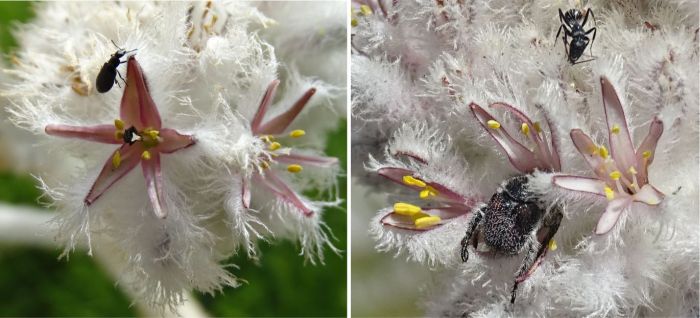 Ecology
Ecology
The honey-scented flowers are visited by bees and beetles, which are often found with only their hindlegs visible, as they position themselves head down in the flowers. 
These plants are specially adapted to fire, as their thick, black rootstock is fire-resistant. Fires stimulate flowering, causing plants to bloom profusely and earlier than usual.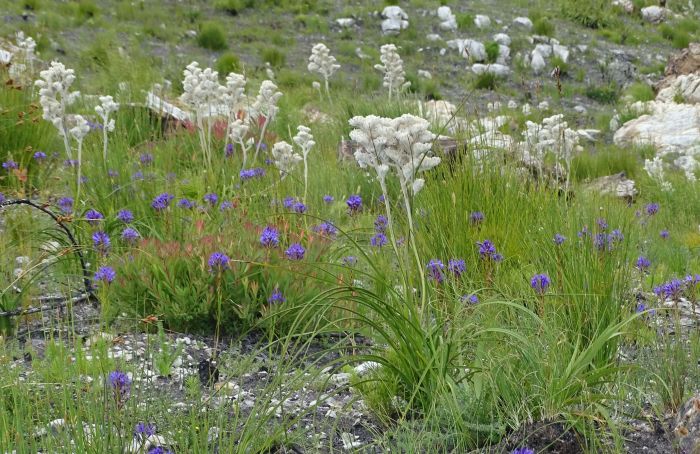 Uses
Use
This plant has no known medicinal or cultural uses.
Growing Lanaria lanata
Grow
Collect seed when they have turned black and clean off any parts of the flower head remaining. Sow the seed in autumn (April to May), when day and night temperatures fluctuate. In autumn, the day temperatures can be between 20 and 24ºC, whereas the night temperatures are between 4 and 10ºC. This temperature fluctuation provides for optimum germination for many fynbos plant species. 
Fill a seed tray or a container with holes punctured at the base to allow for drainage, with a mixture of composted bark and coarse river sand. Once the medium has been levelled out, sow the seeds on the soil surface. Seeds germinate well when treated with Fynbos Smoke Plus Seed Primer. Cover the seeds with a thin layer of medium and water with a fine rose, keeping the medium damp, but not wet. Place the trays in a slightly shaded and warm area. Seeds can germinate anywhere between 6–8 weeks. 
Once the seedlings have grown enough, plant them out into the garden in a sunny spot that is well drained. These plants grow naturally with other Fynbos plants and grow in clay or in sandy, acidic, well-drained soils. Lanaria lanata could do well in a rockery, planted alongside Erica rhopalantha, Watsonia borbonica, Aristea capitata or even low-growing restios, such as Hypodiscus aristatus and Elegia filacea. 
References
Bean, A. & Johns, A. 2005. Stellenbosch to Hermanus. South African Wild Flower Guide 5. Botanical Society of South Africa, Cape Town.
Brown, N.A.C. & Duncan, G.D. 2006. Grow fynbos plants. Kirstenbosch Gardening Series. South African National Biodiversity Institute, Cape Town.
Burman, l. & Bean, A. 1985. Hottentots Hollands to Hermanus . Wild Flower Guide 5. Botanical Society of South Africa, Cape Town.
Clarke, H. & Charters, M. 2016. The illustrated dictionary of southern African plant names. Flora & Fauna Publications Trust, Jacana, Johannesburg.
Fernkloof Nature Reserve. Lanaria lanata. Accessed 1/7/2020. https://www.fernkloof.org.za/index.php/all-plants/plant-families/item/lanaria-lanata
Foden, W. & Potter, L. 2005. Lanaria lanata (L.) T.Durand & Schinz. National Assessment: Red List of South African plants version 2017.1. Accessed on 2020/05/20.
Goldblatt, P. & Manning, J. 2000. Cape Plants. A conspectus of the Cape flora of South Africa. Strelitzia 9. National Botanical Institute, Pretoria & Missouri Botanical Garden, Missouri.
Jackson, B.D. 1900. A glossary of botanical terms. Edition 4. Hafner Publishing Co., New York.
Manning, J. 2007. Field guide to Fynbos. Struik Publishers, Cape Town.
Manning, J. & Goldblatt, P. 2012. Plants of the Greater Cape Floristic Region 1: the Core Cape Flora. Strelitzia 29. South African National Biodiversity Institute, Pretoria.
Privett, S. & Lutzeyer, H. 2010. Field guide to the Flora of Grootbos Nature Reserve and the Bay Walker Region. Craft Print International, Singapore.
Smith, C.A. 1966. Common names of South African plants. Memoirs of the Botanical Survey of South Africa No. 35. Government Printer, Pretoria.
Trinder-Smith, T.H. 2003. The Levyns Guide to the plant genera of the south western Cape. Bolus Herbarium, UCT, Red Roof Design CC, Cape Town
Credits
Karen Wall
Harold Porter National Botanical Garden
July 2020
Plant Attributes:
Plant Type: Bulb
SA Distribution: Eastern Cape, Western Cape
Soil type: Sandy
Flowering season: Early Summer, Late Summer
PH: Acid
Flower colour: White, Mauve/Lilac
Aspect: Full Sun
Gardening skill: Average
Special Features:
Fragrant
Feeds honeybees
Pioneer plant
Horticultural zones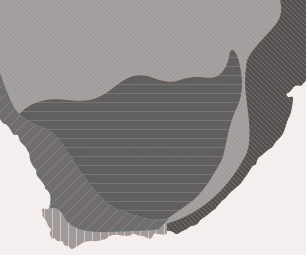 Zone 2 Coastal winter rainfall, frost free
Google QR Code Generator