Ledebouria cooperi (Hook.f.) Jessop
Family: Hyacinthaceae
Common names: Cooper's African hyacinth
Introduction
A widespread and common species usually associated with water or moist vegetation types, Cooper's African Hyacinth is an attractive, small bulbous plant with brightly coloured flowers and makes an attractive pot plant or colourful addition to a garden.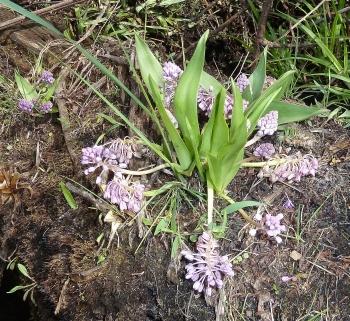 Description
Description
Deciduous bulbous plant, solitary but most often densely gregarious, forming dense colonies. Bulbs mostly small but variable (10 × 25 mm), white with underground stolons producing new bulblets. Leaves 2–5 or more, mostly lance- or strap-shaped, 100–250 mm long, bright green and variously marked with spots, stripes, a combination of both or often completely unmarked; mixed plants can often be found in the same population.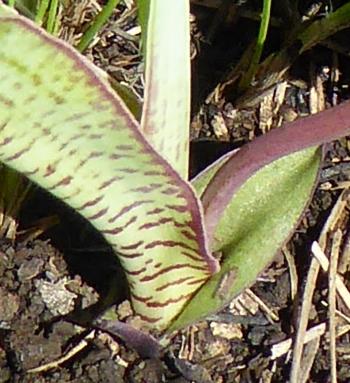 One to 3, sometimes even more unbranched inflorescences are produced in spring or early summer (August to December), which usually hang sideways out of the leaves, but in some populations can be somewhat erect when young and becoming droopy later in the flowering season. The small, usually brightly coloured florets are star-shaped and occur in several different colour forms, mostly lilac, but can also be pink, purple and green. Flowers are clustered along the peduncle (main flower stalk) in a bottle-brush-like fashion, towards the terminal end. The individual florets are attached to the peduncle via a slender lilac (usually) pedicel (flower stalk).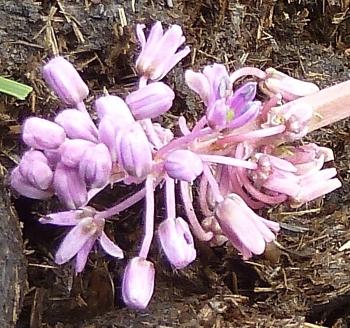 After the flowers, small, 3-lobed seed capsules develop which split when mature, to release dark brown, glossy and wrinkled seeds.
Conservation Status
Status
Least Concern (LC.). Ledebouria cooperi is a common and widespread species and is not considered to be threatened in its natural habitat; although wetlands are often at risk of destruction and this species is often associated with wetland habitats. Despite this the species is very adaptable and quickly recovers from habitat degradation once optimal conditions return.
Distribution and habitat
Distribution description
Ledebouria cooperi is a very common and widespread species. It is distributed across all the provinces in South Africa and neighbouring states. It is most abundant on the northeastern side of the country where it prefers the moister habitat types and is most often associated with wetland or marginal vegetation types in grassland areas.
Derivation of name and historical aspects
History
The earliest record of the species dates back to 1866, when the species was described, however, it was collected before that and taken to the Royal Botanic Gardens Kew, where it flowered in 1863. The species was officially named in 1866 by Sir Joseph Dalton Hooker, who named it in honour of Thomas Cooper. The species was first named as Scilla cooperi and it was only transferred to the genus Ledebouria as L. cooperi by J.P. Jessop during his revision of the genus, in 1970. Sir Joseph Dalton Hooker (1817–1911) was the director of the Royal Botanic Gardens, Kew. He was a great British botanical explorer, who named many plants during his career. He was also Charles Darwin's closest friend and was awarded the highest honours in British science.
The genus Ledebouria is named in honour of the German-Estonian botanist, Professor Carl Friedrich von Ledebour (1785–1851). The genus is distributed across Africa, India and Madagascar, with the centre of species diversity in the eastern parts of southern Africa; South Africa has 42 species of Ledebouria.
This species is most easily confused with Ledebouria sandersonii with which it shares its preference for moist grassland. It is mostly floral characters that separate the 2 species, making field identification difficult.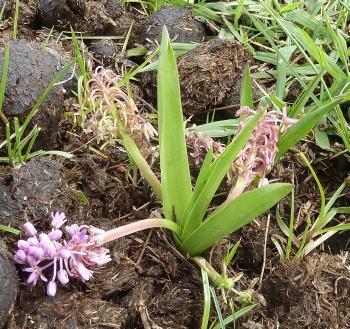 Ecology
Ecology
The flowers are open and likely to be pollinated by any visiting insects. Several insects have been observed visiting the flowers in cultivation, most notably honey and solitary bees. Fires in their grassland habitats are frequent and this species can withstand fire by its deciduous habit; all living parts of the plant are hidden underground during the dry winter months, when fire is most likely to occur.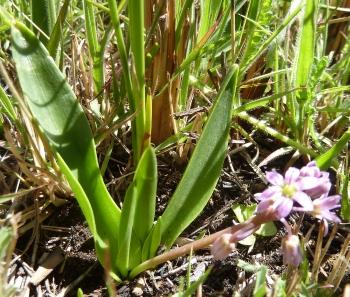 Uses
Use
No specific references exist in the literature to this species being used by people. The genus Ledebouria as a whole has been used medicinally in Africa for purposes, including pregnancy, diarrhoea, influenza, backache, skin irritations and wound treatment, as well as for lumbago. The genus is also reported as being poisonous, although it is also reported that Bushmen eat the bulbs of certain other species (L. apertiflora and L. revoluta).
Growing Ledebouria cooperi
Grow
Ledebouria cooperi is very easy to maintain in cultivation. It will often proliferate and spread under ideal conditions. The species is generally not fussy and will grow in many different types of soils, although it prefers rich, humic, clay loam soils with plenty of moisture, especially during the summer growing season. When grown in containers, a rich loam soil can be mixed in equal parts with compost, with a little sifted kraal-manure added. Bulbs can be planted in full sun anywhere in the garden under normal irrigated conditions, and does not require to be growing directly in water, as it is often found in the wild. The species can also be very attractive in a pot, especially the forms with striped or spotted leaves. This species can tolerate severe frost in winter, provided it is kept reasonably dry. Propagation can be done by dividing dense clumps of bulbs or alternatively from seed. Seed needs to be sown as fresh as possible in pots or trays filled with a general seedling mixture or ordinary loam soil. Spread the seed evenly over the firmly tamped surface and cover the seeds with 2–5 mm of the sifted mixture. The seed trays should be kept moist. Germination may take up to 2 weeks. Seedlings can be pricked out as soon as they are large enough to handle or they can be allowed to remain in their seedling containers for one full growing season, before potting them up individually. Seedlings can flower 1 to 2 years after germinating.
References
Hankey, A. 2011-07. Ledebouria Roth (Hyacinthaceae). PlantZAfrica. Internet 5 pp. http://pza.sanbi.org/ledebouria-genus
Hankey, A.J. & Victor, J.E. 2005. Ledebouria cooperi (Hook.f.) Jessop. National Assessment: Red List of South African plants version 2017.1. Accessed on 2017/04/15.
Venter, S. 1993. A revision of the genus Ledebouria Roth (Hyacinthaceae) in South Africa. Unpublished M.Sc. thesis, University of Natal, Pietermaritzburg.
Venter, S. 2008. Synopsis of the genus Ledebouria Roth (Hyacinthaceae) in South Africa. Herbertia 62
Wikipedia: Joseph Dalton Hooker. Accessed 15 April 2017. https://en.wikipedia.org/wiki/Joseph_Dalton_Hooker
Credits
Andrew Hankey
Walter Sisulu National Botanical Garden
July 2018
 
Plant Attributes:
Plant Type: Bulb
SA Distribution: Eastern Cape, Free State, Gauteng, KwaZulu-Natal, Limpopo, Mpumalanga, North West, Northern Cape, Western Cape
Soil type: Clay, Loam
Flowering season: Spring, Early Summer
PH: Acid
Flower colour: Green, Pink, Mauve/Lilac
Aspect: Full Sun
Gardening skill: Easy
Special Features:
Attracts butterflies
Good potplant
Feeds honeybees
Wet sites
Horticultural zones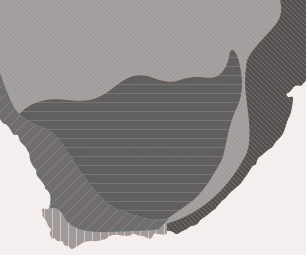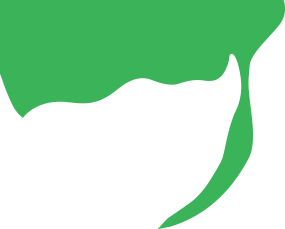 Zone 1 Coastal summer rainfall, frost free
Zone 2 Coastal winter rainfall, frost free
Zone 3 Winter rainfall Karoo, light frost
Zone 4 Summer rainfall Karoo and Highveld, Frost in winter
Zone 5 Bushveld summer rainfall, Light frost
Google QR Code Generator