Ledebouria glauca S.Venter
Family: Hyacinthaceae
Common names: blue African hyacinth
Introduction
A rare and relatively unknown species of African hyacinth from the hot and semi-arid regions of South Africa. This unusual species is very distinctive but is seldom seen, resulting in scant information about it.
Description
Description
Solitary, bulbous plant with medium-sized bulbs, 50 × 40 mm. The soft, fleshy bulbs have no persistent bulb scales protecting them; this species usually has a well-developed basal stem visible at the base of the bulbs.
Two, mostly erect to spreading and unspotted leaves, protrude above the soil with a distinctive blue-green colour. The leaf base is somewhat stalk-like and banded with black and white markings.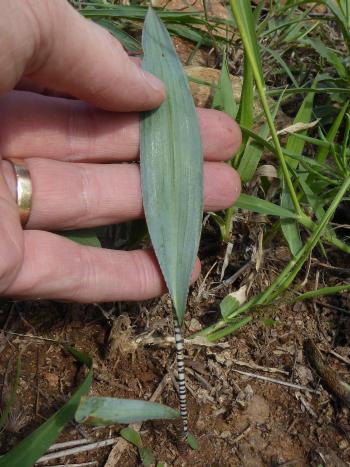 A solitary, unbranched inflorescence is produced in early summer (October to December). Numerous green to pinkish or purplish florets with maroon anthers, are clustered along the distal end of the peduncle (main flower stalk), each attached by a slender pedicel (flower stalk). After the flowers, small capsules are produced which split open to release small, rounded, strongly wrinkled seeds.
Conservation Status
Status
Ledebouria glauca is assessed as Least Concern (LC) in the Red List of South African plants. Although the species is rare in nature, it occurs over a very large area and is not considered to be faced with significant threats in its natural range.
Distribution and habitat
Distribution description
The blue African hyacinth is distributed over a large area of South Africa, including the Limpopo, Gauteng, North West and Northern Cape Provinces, as well as in Zimbabwe. It may well also occur in other neighbouring states, such as Botswana and Namibia. It prefers hot, dry, semi-arid vegetation types, where it occurs in a variety of soil types, most notably sandy soils, in full sun, normally amongst grasses.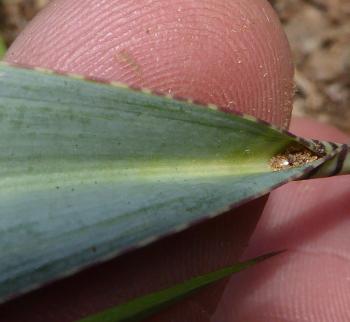 Derivation of name and historical aspects
History
The genus Ledebouria is named in honour of the German-Estonian botanist Professor Carl Friedrich von Ledebour (1785–1851). The species name glauca, is derived from the Latin word glaucus meaning 'bluish-grey' or 'greenish grey', and in botany it means 'covered with a fine powdery coating', in reference to the leaves which are bluish and are covered with a fine powder that rubs off when touched.
The species was first recorded by the acclaimed botanist and vegetation scientist Dr J.P.H. Acocks (1911–1979) in 1936; it wasn't until 1993 that it was first proposed as a separate species by Dr S. Venter in his M.Sc. treatment of the genus. However, it was only formally named as a separate species in 2008, by Venter.
This species very distinctive amongst the genus and is not easily confused with any other Ledebouria. The genus is distributed across Africa, India and Madagascar, with the centre of species diversity in the eastern parts of southern Africa. South Africa has 42 species of Ledebouria.
Ecology
Ecology
There is very little documented information about the ecology of Ledebouria glauca. The structure of the flowers suggests that it may be pollinated by various small visiting insects, and honey bees and solitary bees have been seen visiting the flowers in cultivation. Venter (1993) suggests that Ledebouria seed are distributed by water wash.
Uses
Use
No specific references exist in the literature to this species being used by people. The genus Ledebouria as a whole, has been used medicinally in Africa for various purposes, including pregnancy, diarrhoea, influenza, backache, skin irritations, wound treatment, as well as lumbago. The genus is also reported as being poisonous, although it is also reported that Bushmen eat the bulbs of certain other species (L. apertiflora and L. revoluta).
Growing Ledebouria glauca
Grow
Ledebouria glauca is not easily maintained in cultivation and should be kept in a terracotta pot to facilitate quick drainage and drying of the substrate. Plants should be grown in a fine-grained, sandy soil with good drainage. Small amounts of sifted kraal manure can be added. Watering must be done judiciously; it is important that the pots do not remain wet for extended period of time, as this may cause the bulbs to rot. During the dry dormant season, the pots should be allowed to dry out completely and watering should only commence at the onset of warmer weather (August to September in South Africa). This species does not like to be removed from its container and re-potted or transplanted, because the bulbs are relatively soft and bruise easily, which can lead to rotting. The best way to propagate more plants is from seed. Seed should be sown as fresh as possible, preferably as soon as it is harvested. Sow seed in terracotta pots in the same fine-grained, sand mentioned above. Spread seed evenly over the finely levelled and tamped surface and cover with 2–5 mm of the same sifted soil. Place the pots in a warm  position, well out of direct sunlight, and water sparingly, but maintaining sufficient moisture to sustain germination. Seedlings should ideally be left in the seedling pots until they are a year old, or if sown sparsely enough, they can remain in their natal pots. Seedlings can attain flowering size in 3–5 years from seed.
References
Hankey, A. 2011-07. Ledebouria Roth (Hyacinthaceae). Internet 5 pp. http://pza.sanbi.org/ledebouria-genus
Venter, S. 1993. A revision of the genus Ledebouria Roth (Hyacinthaceae) in South Africa. Unpublished M.Sc. thesis, University of Natal, Pietermaritzburg.
Venter, S. 2008. Synopsis of the genus Ledebouria Roth (Hyacinthaceae) in South Africa. Herbertia 62
Von Staden, L. 2016. Ledebouria glauca S.Venter. National Assessment: Red List of South African plants version 2017.1. Accessed on 2017/04/16.
Plant Biographies at plantlives.com. Search Botanical Definitions, glauca. Accessed 16 April 2017. http://www.plantlives.com/plant_botanical_def.php
Wikipedia. John Philip Harison Acocks. Accessed 16 April 2017. https://en.wikipedia.org/wiki/John_Phillip_Harison_Acocks
Credits
Andrew Hankey
Walter Sisulu National Botanical Garden
August 2017
Plant Attributes:
Plant Type: Bulb
SA Distribution: Gauteng, Limpopo, North West, Northern Cape
Soil type: Sandy
Flowering season: Spring, Early Summer
PH: Neutral
Flower colour: Green, Purple, Pink
Aspect: Full Sun
Gardening skill: Average
Special Features:
Attracts butterflies
Drought resistant
Feeds honeybees
Horticultural zones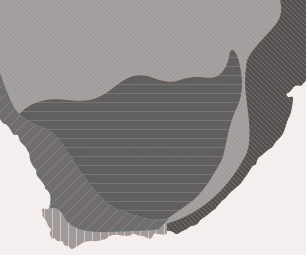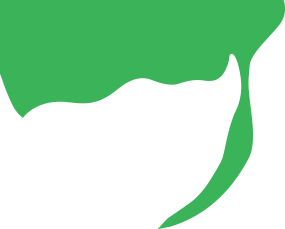 Zone 4 Summer rainfall Karoo and Highveld, Frost in winter
Zone 5 Bushveld summer rainfall, Light frost
Google QR Code Generator