Ledebouria petiolata J.C.Manning & Goldblatt ( = Drimiopsis maculata Lindl. & Paxton)
Family: Hyacinthaceae
Common names: leopard lily, little white soldiers, small snake lily (Eng.), injobo, ucibicibane (isiZulu)
Introduction
This wonderful, attractive, small but hardy bulb, previously known as Drimiopsis maculata, is tolerant of neglect and fairly easy to grow, has purple, eye-catching blotches or spots on glossy, dark green, heart-shaped leaves, which makes for a sought after garden and pot plant.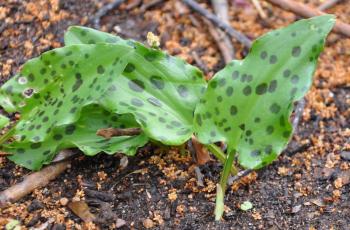 Description
Description
Ledebouria petiolata is a robust bulbous plant that reaches heights of 100–350 mm and spreads rapidly, with clumps reaching ± 300 mm in diameter. The actual storage organ is a globose (spherical) bulb made up of fleshy leaf scales that resemble lily scales, white towards the base and dark pink-purple at the top. Bulbs are deciduous in winter-rainfall regions, but can be evergreen in temperate summer rainfall climates.
The plants have strikingly spotted leaves, 75–120 mm long and ±45 mm wide, on slender petioles (leaf stalks), often with wavy margins, glossy, mid to dark green, depending on whether it grows indoors or outdoors.
Its peduncle (flower stalk) reaches 300 mm tall, bearing a tight cluster of small, scented white flowers, turning pale green on opening. Flowers appear in late winter (August) or early spring (September) and throughout summer ( until March).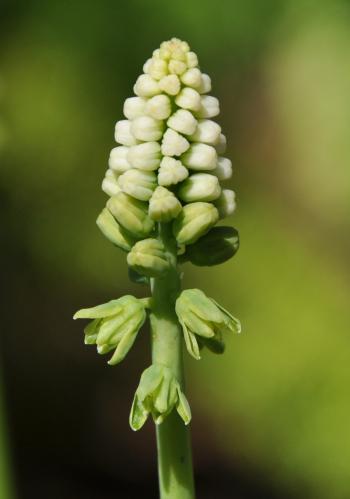 Conservation Status
Status
According to the website http://redlist.sanbi.org checked on 07/10/2015, the conservation status of this plant is Least Concern (LC).
Distribution and habitat
Distribution description
Ledebouria petiolata is widespread in eastern South Africa, it occurs in Mpumalanga, Gauteng, KwaZulu-Natal and Eastern Cape; and in Swaziland and Mozambique, and extends into tropical East Africa, as far as Tanzania.
Derivation of name and historical aspects
History
The genus Ledebouria is named after Carl Friedrich van Ledebour (1785-1851) German botanist and professor of botany at Dorpat. The name petiolata means 'with petioles', referring to the leaves.
Its old name Drimiopsis means 'bearing a resemblance to Drimia', another member of this family, which gets its name from the Greek word drimys meaning acrid, in reference to the roots causing inflammation. The name maculata is derived from the Latin word maculosus meaning 'spotted', referring to the purple spots found on the foliage.
This scientific name of this species was changed in 2004 from Drimiopisis maculata to Ledebouria petiolata based on a molecular phylogenetic analysis of the family by Manning, Goldblatt and Fay. The genus Ledebouria now includes all Drimiopsis and Resnova.
Ecology
Ecology
Not much is known about Ledebouria petiolata pollinators, however it is known to be visited by generalist pollinators such as honey bees.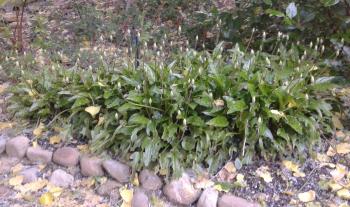 Uses
Use
It is known that the bulb scales are traditionally used to wash/cleanse the body, but there is no known literature to back this up. As far as literature goes, it is said that the roots and bulb scales cause inflammation on the skin. According to Hutchings (1996) the water in which pounded bulbs have been steeped is warmed and administered as an enema to children with stomach ailments. In the Eastern Cape, a similar preparation is administered as a purge for new born babies suffering from ipleyti.
Horticulturally it does well as a container plant, ground cover, filler, and in shady rock gardens.
Growing Ledebouria petiolata
Grow
Ledebouria petiolata is no stranger to windowsills and containers, it makes for a perfect indoor plant and is known as one of the few carefree plants. As long as it is not placed in direct sunlight or allowed to get too hot, it will flourish within any home. Plants should be watered every two to three days, preferably when the medium dries out, and at least once every two weeks with a liquid fertilizer. Feeding and watering will be done more often in summer (December) during its growing season.
This undemanding plant can also be planted outdoors where it will add interest to any dark or shaded garden space. It prefers a shady or semi-shaded area to grow optimally, but can be grown in a sunny spot, preferably morning sun, as it can only take a limited amount of hours in the sun, and the leaves tend to scorch due to exposure to high temperatures. However, the spots are more prominent on plants that are exposed to brighter light. It will withstand light frost but not prolonged exposure to freezing temperatures.
This bulb is not fussy about the medium it grows in, but it would be best if placed in a medium consisting of sand, grit, compost, bark or peat. Ensure that the medium is light, well aerated, has good water retention but is free draining, contains organic matter and is pest/pathogen free. Plant the bulbs with the necks at or just above soil level. Feed regularly with compost placed around bulbs as a mulch; do not smother as they prefer to be slightly emerged.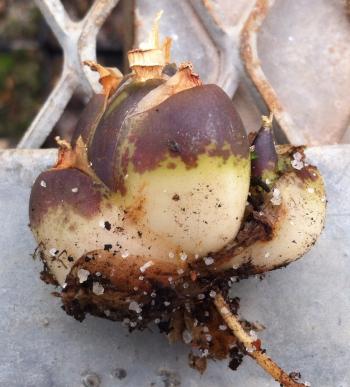 Propagation by seed will take a few years before you have a sizeable plant. Sow in spring and leave the plants in the trays until they are of a size large enough for pots and transplanting. The best and most common way of propagating, is by division of bulblets or offshoots. These offshoots should be divided every two to three years during the growing season and further grown in containers or directly in the ground in a medium of 60% sand, 20% bark, 10% rotted compost and 10% grit. Another simple, but very effective propagation technique, is by means of leaf scales; remove a leaf scale with a piece of the basal plate intact and place in a propagating medium, such as a 50% polystyrene and 50% fine bark mixture.
The only problematic pests are slugs and snails.
References
Du Plessis, N. & Duncan, G. 1989. Bulbous plants of southern Africa, a guide to their cultivation and propagation. Tafelberg, Cape Town.
Duncan, G.D. 2010. Grow bulbs. Kirstenbosch Gardening Series. South African National Biodiversity Institute, Cape Town.
Jackson, W.P.U. 1990. Origins and meanings of names of South African plant genera. University of Cape Town.
Manning, J.C., Goldblatt, P. & Fay, M.F. 2004. A revised generic synopsis of Hyacinthaceae in sub-saharan Africa, based on molecular evidence, including new combinations and the new tribe Pseudoprospereae. Edinburgh Journal of Botany: 60(3):533-568
Solomon, L. A database of indigenous South African Flora. http://kumbulanursery.co.za/plants/drimiopsis-maculata-0. Accessed 02/09/2015
Credits
Jermaine Christoffels and Alice Notten
Kirstenbosch National Botanical Garden
November 2015
Plant Attributes:
Plant Type: Bulb, Ground Cover
SA Distribution: Eastern Cape, Gauteng, KwaZulu-Natal, Mpumalanga
Soil type: Sandy, Loam
Flowering season: Spring, Early Summer, Late Summer
PH: Acid, Neutral
Flower colour: Green, White
Aspect: Shade, Morning Sun (Semi Shade)
Gardening skill: Easy
Special Features:
Fragrant
Good potplant
Indoor plant
Medical plant
Horticultural zones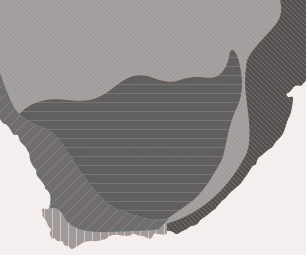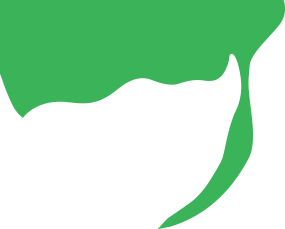 Zone 1 Coastal summer rainfall, frost free
Zone 2 Coastal winter rainfall, frost free
Zone 3 Winter rainfall Karoo, light frost
Zone 5 Bushveld summer rainfall, Light frost
Google QR Code Generator