Ledebouria socialis (Baker) Jessop
Family: Hyacinthaceae
Common names: silver African hyacinth, silver squill
Introduction
This attractive, small bulbous plant, is by far the most popular of all the Ledebouria species, enjoyed by many collectors of rare and unusual plants, as well as bulb lovers and pot plant enthusiasts.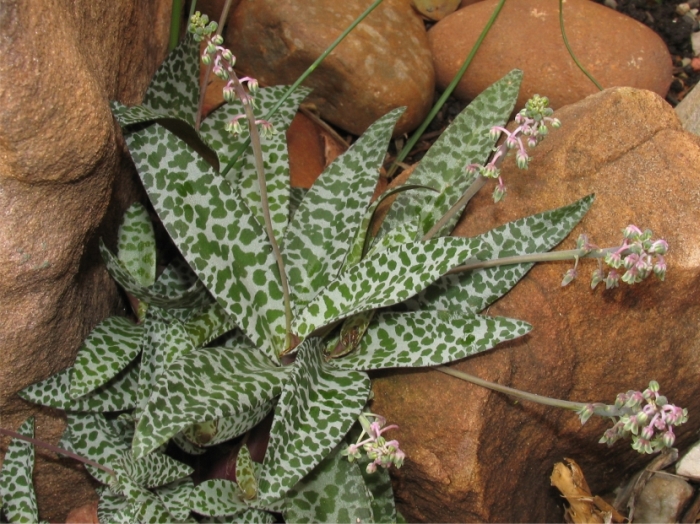 Description
Description
Densley gregarious, dwarf, bulbous plant, with red above ground bulbs, which proliferate to form dense colonies. Leaves (3–5), triangular to lanceolate, usually 50–70 mm long and 10–15 mm wide, with a silvery background colour, adorned with green to brown spots on the upper side; underside variable, from green to purple; leaf colour and markings tremendously variable.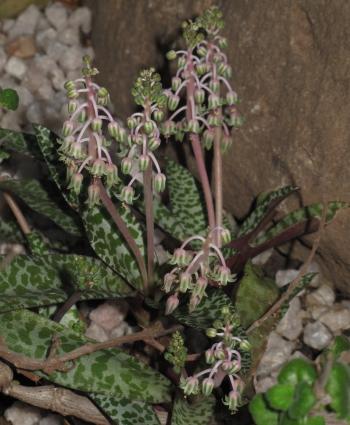 Solitary, sparsely flowered inflorescences are produced per bulb, usually in early summer (October to November) in the wild, but more sporadically in cultivation from July to December (in South Africa). The erect flower spikes are relatively few-flowered, producing between 10–30 individual florets; each floret is attached to the peduncle via a short stalk (pedicel).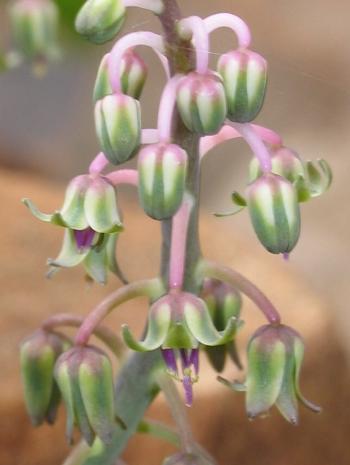 Florets mainly green, white with a flush of pink; each with conspicuous purple stamens that extend beyond the sharply recurved petals (tepals), bearing small, pale yellow anthers at their tips, followed by green seed capsules, which open to release small, blackish, glossy seeds.
Conservation Status
Status
Ledebouria socialis is widespread and not considered to be faced with any threat of extinction across its natural range, therefore, the species is assessed as Least Concern (LC) in the Red List of South African plants.
Distribution and habitat
Distribution description
The species is endemic (occurs nowhere else in the world) to the Eastern Cape Province, South Africa. It is distributed across a wide area in the Eastern Cape, from Hankey to East London, where it usually occurs in evergreen woodland, and scrub forest in river valleys.
Derivation of name and historical aspects
History
The genus Ledebouria is named in honour of the German-Estonian botanist Professor Carl Friedrich von Ledebour (1785–1851). The specific name socialis means 'social' in Latin, in reference to the gregarious habit of the species.
Venter (1993) details the interesting history of this popular plant: The species was named as Scilla socialis by Baker in 1896 from a specimen collected by Mr Cooper, the locality given on the type description by Baker as "Cape of Good Hope, discovered by Mr. Cooper", however, the locality on the Cooper specimen was "Natal" (known today as KwaZulu-Natal). However, this species has never been seen or recorded in KwaZulu-Natal.
J.P. Jessop transferred the species from Scilla to Ledebouria in 1970.
Venter (2003 & 2008) notes that because of the tremendous variation in leaf colour, a superfluous name published by Tjaden in 1989, resulted in the name Ledebouria violaceae being used widely in horticulture. However, this is merely a popular selection based on leaf colour alone, and does not constitute a separate species. The name Ledebouria violacea is, therefore, a synonym of Ledebouria socialis.
South Africa has 39 species of Ledebouria; the genus is distributed across Africa, India and Madagascar with the centre of species diversity in the eastern parts of southern Africa.
Ledebouria socialis cannot be confused with any other Ledebouria; the small above ground bulbs, and densely gregarious habit are unmistakable.
Ecology
Ecology
There is little published about the specific ecology of Ledebouria socialis, however, the aboveground (epigeal) bulbs may be in response to the shallow, stoney soils in which the species occurs, in its natural range. The small nodding flowers are readily visited by various small insects, although they have no noticeable scent to the human nose. Although a popular tropical greenhouse plant, this species actually occurs in rather arid vegetation types that can often be exposed to prolonged and oppressive droughts, to which this species is well adapted. In periods of drought, the bulbs drop their leaves and wait for favourable conditions to return.
Porcupines are known to dig out and eat the bulbs of several Ledebouria species. The seed is small, black and roundish, S. Venter (1993) suggested that Ledebouria seeds may be distributed by water wash.
Uses
Use
It is not known if the species is used by people for any specific purpose, such as traditional medicine. It is, however, a very popular and widely cultivated pot plant the world over, and is the most well-known of all the Ledebouria species in cultivation.
Growing Ledebouria socialis
Grow
The silver African hyacinth is easily maintained in cultivation or in the garden, away from its natural range. This species is well suited to be grown in containers, but may survive outdoors under certain climatic conditions, providing sufficient warmth, light and not too much rainfall is experienced. The bulbs prefer to be planted in a well-drained, sandy loam soil, with the addition of some sifted kraal (cattle) manure or well-matured compost. Plants in containers should be watered generously in summer, provided they are well drained. Usually the plants will be deciduous during the dry, winter, dormancy period, however, in cultivation, plants can be maintained in an evergreen condition all year round, if they do not get dried out or experience frost in winter. In winter, pots should be moved out of the cold into a warm greenhouse, and located in a well-ventilated position and watered as for summer. This species can be used in the succulent rockery in crevices and pockets between rocks. They are also popular with bonsai growers and miniature garden growers for their dwarf size.
Although they can be easily propagated by separating and planting the individual bulbs, propagation from seed is the best way to stimulate the variability of the species, and to select new and interesting colour forms. Seed must be sown fresh (as it cannot be stored), in spring or summer. Pots or trays should be filled with the sifted potting mixture mentioned above. Sow the seed on a firmly tamped surface and cover lightly with the same mixture, approximately 2–4 mm. deep. The seed trays should be kept in a well-lit and warm position, and kept damp for between 2 to 3 weeks during germination. After emergence, the tiny seedlings are ideally retained in their natal container until they are large enough to handle, before being planted out. Plants may reach flowering size within the second to third year post germination.
References
Dictionary of botanical epithets. http://www.winternet.com/~chuckg/dictionary.html
Hankey, A. 2011. Ledebouria Roth. PlantZAfrica. Internet 5 pp. http://pza.sanbi.org/ledebouria-genus, accessed 22 June 2016.
Hankey, A.J. & Von Staden, L. 2016. Ledebouria socialis (Baker) Jessop. National Assessment: Red List of South African plants version 2017.1. Accessed on 2018/06/10.
Jessop, J.P. 1970. Studies in the bulbous Liliaceae in South Africa: 1. Scilla, Schizocarpus and Ledebouria. Journal of South African Botany 36(4): 233–266.
Venter, S. 1993. A revision of the genus Ledebouria in South Africa. M.Sc. Thesis. University of Natal, Pietermaritzburg.
Venter, S. 2008. Synopsis of the genus Ledebouria Roth (Hyacinthaceae) in South Africa. Herbertia 62
Credits
Andrew Hankey
Walter Sisulu National Botanical Garden
January 2019
 
Plant Attributes:
Plant Type: Bulb
SA Distribution: Eastern Cape
Soil type: Sandy, Loam
Flowering season: Spring, Early Summer
PH: Neutral
Flower colour: Green, Purple, Pink
Aspect: Full Sun, Morning Sun (Semi Shade)
Gardening skill: Easy
Special Features:
Attracts butterflies
Drought resistant
Good potplant
Feeds honeybees
Horticultural zones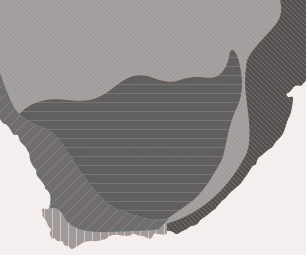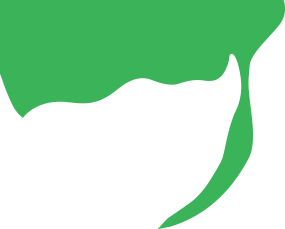 Zone 1 Coastal summer rainfall, frost free
Zone 2 Coastal winter rainfall, frost free
Zone 3 Winter rainfall Karoo, light frost
Zone 4 Summer rainfall Karoo and Highveld, Frost in winter
Zone 5 Bushveld summer rainfall, Light frost
Google QR Code Generator