Lobostemon fruticosus (L.) H.Buek
Family: Boraginaceae
Common names: pajama bush ( Eng. ); agtdaegeneesbos, douwurmbos, luibos, lobos (Afr.)
Introduction
Used as a popular old Cape remedy, this small shrub always attracts admiration with its showy blue and pink flowers.
Description
Description
An evergreen shrub, it grows about 1 m high with numerous, long branches shooting from the base. The older, lower part of the stems get quite woody, whereas the younger tips are much softer with an attractive red colouring. Both the stems and leaves are covered in white hairs, giving the shrub a grey appearance. The rough leaves, without stalks, are arranged alternatively around the stems of the younger, upper branches. The narrow, oval-shaped leaves are about 400 mm long with sharp tips that point up and outwards.
Flowering is from early spring to summer, turning the grey, inconspicuous bushes into a colourful display with clusters of flowers in delicate shades of pink and blue. The pink bud opens into a bell-shaped flower, of which the inside and back remain pink but the tips of the 5 petals wash into light blue. The flower colour is variable with some plants more blue, others more pink and occasionally white. The seeds are four little nutlets with spiny tips.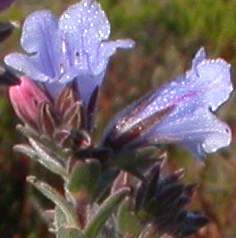 The shrubs are fast growing, reaching flowering size within a year. Over time, plants tend to get very woody and long with less flowers.
Distribution and habitat
Distribution description
Lobostemon fruticosus is common and often found in groups, along its wide distribution from Namaqualand to the Cape Peninsula and Worcester. These areas, from the northwestern to southwestern Cape, receive winter rain with long, dry summers and very little to no frost. Within this distribution with mainly fynbos vegetation, L. fruticosus favours areas that are in full sun and well drained, from sandy flats to rocky mountain slopes.
Derivation of name and historical aspects
History
Lobostemon is a South African genus with 31 species mostly found in the fynbos of the southwestern Cape. The genus name is derived from Latin lobos, meaning lobe, and the Greek word stemon, meaning stamen. J.G.C. Lehmann established the genus in 1830 to separate it from the closely related European genus, Echium. The species Echium plantagineum ( bloudissel ) introduced from Europe , is locally frequent in disturbed areas and colour many fallow agricultural fields blue in the Boland when flowering in spring. In England this species is known as viper's bugloss and in Australia where it is also a serious weed, Paterson 's curse.
In the Boraginaceae or forget-me-not family, Lobostemon fruticosus, is also closely related to the well-known European herbs, comfrey ( Symphytum officinale ) and borage ( Borage officinalis ). Myosotis, Anchusa and Cynoglossum are other well-known genera within this family.
Ecology
Ecology
Bees, the main pollinators in the garden, frequently visit the flowers.

Uses
Use
Used by the KhoiKhoi, the settlers and Malays, this little shrub was a much respected herb of the Cape people. A tea made of the leaves drunk first thing in the morning, was said to be a sure cure for ringworm in humans and animals-hence the Afrikaans common name, douwurmbos.
The fresh leaves and branch tips were used with Hermannia hyssopifolia and Psoralea decumbens to make an ointment used for roos (erysipelas or eczema). An ointment made by frying the leaves and flowers of Lobostemon fruticosus in butter with leaves of Melianthus major, M. comosus and the bulbs of Cyanella lutea was applied to wounds. A watery lotion of L. fruticosus, Melianthus comosus and Galenia africana was used for syphilis.
The name agtdaegeneesbossie, meaning eight-day-healing-bush, refers to the belief that this plant could heal all sorts of ailments within eight days.
Lobostemon fruticosus is used in gardens, usually in informal, indigenous plantings.
Growing Lobostemon fruticosus
Grow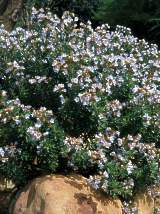 For a spring display this is a fantastic shrub by itself or even more effective when planted in small groups of 5 to 10 plants. Fynbos plants to combine it with are the buchus, Coleonema album or Achmadenia heterophylla ; restios, Chondropetalum tectorum and Thamnochortus insignus ; and the shrubs Salvia africana-lutea, Melianthus major ( kruidjie-roer-my-nie ) or Selago canescens.
Plant Lobostemon in full sun and well-drained soil. In the Cape the best time to plant is during the rainy months of winter to allow plants to establish themselves before the warm, dry summers. In the wild and along the coast, these plants are extremely tough, surviving summer drought and strong wind, but in the garden they need to be watered throughout the year for best results.
Lobostemon fruticosus is the only species that is grown to any extent in gardens as lobostemons can be difficult to propagate and are unpredictable.
Cuttings of resprouting, non-flowering stems in spring and autumn seem to work best. The cuttings should not be kept too wet, as they turn black and rot easily.
Plants grow from fresh seeds, but seeds are usually difficult to get hold of. Seedlings and young plants must be protected from frost.
References
Batten, A. 1986. Flowers of southern Africa. Frandsen Publishers, Sandton, Johannesburg.
Eliovson, S. 1973. South African wild flowers for the garden. Macmillan, Johannesburg .
Goldblatt, P. & Manning, J. 2000. Cape plants. A conspectus of the Cape flora of South Africa . Strelitzia 9. National Botanical Institute, Pretoria .
Roberts, M. 1990. Indigenous healing plants. Southern Book Publishers, Pretoria .
Smith, T. 2003. Guide to plant genera of southwestern Cape. University of Cape Town , Cape Town.
Van Wyk, B-E., Van Oudtshoorn, B. & Gericke, N. 1997. Medicinal plants of South Africa. Briza Publications, Pretoria.
Credits
Liesl van der Walt
Kirstenbosch
October 2005
Plant Attributes:
Plant Type: Shrub
SA Distribution: Western Cape
Soil type: Sandy
Flowering season: Spring, Early Summer
PH: Acid, Neutral
Flower colour: Blue, White, Pink
Aspect: Full Sun, Afternoon Sun (Semi Shade)
Gardening skill: Average
Special Features:
Good potplant
Medical plant
Horticultural zones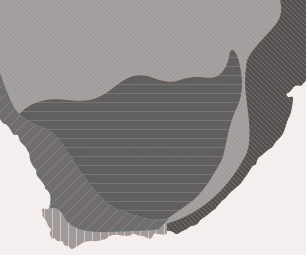 Zone 2 Coastal winter rainfall, frost free
Zone 3 Winter rainfall Karoo, light frost
Google QR Code Generator