Macrostylis squarrosa Bartl. & H. L. Wendl.
Family: Rutaceae
Common names: None recorded
Introduction
Macrostylis squarrosa is a very attractive, densely bushy shrub of about 700 mm high. When it flowers in spring and summer, it is dotted with small white flowers.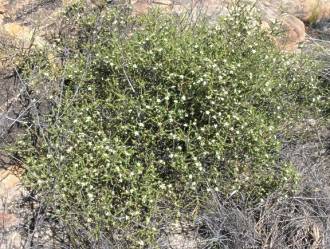 Description
Description
This dwarf, densely branched shrub is single-stemmed at the base. The numerous branchlets are very short, interlocking, erect and somewhat reddish. The small leaves are all sessile and strongly recurved. The midrib and margins are gland-dotted and bristly with short hairs. The leaves are extremely aromatic when crushed. Small white flowers are borne in terminal inflorescences, and occur from August to February. The fruit are about 10 mm long and are conspicuously gland-dotted. The small seeds (5 mm long) are black and mottled.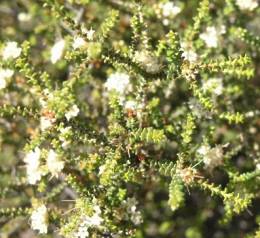 Conservation Status
Status
This species is not threatened and has a Red List status of Least Concern (LC).
Distribution and habitat
Distribution description
These plants grow in sandy soil derived from Table Mountain Sandstone on mountains flanking the Olifants River Valley in the Clanwilliam District. The species distribution extends from Citrusdal in the south to Nardouwskloof in the north, a distance of about 70 km, with disjunct populations a further 45 km away on the Bokkeveld mountains in the Calvinia District. 
Derivation of name and historical aspects
History
The generic name Macrostylis, meaning large or lengthy style, was proposed by Bartling and Wendland in their revision of the Diosmaea published in 1824.
The species name squarrosa means rough, alluding to the characteristic protruding tips/sharp edges of the plant's leaves.
Ecology
Ecology
The common pollinators of this species are bees and butterflies. The size of the leaves (3.3 mm long) plays an important role in the survival of this plant in extreme climatic conditions. The area where these plants occur has a Mediterranean climate with hot, dry summers and cold, wet winters. The small leaf surface reduces evaporation in the hot, dry summer conditions. Due to this fact, the plant is able to survive in these hot, dry conditions which may last for long periods of time.
As the fruit ripens, they turn light brown. When they open, the small (4.8 mm long) seeds are exposed. The seeds fall out of the fruit as the shrub is disturbed by strong winds
Uses
Use
Traditionally, this species is used as a medicine for fevers. It has been tested as a potential medication against malaria.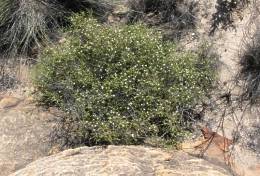 Growing Macrostylis squarrosa
Grow
This species can be cultivated by means of seeds and cuttings.
The use of seeds is more popular, especially for the fynbos species, as the success rate with cuttings is low. Before sowing the seed, the growth medium (sand) should first be sterilised. This can be done with boiling water. Wait until the sand in the sowing tray has cooled down before sowing your seed. Cover the seed with a layer of sand of about 1 mm thick. Water the tray with a fine mist and place in a warm environment, away from direct sunlight. If the sand gets too hot, the seed will not germinate.
Many fynbos species require smoke for the seed to germinate quickly. One solution is to position a wet cloth above a smoky fire for an hour or two. Rinse the cloth in a bucket of fresh water and use that water to water your seeds.
If using cuttings, cut twigs in 100 mm lengths and insert thickest end in growth hormone before planting. The growth hormone will stimulate root formation. Plant twigs in trays filled with sand. Twigs should be planted 20-25 mm deep in order to keep them upright. Make sure the trays have sufficient drainage holes for water to drain fast enough before watering your twigs. Place the tray in a warm spot with sufficient light.
References
Gledhill, D. 2002. The Names of Plants (third edition). University Press, Cambridge
Raimondo, D. et al. 2009. Red list of South African Plants. Strelitzia 25. (South African National Biodiversity Institute), Pretoria
Van Rooyen, G. & Steyn, H. 1999. Cederberg (Clanwilliam & Biedouw Valley) South African Wild Flower Guide No. 10.
Credits
Jean Meyer
National Herbarium, Pretoria
January 2011
Plant Attributes:
Plant Type: Shrub
SA Distribution: Northern Cape, Western Cape
Soil type: Sandy
Flowering season: Spring, Early Summer
PH: Neutral
Flower colour: White
Aspect: Full Sun
Gardening skill: Average
Special Features:
Drought resistant
Fragrant
Medical plant
Horticultural zones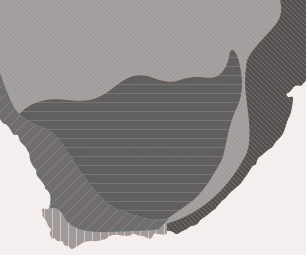 Zone 2 Coastal winter rainfall, frost free
Zone 3 Winter rainfall Karoo, light frost
Google QR Code Generator