Maerua angolensis subsp. angolensis
Maerua angolensis DC. subsp. angolensis
Family: Capparaceae
Common names: bead-bean tree, bead-pod-tree, knobbly-bean tree (Eng.); knoppiesboontjieboom (Afr.); umenwayo, umgodithi (Zulu); umvitsi (Swati.); mogôgwane, moomane, moratlêtla, moreketli (Tswana), mutamba-na-mme (Venda);
SA Tree No: 132
Introduction
This frost and drought resistant tree, with its scented flowers from mid-winter until early summer, will attract butterflies and insect-eating birds, in large numbers to the garden.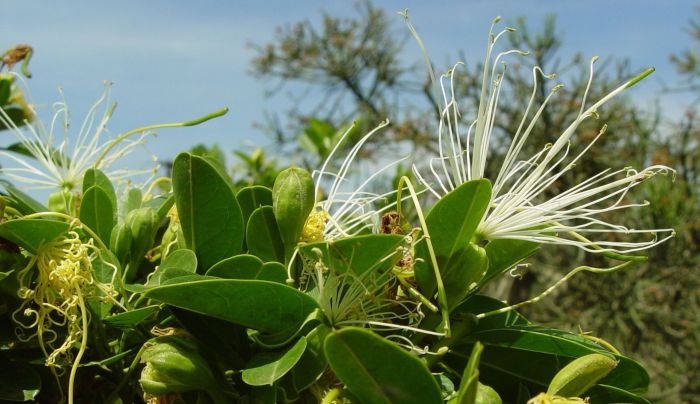 Description
Description
Maerua angolensis forms quite a thick, roundish crown; this evergreen tree can grow up to 15 m tall in its natural environment, but only reaches a height of about 7 to 9 m in the domestic garden. The bark on young stems turns from light purple to a yellowish colour and coarse lenticels (raised pores in the stem of a woody plant that allow gas exchange), are visible. The lenticels tend to become smoother and turn from a light grey to a darker grey as they mature; they also peel off naturally, in small scales.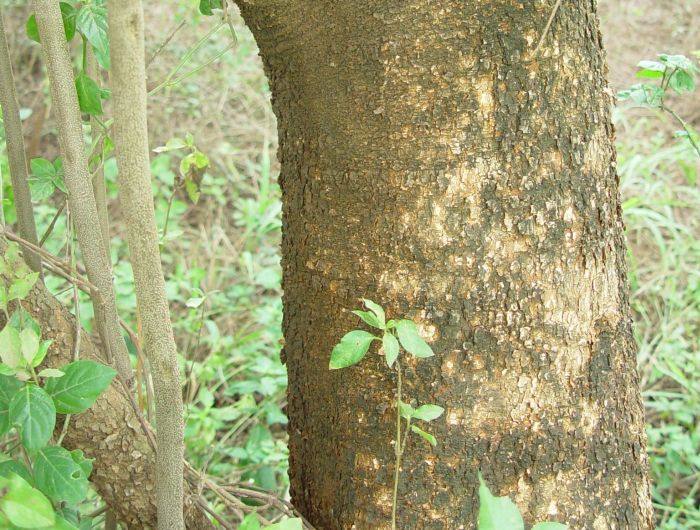 The simple, glossy leaves are dark green and paler below; tiny hairs cover the surface of the leaves. The leaf blade, when mature, is ± 70 mm long and 12 mm wide. The base of the leaf is rounded, with a light coloured midrib, which is quite visible on the underside of the leaf. Leaf venation is more bulging on the upper surface of the leaf. An interesting feature about the ± 30 mm long leaf stalk is that it thickens at the base of the leaf blade and it makes a unique bend near the leaf base.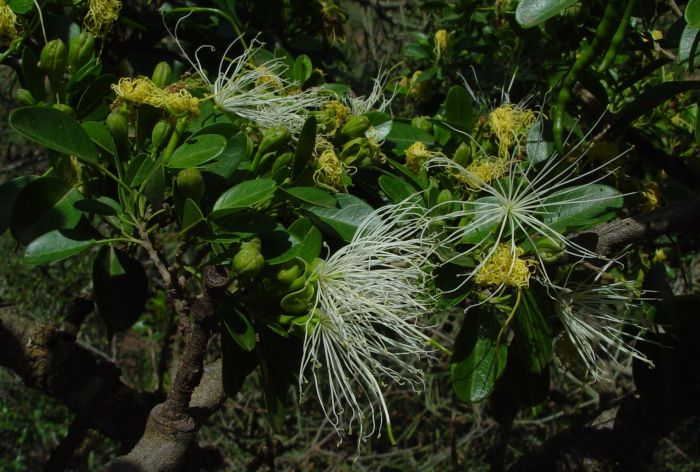 The sweetly scented flowers appear in terminal clusters, interestingly without petals, but green sepals are present, with a large number of pale white to pink stamens about ± 50 mm long. Flowering period is winter to midsummer (August to December).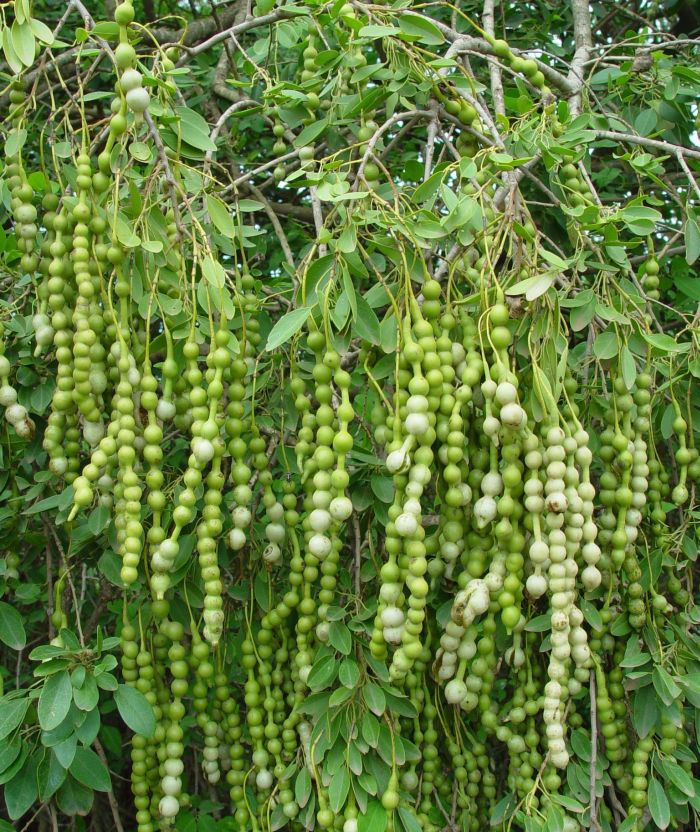 The fruit takes the form of a non-splitting pseudopod (elongated bean-like pod) which is ± 160 mm long; the pod is constricted around the seeds. The fruits ripen in summer but remain on the tree for many months. The rounded, brown seeds are embedded in a slimy pulp.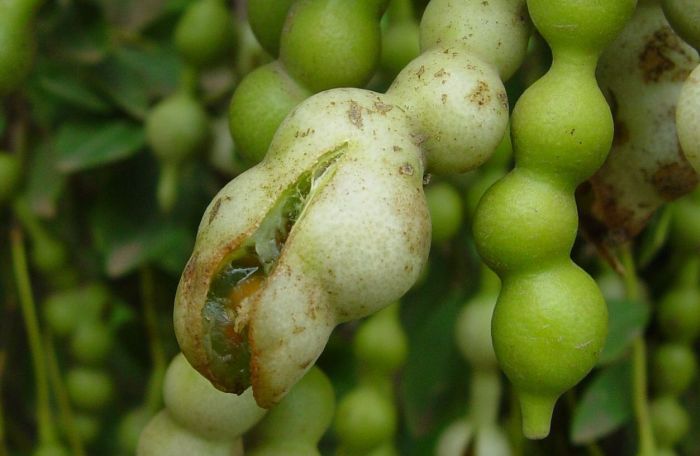 Conservation Status
Status
According to the Red List of South African Plants the conservation status of this plant species is at a low risk and, therefore, assessed as Least Concern (LC).
Distribution and habitat
Distribution description
Maerua angolensis is not a South African endemic; the tree's provincial distribution includes KwaZulu-Natal, Limpopo, Mpumalanga and North West and is quite widely spread in tropical Africa. This tree grows well in woodlands and grasslands. It prefers well-drained soil, such as a sandy and rocky substrate.
Derivation of name and historical aspects
History
The genus name Maerua means 'drooping', which refers to the drooping foliage and the second part of the name (specific epithet) angolensis, means 'from Angola'. The tree's common name refers to the long, drooping, button-like bean pods. The genus comprises ±100 species, mostly in tropical Africa, but also extending into the Middle East and tropical Asia; 11 of these species occur in southern Africa.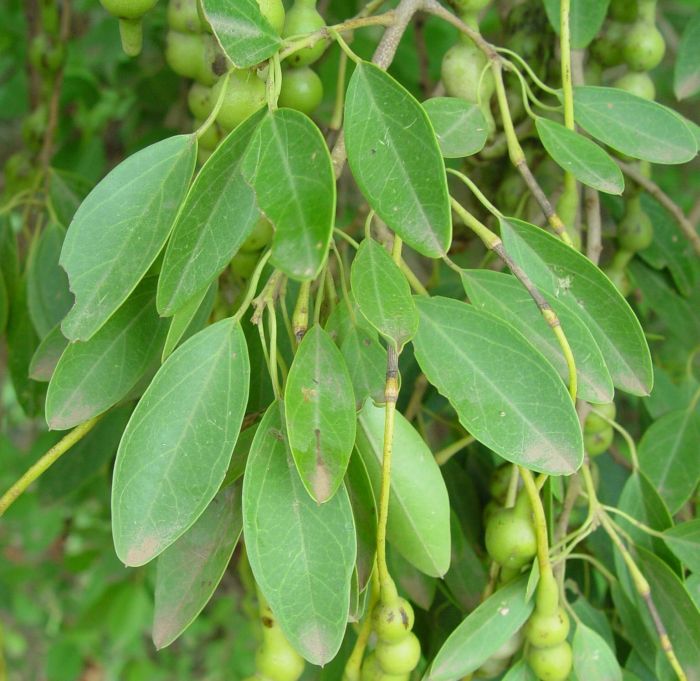 Ecology
Ecology
The leaves are a good source of food for the larvae of various butterfly species. The leaves often attract game and some communities use it successfully for their domestic livestock. It should be noted that the leaves of this tree are not preferred by all domestic stock or game. The bark of this tree is said to assist with keeping internal parasites of kudu and bushbuck at bay.
Uses
Use
It is recorded that some South African communities traditionally used a decoction of the leaf and bark to relieve stomach aches. Headaches were treated by inhaling steam from leaves steeped in hot water. It is believed that the leaves contain properties that can be applied to treat skin cancer. However, these remedies should not be used without medical guidance.
Growing Maerua angolensis subsp. angolensis
Grow
The bead-bean tree does not have a vigorous root system, so it is ideal for medium to small gardens. This tree has a neat form and will provide ample shade for animals and humans alike. It can be grown in a shady part of a building, as well in full sun.
The tree can be easily propagated by seeds sown in spring. Prepare the seeds for sowing by removing the fruit pulp; this will encourage germination. Fill shallow seedling trays with river sand and sow the seeds on top of it and cover with a thin layer of sifted compost. The seeds may show signs of germination after 2–3 weeks. Seedlings can be successfully transplanted into small plastic pots filled with a mixture of sand, loam and compost at a ratio of 3:1:1. The seedlings are slow growing, ± 800 mm per year, and it seems as if it grows slower as the plant grows older. The plant only starts to flower around the age of 3 years. It is possibly for these reasons that they are not often available from commercial nurseries.
References
Coates Palgrave, K. 2002. Trees of southern Africa. Struik, Cape Town.
Foden, W. & Potter, L. 2005. Maerua angolensis DC. subsp. angolensis. National Assessment: Red List of South African plants version 2020.1. Accessed on 2020/06/10.
Joffe, P.1993. The gardener's guide to South African plants. Tafelberg Publishers, Cape Town.
Pooley, E. 1993. The complete field guide to trees of Natal, Zululand and Transkei. Natal Flora Publication Trust, Durban.
Van Wyk, P. & Van Wyk, B. 2013. Field guide to trees of southern Africa. Struik Publishers, Cape Town, Johannesburg.
Venter, F. & Venter, J.A. 2012. Making the most of indigenous trees. Briza Publications, Pretoria.
Von Breitenbach, F. 1990. National list of indigenous trees. Second revised edition. Dendrological Foundation, Pretoria.
Wikipedia: knoppiesboontjie. https://af.wikipedia.org/wiki/Knoppiesboontjie. Accessed on 2020/06/12.
Wikipedia: Maerua angolensis. https://en.wikipedia.org/wiki/Maerua_angolensis. Accessed on 2020/06/12.
Credits
Benjamin Festus
Kirstenbosch National Botanical Garden
July 2020
Acknowledgements: the author thanks Geoff Nichols for the pictures.
Plant Attributes:
Plant Type: Tree
SA Distribution: KwaZulu-Natal, Limpopo, Mpumalanga, North West
Soil type: Sandy, Loam
Flowering season: Spring, Winter
PH: Acid, Neutral
Flower colour: White, Pink
Aspect: Full Sun, Morning Sun (Semi Shade), Afternoon Sun (Semi Shade)
Gardening skill: Average
Special Features:
Attracts birds
Attracts butterflies
Drought resistant
Fragrant
Medical plant
Useful plant
Horticultural zones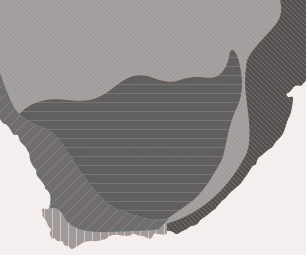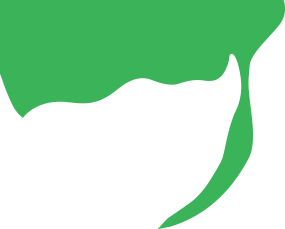 Zone 1 Coastal summer rainfall, frost free
Zone 2 Coastal winter rainfall, frost free
Zone 4 Summer rainfall Karoo and Highveld, Frost in winter
Zone 5 Bushveld summer rainfall, Light frost
Google QR Code Generator