Marasmodes DC
Family: Asteraceae
Common names: autumn aster
Introduction
The relatively unknown genus Marasmodes is confined to the lowlands of the south-western Western Cape and occurs in the critically endangered Renosterveld vegetation type.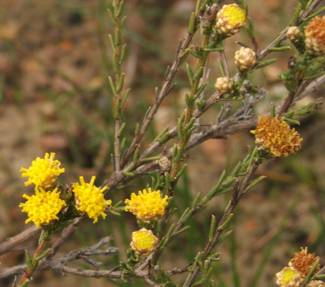 Description
Description
The main characteristics of this genus are small ericoid leaves (narrow, with rolled back margins almost touching on the underside), small discoid flower heads (without ray florets) and disc florets with a glandular corolla. Most members of this genus are scraggly shrubs ranging from 300 mm to 1 m. They often have only a single stem with numerous branches reaching out at all angles. The flower heads are terminal with yellow florets in all species, either single or in clusters of up to 20 per branch. Most species flower between April and June and the seed is set two months after flowering. The longevity of members of the genus is poor as plants quickly become senescent, and it requires fire to clear the area and encourage seed germination.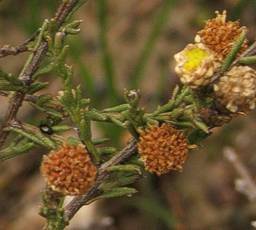 Conservation Status
Status
Unfortunately, since Marasmodes occurs in a critically endangered vegetation type, most of the species are threatened and endangered.
Urbanisation in the past has resulted in the loss of 95% of the habitat of this genus. A lack of fire in the patches where species do occur is a major problem as the plants become old and only recruit with the aid of fire.
Marasmodes undulata occurs on a 4-ha patch in a campsite; this has been burnt using a controlled burn and it is hoped that the number of plants will increase. Seed of this species has been collected and banked in the Millennium Seed Bank as a back-up conservation collection.
Alien infestation is also a major threat as most Marasmodes species occur in small fragmented localities. The number of specimens of these species is declining due to the plants being crowded out by alien plant species such as Port Jackson (Acacia saligna). The work of the Custodians of Rare and Wild Flowers (CREW) has been vital in monitoring this genus. Every April they select a couple of species of Marasmodes and go in search of them. This has led to a new species being found by CREW; it is as yet undescribed.
Distribution and habitat
Distribution description
Marasmodes is a small genus of 13 species, all of which are endemic to the Cape Floristic Region, more particularly to the winter-rainfall Renosterveld biome in the south-western Western Cape Province.
Marasmodes species grow on the richer clay soils overlying a shale base.
Derivation of name and historical aspects
History
Originally thought to contain only four species, a recent analysis of the genus turned up 13 species plus 2 new undescribed ones.
Ecology
Ecology
Marasmodes species are pollinated by small flies and bees. The tiny flowers each produce 2 to 3 viable seeds which are dispersed by the wind, as with other daisy bushes. The small tough leaves make the plant unpalatable to browsers; however, animals do browse the new growth in spring.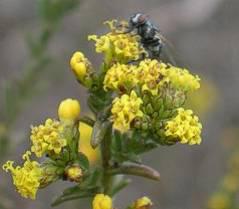 Not much is known about each of the species of Marasmodes and it was only in 2008 that 8 new species were found belonging to the genus. From a research point of view this genus is very important and highly valued.
Uses
Use
This unobtrusive genus has had no economic use to date; it does, however, form part of the Renosterveld ecosystem and for this reason is of importance.
Growing Marasmodes
Grow
Marasmodes are currently undergoing propagation tests at the Kirstenbosch National Botanical Garden. Very little is known about their cultivation from both vegetative material and seed.
Species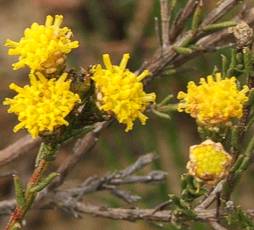 Marasmodes undulata (CR = Critically endangered) - An inconspicuous shrublet growing in the under storey of Renosterbos veld, Marasmodes undulata, was first discovered on 29 April 1946 in the Paarl Valley. After this initial find it was often looked for but never found again and thought to be extinct until rediscovered by Chris Burgers of Cape Nature Conservation in 1980. At this time it was estimated that the population found in Paarl was 500 individuals. Seed was collected and sent to Dr A.V. Hall at the Bolus Herbarium, based at the University of Cape Town. Dr Hall separated the collected seed, sending half to Assegaaibosch Nursery for sowing and the second part to the Provincial Blood Bank at the Cape Medical Centre for storage at -22° C. The Assegaaibosch seedlings were transferred to Kirstenbosch Botanical Garden in December of 1984. Chris Burgers revisited the site in Paarl in 1994 to discover that the majority of the site had been burnt in November of 1993, and he counted only 200 plants in the remaining area of 2 ha. The site then remained unmonitored until 2005 when members of the CREW Project visited it and only 15 plants were found. On 26 May 2005 the Millennium Seed Bank Project (MSBP) made a collection of seed and vegetative material of Marasmodes undulata, and found 6 more individual plants, bringing the total population to 21 plants left in the wild.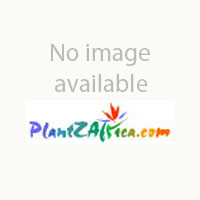 Marasmodes duemmeri (EN = Endangered) - A finely branched shrublet to 300 mm high, with ericoid linear leaves and yellow flowers at the tips of the branches. It was found on a tortoise reserve in the Klipheuwel area by accident. Whilst collecting endangered Lampranthus species, for the Millennium Seed Bank, the MSBP collected this species as a companion plant. Later Dr John Manning from the Compton Herbarium identified it as Marasmodes duemmeri and listed the find as a new locality for this species. Its habitat is highly fragmented due to agriculture and urbanization. This species flowers from May to June and would make a nice filler plant in flower beds.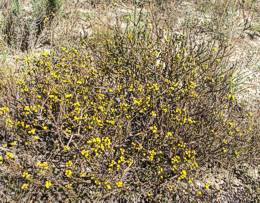 Marasmodes oligocephala (LC = Least concern) - This much-branched shrublet reaches a height of 400 mm. The ericoid leaves are linear and irregularly lobed. Flower heads occur in terminal clusters or can be solitary at the end of branches; they are yellow discs and stand out in the winter veld. Flowering is in the autumn to winter months (April to June) in the southern hemisphere. Threats to this plant include: urbanisation, agriculture, aliens and particularly a lack of critical plant identification during EIAs (Environmental Impact Assessments). For example, the population adjacent to Harmony Flats was bulldozed at the end of 2004 as a result of this.
Marasmodes trifida (CR = Critically endangered) - Growing to a height of 400 mm, this small shrub has narrow linear leaves and yellow flowerheads at the ends of its branches. It grows on shale-based clay soils in the Kalbaskraal area and is a newly described species in the genus Marasmodes. Flowering is in April before the main spring flowering season in the Atlantis Sand Fynbos area.
Marasmodes fasciculata (EN = Endangered) - Flowering from end April to June, this species has up to 20 flowerheads clustered at the tips of the branches. It has the ericoid leaves typical of the genus, but the leaves are alternate.
References
Ebrahim, I. 2009. Marasmodes Day. Veld and Flora 95(3): 130-131.
Leistner, O.A. (ed.). 2000. Seeds plants of southern Africa : families and genera. Strelitzia 10. National Botanical Institute, Pretoria.
Magee, A.R. & Manning, J.C. 2009. Two new species of Asteraceae (tribe Anthemideae, subtribe Pentziinae) from the Cape Floristic Region of South Africa. South African Journal of Botany (in press).
Smith, C.A. 1966. Common names of South African plants. Memoirs of the Botanical Survey of South Africa No. 35.
Credits
Carly Cowell
Kirstenbosch National Botanical Garden
June 2010
Plant Attributes:
Plant Type: Shrub
SA Distribution:
Soil type:
Flowering season:
PH:
Flower colour:
Aspect:
Gardening skill:
Special Features:
Horticultural zones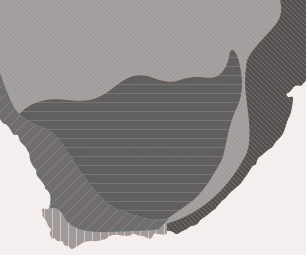 Google QR Code Generator