Marasmodes trifida S.Ortiz
Family: Asteraceae
Common names: trifid autumn-aster
Introduction
This little known and not so beautiful plant is highly threatened; it is easily identifiable from other members of the genus by its leaves that split into 3 lobes at the tip and solitary, bell-shaped (campanulate) flower heads.
Description
Description
Marasmodes trifida is a small, diffuse, sparsely leafy shrublet, up to 400 mm high. The leaves are sessile, linear, 6–11 mm long, entire or often divided into 3 (occasionally 2 or 4), short, linear segments at the tip of the leaf, each lobe tipped with a small point. The leaves are opposite or alternately arranged around the stem.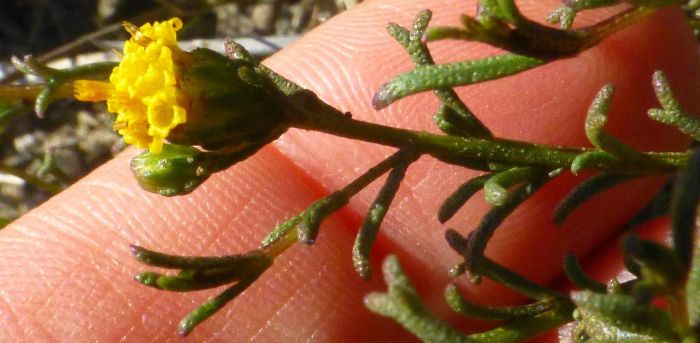 The flower heads (capitula) are discoid, bell-shaped, solitary, yellowish, and about 4 × 4 mm. Each capitulum contains up to 15 florets, each with a glandular corolla, with a swollen cylindrical tube and thick vascular strands, and recurved triangulated lobes, often reflexed at maturity.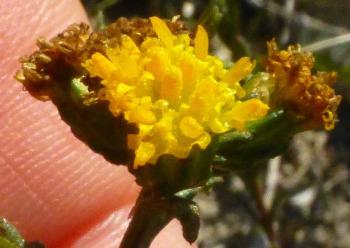 Anthers are lanceolate with an obtuse base and 1.3–1.5 mm long. The style is cylindrical and up to 2 mm long, whereas branches are truncate and bristly at tip ending, up to 0.3 mm long.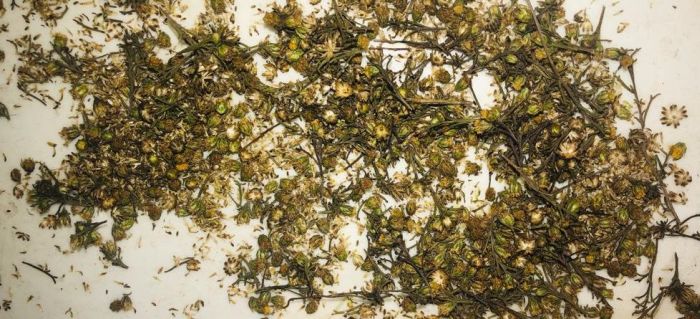 Fruits are 5-ribbed and glandular, with myxogenic cells on the ribs and on the abaxial surface, this means that they produce mucus when wet. The pappus consists of 7–14 unequal scales, with longer adaxial scales.
Marasmodes trifida is distinguishable from the other species of the genus by its long, apically trifid leaves, and solitary capitula with campanulate involucre.
Conservation Status
Status
Marasmodes trifida is on the edge of extinction, and is classified as Critically Endangered (CR) by the Red List of South African plants. This species is in this predicament because there has been extensive poor management of the small habitat fragments where M. trifida occurs; the surviving individuals grow in a road verge and in a firebreak along a fence line, which are frequently cleared of larger shrubs and mowed; and there is ongoing loss of habitat because of urban and agricultural expansion. According to Magee (2017), this entire genus, is the most threatened plant genus in the Cape Floristic Region and in the country, with 10 of its 13 species being assessed as Critically Endangered and the remaining 3, Endangered.
As part of the conservation measures for this species, portions of a neighbouring farm have been set aside and M. trifida plants are being cultivated there, ex situ, with the intention to reintroduce them in the future. Seeds were collected at Kalbaskraal in 2019, and half of the collection will be shipped to the Millennium Seed Bank Partnership (MSBP) in the UK for long-term storage, whereas the other half will be kept and used for restoration purposes. Ongoing conservation measures will keep this small, isolated fragment of fynbos habitat of M. trifida, intact.
The Custodian of Rare and Endangered Wildflowers (CREW) has invented 'Marasmodes Day', which is on 27 April, a national public holiday, Freedom Day, in South Africa. The Marasmodes Day was chosen as a day to seek freedom and protection for the plants belonging to this genus, whereby the CREW volunteers visit all the sites to monitor these endangered plants. 
Distribution and habitat
Distribution description
Marasmodes trifida is found in the Western Cape, between Atlantis and Kalbaskraal, near Cape Town. The few remaining populations occur between the eastern slopes of Dassenberg to Kalabaskraal village near Malmesbury. M. trifida is adapted to heavy brackish clay flats associated with Salicornia in Sand Fynbos.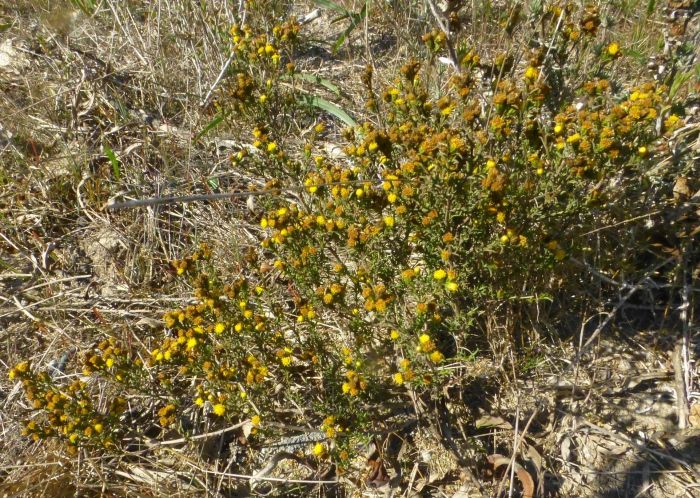 Derivation of name and historical aspects
History
Marasmodes is a small genus from the family Asteraceae; it consists of 13 species.  Historically, de Candolle first formed the genus Marasmodes in 1837. This genus was then revised by Hutchinson in 1917 and was further described by Magee and Manning in 2010. Ortiz later described 8 new species in 2009, and the most recent revision was conducted by Magee, Ebrahim, Koopman and von Staden in 2017, where 2 new species were described and 2 were removed. M. trifida was one of the new species described by Ortiz in 2009.
Marasmodes is characterized by its ericoid leaves that are entire to divided and sessile to subsessile and discoid flower heads that are homogamous (i.e. they are made up of one type of floret, either all ray florets or all disc florets – in this case all disc florets). These flower heads are solitary or in groups and are attached to a flat receptacle without pits.
The genus is closely related to Cymbopappus B.Nord. and Pentzia Thunb., but differs from them by its inconspicuous woody habit with sclerophyllous ericoid leaves, sessile discoid flower heads and a pappus of more than 7 scales, which make this genus cryptic.
The name Marasmodes is derived from the Greek marasmus, meaning 'a wasting away' and odes, meaning 'resembling', because the plants look lean and ill-fed. The species name trifida means 'trifid' and refers to the arrangement of the leaves, where the tips are partly or wholly split into 3 lobes. M. trifida has gained its common name 'trifid autumn-aster', from its trifid leaves and the unusual autumn flowering time for all the Marasmodes, where most other fynbos plants are waiting for the winter rain in order to flower.
Ecology
Ecology
Unlike most plants in the Cape Floristic Region, Marasmodes trifida flowers during the dry autumn months, before the winter rains, which stimulates flowering in most plants of this region. At this time, plant and seed collection trips are rarely conducted because most collectors wait for the peak season for collection, in spring. As a result, Marasmodes trifida has been poorly collected and this species is easily overlooked in field surveys.
Marasmodes trifida is pollinated by small flies, bees and other insects. The seeds are wind dispersed like many other daisy plants. Their inedible, small, tough leaves are rarely grazed.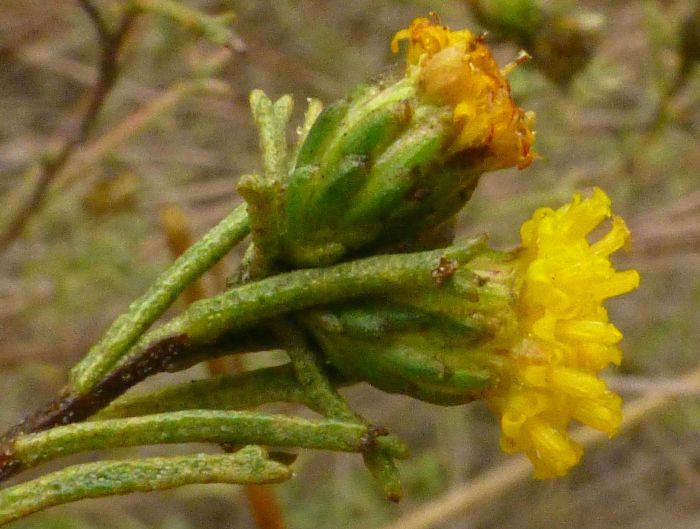 Uses
Use
Marasmodes trifida, it is said to be cryptic because of the inconspicuous habit and small, discoid inflorescences. This species forms part of the fynbos ecosystem and for this reason, is of importance. Studies suggest that more research studies, such as habitat restorations, should be conducted for the safe guarding of this important and highly valued species. For horticultural practice, this plant can be propagated and be planted in gardens with other subshrubs and other erect herbs, to give it a chance to stand out.
Growing Marasmodes trifida
Grow
Marasmodes trifida can be propagated by means of cuttings and seeds. Prepare a propagating tray and fill it with a propagation mix consisting of fynbos sand and milled bark. Using a rose spray, spray the mix using a solution of terminator, to eliminate any pathogens from the soil, and let it drain. Make cuttings of about 5–7 cm long. Cut the tips off, and remove leaves 1–2 cm from the bases. Also, remove any flowers and developing buds. Dip the base of the cutting in a rooting hormone. Make holes in the propagation mix, place your cuttings and then carefully cover the tray. Place your cuttings in a propagation tunnel, with normal temperature and water every 30 minutes.
Sow seeds in autumn, using a sterilized, sandy sowing medium, cover lightly with clean sand, place in a warm, lightly shaded position with good aeration and keep damp.
Grow Marasmodes trifida in heavy brackish clay soils and expose it to full sunlight.
References
Cowell, C. 2010. Marasmodes DC (Asteraceae). PlantZAfrica. Online. http://pza.sanbi.org/marasmodes
Ebrahim, I., 2009. Marasmodes day. Veld and Flora 95: 130, 131.
Jackson, W.P.U. 1990. Origins and meanings of names of South African plant genera. University of Cape Town.
Manning, J. & Goldblatt, P. 2012. Plants of the Greater Cape Floristic Region 1: the Core Cape Flora. Strelitzia 29. South African National Biodiversity Institute, Pretoria.
Magee, A.R., Ebrahim, I., Koopman, R. & von Staden, L. 2017. Marasmodes (Asteraceae, Anthemideae), the most threatened plant genus of the Cape Floristic Region, South Africa: conservation and taxonomy. South African Journal of Botany 111: 371–386.
Ortiz, S. 2009. Eight new species of Marasmodes (Asteraceae, Anthemideae) from South Africa. Botanical Journal of the Linnean Society 159: 330–342.
Credits
Naomi Mdayi
Millennium Seed Bank Partnership
July 2019
Acknowledgements: The author thanks Petra Broddle for allowing her pictures to be used in the article and Kamogelo Modimola for providing information on how to grow Marasmodes trifida.
Plant Attributes:
Plant Type: Shrub
SA Distribution: Western Cape
Soil type: Clay
Flowering season: Autumn
PH: Acid
Flower colour: Yellow
Aspect: Full Sun
Gardening skill: Challenging
Special Features:
Horticultural zones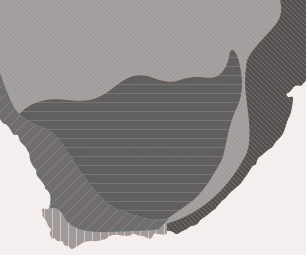 Zone 2 Coastal winter rainfall, frost free
Google QR Code Generator