Monopsis lutea (L.) Urb.
Family: Lobeliaceae
Common names: yellow monopsis, gold lobelia; geel lobelia (Afr.)
Introduction
The riot of bright yellow flowers covering this trailing groundcover makes it an absolute must for colour in the garden in summer. The pretty flowers resemble little faces peering up at you. The red-bronze tinged green stems are attractive even when not in flower, and look lovely spilling over the edges of hanging baskets, wall pots and patio tubs.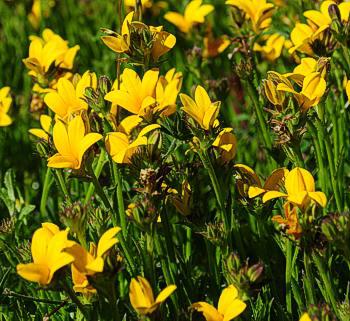 Description
Description
Monopsis lutea is a flat-growing, trailing and perennial ground cover. Sister to M. unidentata, with dark purple-blue flowers, M. lutea  has attractive yellow flowers and fewer stems that are longer and thicker than those of M. unidentata.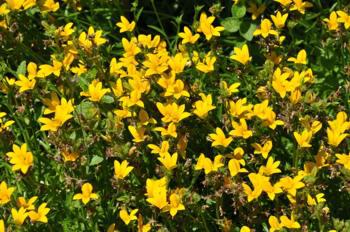 The long trailing stems of M. lutea are woody at their base, and have the habit of rooting wherever the stem nodes are in contact with the soil. Slender, toothed leaves are mostly crowded up beneath the flowering stems.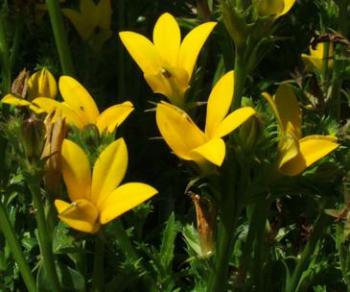 From summer until autumn (November-April) the bright yellow flowers catch one's eye in the garden; each flower resembles a small face with 3 of the 5 slender petals pointing upwards and 2 pointing downwards. The fruit of the plant are small dehiscent capsules that hold many tiny seeds that are distributed by wind and seed-loving birds. This is a fast-growing species especially in warm, damp conditions.
Conservation Status
Status
Yellow lobelia is not threatened as its Red List status is listed as Least Concern (LC).
Distribution and habitat
Distribution description
It grows in damp places and moist sandy soils and vleis by the coast from the Grootwinterhoek Mountains in the Western Cape to Humansdorp in the Eastern Cape.
Derivation of name and historical aspects
History
The genus name Monopsis is a combination of the Greek words monos (one) and opsis (face) because their flowers resemble a face. The specific epithet, lutea, is derived from the Italian word meaning yellow.
The Lobeliaceae family contains ±1000 species in ±30 genera, occurring mainly in the tropics and subtropics. In southern Africa there are 5 genera and ±134 species within this family, the best-known being Lobelia, a large cosmopolitan genus.
There are 18 species in the genus Monopsis in southern Africa. The only other species grown at Kirstenbosch is M. unidentata, blue violet, which also flowers in summer. A low-growing bushy perennial, it spreads sideways rooting itself as it goes, also preferring damp places, but the flowers are dark purple-blue and with more stems that are much shorter and thinner than those of M. lutea. Monopsis unidentata occurs on damp, sandy flats and rocky slopes from Riviersonderend in the southern Cape further along the east coast to KwaZulu-Natal.
Ecology
Ecology
Pollinators include a variety of butterflies and bees, in particular leaf-cutter and megachilid bees. Birds find the seed capsules a tasty nibble.
Uses
Use
This plant has value from a horticultural perspective, just as the long flowering period, ease of cultivation and stunning flowers have made many other lobelia species popular in the horticultural industry.
Growing Monopsis lutea
Grow
Monopsis lutea flowers throughout summer, creating a beautiful display when planted to edge pots or in hanging baskets, as well as along the front edge of borders or around ponds. To enjoy a mass of flowers, space the plants about 50m apart and plant in large groups. It is ideal for coastal gardens.
Even though Monopsis lutea prefers damp areas,it will grow well in ordinary light garden soil if it is kept moist throughout the year. It dies down for a period in winter and will have to be cut back to keep it neat and tidy-looking until the new shoots emerge in spring.
This plant will grow in full sun and in composted well-drained soil, and requires regular watering. Pinching the growth tips and snipping the long stem ends regularly encourages even spreading of the plant. Regular light composting helps support the plant's vigorous growth. Snails and slugs are known pests that normally attack young plants.
It is best to replace plants after 2-3 years to keep them looking their best, as the stems tend to get untidy and very woody at the base after a year's vigorous growth, although they will survive in the garden for 3-4 years. Luckily, they are very easy to propagate.
Stem and tip cuttings of this plant can be taken throughout the year. Because these plants root so easily as they spread, removing and replanting the rooted stems is the easiest way one can grow these lovely plants. Most species can easily be grown from seed sown in autumn but as the cuttings are so simple to do, this method is seldom used.
References
Bean, A. & Johns, A. 2005. Stellenbosch to Hermanus . South African Wildflower Guide 5. Botanical Society of South Africa.
Brickel, C. 1996. The Royal Horticultural Society Encyclopedia of Garden Plants Volume 2 K-Z .
Goldblatt, P. & Manning, J. 2000. Cape Plants, A conspectus of the Cape Flora of South Africa, Strelitzia 9, National Botanical Institute, Cape Town & Missouri Botanical Garden, St. Louis.
Leistner, O.A. (ed.). 2000. Seeds plants of southern Africa: families and genera. Strelitzia 10. National Botanical Institute, Pretoria.
Manning, J. & Goldblatt, P. 1996. South African Wild flower Guide 7. Botanical Society of South Africa, Kirstenbosch.
Manning, J. & Goldblatt, P. 2012. Plants of the Greater Cape Floristic Region 1: The Core Cape Flora. Strelitzia 29. South African National Biodiversity Institute, Pretoria.
Raimondo, D., Von Staden, L., Foden, W., Victor, J.E., Helme, N.A., Turner, R.C., Kamundi, D.A. & Manyama, P.A. (eds). 2009. Red List of South African plants, 2009. Strelitzia 25. South African National Biodiversity Institute, Pretoria.
Credits
Cherise Viljoen and Sisanda Velembo
Kirstenbosch NBG
December 2013
Plant Attributes:
Plant Type: Ground Cover, Perennial
SA Distribution: Eastern Cape, Western Cape
Soil type: Sandy, Clay, Loam
Flowering season: Early Summer, Late Summer, Autumn
PH: Neutral
Flower colour: Yellow
Aspect: Full Sun
Gardening skill: Easy
Special Features:
Attracts birds
Attracts butterflies
Feeds honeybees
Wet sites
Horticultural zones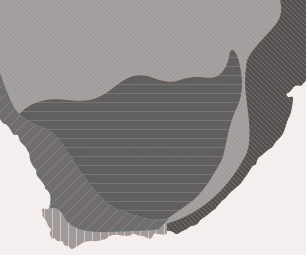 Zone 1 Coastal summer rainfall, frost free
Zone 2 Coastal winter rainfall, frost free
Google QR Code Generator