Moringa ovalifolia Dinter & A.Berger
Family: Moringaceae
Common names: phantom tree, ghost tree, African moringo (Eng.); sprokiesboom, meelsakboom (Afr.); Omutindi (Herero); Oluhongwe (Ovambo)
SA Tree No: 137
Introduction
Moringa ovalifolia is a decorative, thickset, succulent-stemmed, erect tree of the dry, desert and semi-desert areas of Namibia. It can be seen on the rocky escarpment passes in of the northern and central regions adjacent to the Namib Desert. The Sprokieswoud in Etosha National Park is famous for its dense stands of these trees.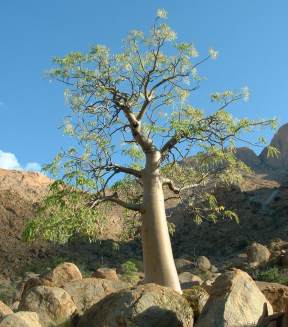 Description
Description
Moringa ovalifolia is a conspicuous, erect, deciduous tree up to 7 m high, bearing a succulent, often bottle-shaped main branch up to 1 m in diameter. The roots are fleshy. The bark is smooth, brown to silvery copper, with a shiny green sheen, and resinous. The leaves (tending to droop) are alternately arranged, twice-compound and up to 0.6 m long with up to 4 pairs of pinna, each with up to 7 pairs of opposite, oval leaflets and a terminal leaflet. The leaflets can grow up to 25 mm long.
The white flowers are borne in branched axillary sprays (panicles), each up to 3 mm in diameter with 4-5 petals. They are followed by grey-brown, three-angled pods, up to 400 mm long, which split along three valves, releasing the winged seeds.
Flowering time: mainly November to May (fruiting October to May).
Conservation Status
Status
Moringa ovalifolia is widespread and locally common in some areas. It is, however, protected by a nature conservation ordinance in Namibia.
Distribution and habitat
Distribution description
Widely distributed in Namibia from the escarpment mountains northwest of Keetmanshoop to the Kaokoveld in the north, and further north into Angola. Its habitat consists mainly of desert or arid savannah vegetation. In the north it grows in dry mopane woodland (Colophospermum mopane). At Epupa Falls, beautiful examples occur on the rocky island and can be seen growing together with the baobab (Adansonia digitata), Commiphora virgata, Euphorbia subsalsa, Adenium oleifolium and Pachypodium lealii. The soil is sandy, rich in gravel and may be alkaline, neutral to slightly acid; the plants are often associated with rocky, mountainous terrain.
Derivation of name and historical aspects
History
Moringa belongs to the monotypic family Moringaceae with only 12 known species. The specific epithet, ovalifolia, refers to its oval leaflets. Moringo is the local Malabar name in India for the useful Moringa oleifera, the horseradish tree (Jackson 1990), which occurs in the southwestern part of Africa, in North Africa, Arabia, India and Madagascar. The family is unique and is phylogenetically placed between the Capparaceae and Fabaceae.
Ecology
Ecology
Moringa is adapted to the subtropical, hot, dry Namib Desert. Its succulent stem stores water and nutrients help it through the dry winter months. The plant is deciduous during its resting phase in the winter months. The silvery bark reflects the sun's rays, preventing the plant from overheating. The winged seeds are released during the summer and autumn, when the greatest incidence of rain occurs and are dispersed by the wind.
Uses
Use
Moringa leaves and stems are often utilized by game. Elephant, giraffe and springbok eat the fruit and leaves, whilst elephant and porcupine utilize the fleshy stems, resulting in their peculiar main stem architecture (Curtis & Mannheimer 2005). It is also reportedly eaten by the local indigenous people.
The related Indian horseradish or Ben oil tree, Moringa oleifera, is a source of the high quality Ben oil, extracted from the seeds and used as a lubricant by watchmakers (Heywood 1978). It is also used in soaps and salad and water-clarifying agents. This tree has naturalized in the northeastern subtropical parts of South Africa (KwaZulu-Natal, Mpumalanga and Limpopo Provinces). It is used for its fleshy roots which taste like horseradish; and it is used as a medicine as well (Coates Palgrave 1977). M. oleifera has antibiotic substances and is used as a purgative and emetic (Van Wyk & Wink 2004). The roots, young leaves and fruits as well as the seeds are used (Van Wyk 2005). It is commonly planted in the tropics and is an important ingredient in Indian cuisine.
Growing Moringa ovalifolia
Grow
Moringa ovalifolia is an ornamental tree with horticultural value. However, it is best suited to warm, dry, frost-free, bushveld or desert gardens. It is a decorative species, either planted singly or in groups. It is best grown in a sunny situation on a well-drained slope. There is a young tree in the Botanical Society Conservatory at Kirstenbosch, grown from seed.
Moringa ovalifolia is easily propagated from seed during the warm summer months. It is best to treat the seed with a systemic fungicide prior to sowing to prevent damping off. Sow in a sandy mixture and cover the seed lightly with sand. Germination is fast and the seedlings grow rapidly. Transplant to individual containers as soon as they are large enough to handle. The young trees are fairly fast growing, but should be allowed to dry off during the winters. It is not frost resistant and in cold regions should be kept as a potplant under greenhouse conditions.
References
Coates Palgrave, K. 1977. Trees of southern Africa. Struik, Cape Town.
Curtis, B. & Mannheimer, C. 2005. Tree atlas of Nambia. National Botanical Research Institute, Windhoek.
Heywood, V.H. (ed.). 1978. Flowering plants of the World. Oxford University Press.
Jackson, W.P.U. Origins and meanings of names of South African plant genera. University of Cape Town Ecolab, Botany Department, Cape Town.
Van Wyk, B-E. 2005. Food plants of the World. Briza Publications, Pretoria.
Van Wyk, B-E. & Wink, M. 2004. Medicinal plants of the World. Briza Publications, Pretoria.
Credits
Ernst van Jaarsveld
Kirstenbosch National Botanical Garden
January 2007
Plant Attributes:
Plant Type: Tree
SA Distribution:
Soil type: Loam
Flowering season: Late Summer, Autumn
PH: Alkaline, Neutral
Flower colour: Cream
Aspect: Full Sun
Gardening skill: Easy
Special Features:
Drought resistant
Horticultural zones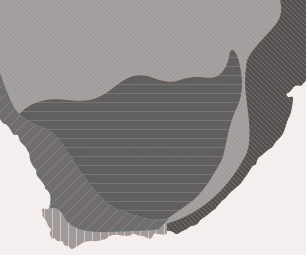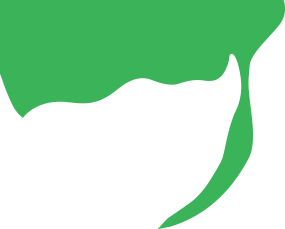 Zone 5 Bushveld summer rainfall, Light frost
Google QR Code Generator