Muraltia scoparia (Eckl. & Zeyh.) Levyns (=Nylandtia scoparia (Eckl. & Zeyh.) Goldblatt & J.C.Manning)
Family: Polygalaceae
Common names: tortoise berry, dune berry (Eng.); skilpadbessie, duinebessie (Afr.)
SA Tree No: 303.3
Introduction
Identifying the species Muraltia spinosa and M. scoparia (formerly in the genus Nylandtia) using herbarium material only, can be misleading, as the habit and growth form of these species are quite distinct and not easily discerned from herbarium specimens. A recent trip to the West Coast from Darling up to the West Coast National Park helped to confirm the characteristics of these species. Both are very decorative during flowering and fruiting stages and M. scoparia is especially showy, creating a conspicuous pink to mauve display in the field.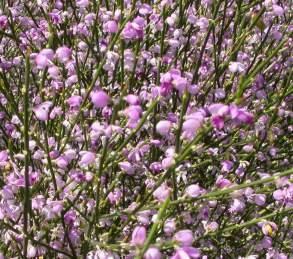 Description
Description
The growth form of Muraltia scoparia varies from willowy, erect shrubs to small trees of up to 2.5 m. The branches are finely divided, slender, erect and spreading. They are green and furrowed, usually ending in short spines that are almost leafless. The small leaves are alternately arranged, almost sessile (leaf stalk is very short and clutching) and oblong to lanceolate. The apex of the leaf is hooked and often extends in a short spine (mucronate).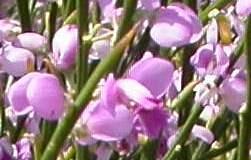 Flowers are arranged in many-flowered racemes and are pink to mauve. Typical of the family Polygalaceae, the anterior petal is keel-like, with a lobed multifid crest. Flowering time extends from midwinter to spring (July to September). The fruit is a fleshy drupe, white to green, gradually turning red and clutched by persistent mauve calyx lobes. There are 1 or 2 seeds.
Conservation Status
Status
Muraltia scoparia is assessed as Least Concern (LC) in the Red List of South African Plants. However, this plant occurs in the Sand Plain Fynbos and the West Coast Renosterveld (Rebelo 1998), which is currently heavily impacted by alien invasive species and is slowly being encroached by urbanization and effects of expansion of the Cape Metropolitan Area.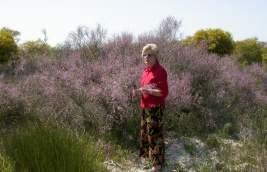 Distribution and habitat
Distribution description
The species occurs on sandy flats and slopes from Van Rhynsdorp in the Western Cape to Karbonkelberg in Simonstown. It is most common in the Clanwilliam and Hopefield areas, with the most easterly distribution at Bain's Kloof (Johnson & Weitz 1991). These plants are adapted to sandy soils and often occur on rocky slopes. As this species is very ornamental, it would be suited to cultivation under fynbos conditions.
Derivation of name and historical aspects
History
The plant was first described as Polygala spinosa by Linnaeus in 1751 and 1753. The Belgian botanist, Barthelemy Dumortier (1822) recognized that this species belongs to a genus different from Polygala and named it Nylandtia in honour of Pierre Nylandt, a Dutch botanist (Johnson & Weitz 1991). Although the last-mentioned authors described only N. spinosa and N. spinosa var. scoparia, Goldblatt & Manning (2000) found sufficient evidence to create the new species N. scoparia. A molecular study by Forest and Manning (2006) shows that Nylandtia belongs within Muraltia, where it currently resides. The genus Muraltia is named after John M. von Muralt, a Swiss botanist and author.
This species belongs to the family Polygalaceae that is cosmopolitan in warm and temperate countries. In southern Africa the family comprises 4 genera, namely Heterosamara, Muraltia, Polygala and Securidaca.
Ecology
Ecology
According to Johnson & Weitz (1991), small quantities of nectar are produced in the early stages of flowering. After pollination the exposed ovary matures into a fleshy fruit clasped by the persistent, deep purple wings of the calyx. The fruits are eaten by birds and small animals and dispersal of the seeds are probably through the digestive tract of these animals. Up to seven phenological stages (changes in the corolla shades from purple to white) can be recognized from the bud to the stage of seed development in fertilized flowers.
Uses
Use
As the species is remarkably ornamental in both the flowering as well as the fruiting stages, it would be an asset in horticulture. The plants flower abundantly and probably produce enough nectar to be advantageous to the honey industry. The edible fruits are important for sustainable use by birds and small animals.
Growing Muraltia scoparia
Grow
The best use of the plant in the garden would be in open sandy spaces where the plants can be exposed to wind and where an aspect of mauve flowers is needed. Companion plants could be Olea europaea subsp. africana, Euclea racemosa, Polygala myrtifolia, Felicia filifolia and various Protea and Erica species.
The plants are propagated by seeds in sandy soil.
References
Forest, F. & Manning, J.C. 2006. Evidence for Inclusion of South African Endemic Nylandtia in Muraltia (Polygalaceae). Systematic Botany 31(3):525-532
Goldblatt, P. & Manning, J. 2000. Cape Plants. A conspectus of the Cape flora of South Africa. Strelitzia 9. National Botanical Institute, Pretoria & Missouri Botanical Garden, Missouri.
Johnson, C.T. & Weitz, F.M. 1991. A re-evaluation of Nylandtia (Polygalaceae). South African Journal of Botany 57: 229-233.
Rebelo, A.G. 1998. Fynbos Biome. In A.B. Low & A.G. Rebelo, Vegetation of South Africa , Lesotho and Swaziland : 62-74. Department of Environmental Affairs & Tourism, Pretoria .
Credits
C.L. Bredenkamp
Pretoria National Botanical Garden
November 2005
updated November 2017
Plant Attributes:
Plant Type: Shrub
SA Distribution: Western Cape
Soil type: Sandy
Flowering season: Spring, Winter
PH: Acid, Neutral
Flower colour: Purple, Pink, Mauve/Lilac
Aspect: Full Sun
Gardening skill: Average
Special Features:
Attracts birds
Attracts butterflies
Drought resistant
Edible plant
Feeds honeybees
Horticultural zones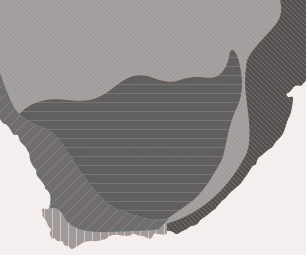 Zone 2 Coastal winter rainfall, frost free
Zone 3 Winter rainfall Karoo, light frost
Google QR Code Generator