Muraltia spinosa (L.) F.Forest & J.C.Manning (=Nylandtia spinosa (L.) Dumort.)
Family: Polygalaceae
Common names: tortoise berry (Eng.); skilpadbessie, duinebessie, bokbessie (Afr.); mmaba (Tswana); cargoe (Nama)
Introduction
The tortoise berry is a striking plant when covered in its masses of dainty purple flowers. Attractive and unusual spiny foliage, pretty red edible fruits and water-wise attributes all combine to make it a great choice for the discerning gardener.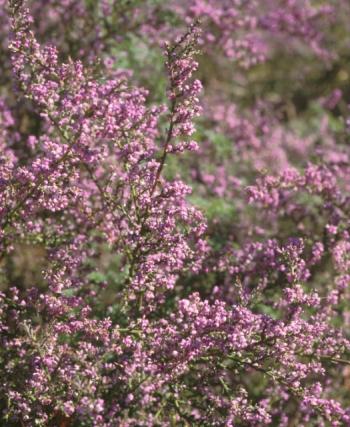 Description
Description
A much branched, stiffly erect, rounded shrub, 1 x 1 m, with arching, spine-tipped stems covered in small, narrow deciduous leaves.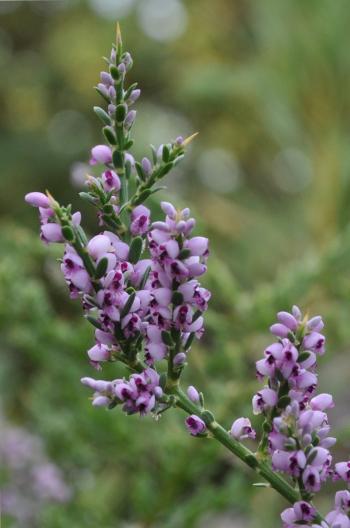 Sweetpea-like flowers, (purple, pink or white) cover the plant in a beautiful mass starting in autumn and continuing through winter to early spring (Apr. to Oct.). The truly lovely flowers superficially resemble those of the pea and legume family but are actually quite different. All members of this genus have three to five sepals and three to five petals. The two lateral sepals are petal-like, larger than the others, coloured like the petals, and resemble the wing petals of a pea flower. The lower 3 petals are fused in a boat-shaped structure and enclose the seven stamens and the style, and resemble the keel of a pea flower.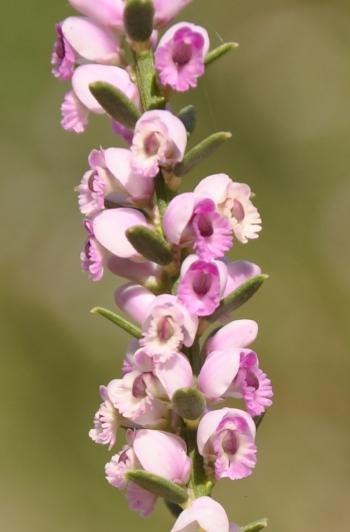 Another distinguishing difference is that this species does not bear leguminous fruit. The fleshy fruits are bright red when ripe, edible, and produced throughout summer. This shrub has a moderate growth rate and is quite hardy.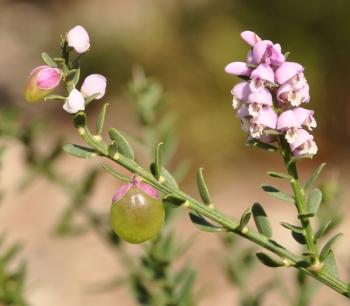 Conservation Status
Status
Least Concern (LC), Muraltia spinosa is not threatened.
Distribution and habitat
Distribution description
A widespread species, commonly found on sandy flats and rocky slopes from Namaqualand, through the Western Cape and along the Eastern Cape coast. Found in the following biomes: Fynbos, Succulent Karoo and Savanna.
Best suited to a coastal situation, Muraltia spinosa will tolerate frost, average to little rainfall and a wide range of temperatures.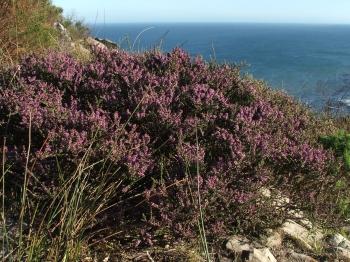 Derivation of name and historical aspects
History
The genus Muraltia is named after John M. von Muralt, a Swiss botanist and author. Until 2006 this species was classified in the genus Nylandtia, named after Pierre Nylandt, a 17th century Dutch botanist, but molecular studies show that it belongs within Muraltia. The species name spinosa, is Latin, meaning 'spiny'.
The Polygalaceae (milkwort family) is large, cosmpolitan family, with 80 genera and about 950 species found throughout the world in temperate and warm climates, but only 4 genera are found in southern Africa with Polygala and Muraltia having the most species.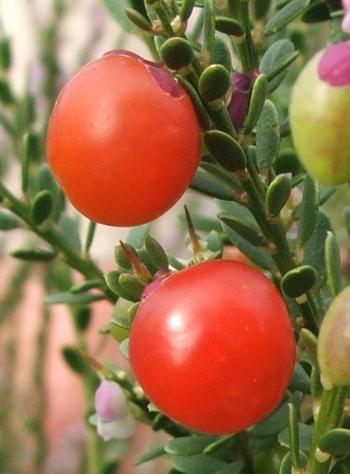 Ecology
Ecology
Fruits are edible and are eaten by tortoises (hence the common name) and birds, both of which help to disperse the seed.
Muraltia spinosa can be planted to help stabilize sand along the coast.
Uses
Use
Chewing on small amounts of fermented leaves can help with sleeplessness. A tea (infusion) brewed from stems and leaves is used to assist with abdominal pain and tuberculosis, and is taken as a general tonic or bitter digestive. It is a remedy for treating colds, flu and bronchitis when brewed with Lebeckia multiflora. The Tswana people use the root in a preparation for the treatment of malaria.
The fruits are edible, rich in Vitamin C and are quite thirst-quenching. Children who seem to relish the thirst-quenching astringent qualities of the fruit can also safely eat the berries.
Growing Muraltia spinosa
Grow
This plant grows very well in rockeries, on slopes, terraforce walls and any well-drained, sunny garden position, providing a beautiful display. Use in a mixed shrub border, as an accent plant in a shrubby garden, or as a fynbos companion plant. It is also a good contrast foliage plant and can be used effectively to punctuate a soft landscape planting. Plant it where you can appreciate it in flower and fruit e.g. near the house, or beside the patio where you can enjoy looking at it and be able to enjoy the birds it will attract.
This hardy plant requires no special care, is fairly water-wise and pest resistant. Once established in the garden, it will tolerate drought, wind and some frost. As it grows naturally next to the sea it is also an ideal small shrub for coastal gardens. Give it a seasonal dose of compost and water moderately. A regular, light pruning of the tips will encourage a bushy growth.
Propagation is best from seed, as cuttings are slow and difficult to root. Sow fresh seed in spring or early summer using a well-drained soil mixture. First remove the fleshy covering. Germination should occur in 2 to 3 weeks and seedlings can be transplanted as soon as they are large enough to handle.
Plant the seedlings into pots to grow on until well established, before planting out into the garden. In the winter rainfall areas, plants should be planted in the winter to give the young plants time to establish before the dry summer months. In the summer rainfall areas, plant it in a warm, dry, well-drained position and remember to water occasionally during the winter months.
References
Forest, F. & Manning, J.C. 2006. Evidence for Inclusion of South African Endemic Nylandtia in Muraltia (Polygalaceae). Systematic Botany 31(3):525-532
Jackson, W.P.U. 1990. Origins and meanings of names of South African plant genera. University of Cape Town.
Joffe, P.1993. The gardener's guide to South African plants. Tafelberg Publishers, Cape Town.
Joffe, P. 2001. Creative gardening with indigenous plants. Briza Publications, Pretoria.
Joffe, P. 2003. Easy guide to indigenous shrubs. Briza Publications, Pretoria.
Maytham Kidd, M. 1983. Cape Peninsula. South African Wild Flower Guide 3. Botanical Society of SA, Cape Town.
Powrie, F. 1998. Grow South African Plants. A gardener's companion to indigenous plants. National Botanical Institute, Cape Town.
Trinder-Smith, T.H. 2003. The Levyns Guide to the plant genera of the south western Cape. Bolus Herbarium, UCT, Red Roof Design CC, Cape Town
Van Jaarsveld, E. 2000. Wonderful water-wise gardening. Tafelberg, Cape Town.
Van Rooyen, G. & Steyn, H. 1999. Cederberg Clanwilliam & Biedouw Valley South African wildflower guide 10. Botanical Society of South Africa, Cape Town.
Van Wyk, B.E. & Gericke, N. 2000. People's plants. Briza Publications, Pretoria.
Credits
Cherise Viljoen
Kirstenbosch National Botanical Garden
September 2005
updated November 2017
Plant Attributes:
Plant Type: Shrub
SA Distribution: Eastern Cape, Northern Cape, Western Cape
Soil type: Sandy, Loam
Flowering season: Spring, Winter
PH: Acid, Neutral
Flower colour: Purple, White, Pink, Mauve/Lilac
Aspect: Full Sun
Gardening skill: Easy
Special Features:
Attracts birds
Drought resistant
Edible plant
Medical plant
Feeds honeybees
Pioneer plant
Horticultural zones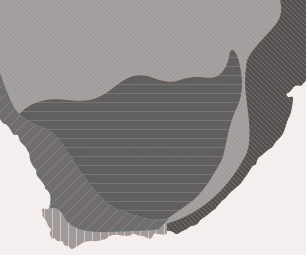 Zone 1 Coastal summer rainfall, frost free
Zone 2 Coastal winter rainfall, frost free
Zone 3 Winter rainfall Karoo, light frost
Google QR Code Generator