Nerine undulata (L.) Herb.
Family: Amaryllidaceae
Common names: nerine (Eng.); seeroogblom, berglelie (Afr.) (= Nerine alta W.F.Barker)
Introduction
Nerine undulata is native to the Eastern Cape Province. It is almost evergreen and produces very dainty, soft pink, spider-like flowers which can give a wonderful display when mass-planted.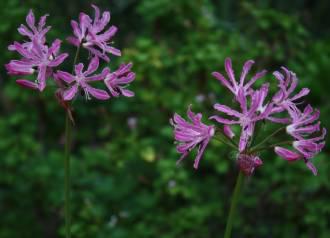 Description
Description
Nerine undulata is a summer-growing bulbous perennial, up to about 1 m high when in flower. It has a few strap-shaped leaves, about 10 mm broad, which appear after the flowers. Many, pale to deep pink flowers on long stalks are borne in a cluster at the top of the relatively robust inflorescence stalk. The tepals are often very fine, tending to roll inwards, and the edges are strongly crisped, often giving the flowers a very dainty, spidery look. The characteristic short stamens curve downwards as the flower ages.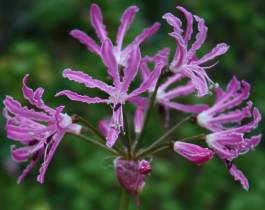 The species varies throughout its distribution range with respect to the flower and tepal shape as well as bulb development. Plants from the Adelaide and Bedford districts have broad and fairly short tepals with strongly crisped margins and are usually pale pink, whereas those from the Kei Road, Stutterheim and Cathcart areas have very fine, dark pink tepals that tend to roll inwards and are strongly crisped.
Nerine undulata occurs in open grassland in wetlands, along streams and on steep slopes on forest verges. The flowers can be seen any time from March to July and sometimes into August. Such late-flowering plants prove the exception to the rule that nerines are only autumn-flowering.
Conservation Status
Status
Nerine undulata has a relatively wide distribution and is not a threatened species.
Distribution and habitat
Distribution description
In the area between Kirkwood and the Kei River it prefers rocky and mountainous areas with loamy and sandy to gravelly soils in full shade or partial sun in grassland and open bushveld. In the Kei Road, Stutterheim and Cathcart areas it is found in wetlands.
Derivation of name and historical aspects
History
The cleric and amaryllid expert, Rev. William Herbert (1778-1847), son of Henry Herbert, Earl of Carnarvon, first established the genus Nerine in 1820. He named it for Nerine, the Greek mythological sea nymph and daughter of sea god Nereus and Doris. The family name Amaryllidaceae is derived from Amaryllis, the name of a pretty shepherdess mentioned by Theocritus, Virgil and Ovid.
Nerine undulata was first described as Amaryllis undulata by Linnaeus and later transferred to Nerine by William Herbert. The specific name undulata refers to the wavy tepal margins.
The genus Nerine is endemic to southern Africa and is widely distributed throughout the region, being most richly concentrated in the summer rainfall areas, particularly the Eastern Cape. Most species are gregarious by nature and grow in large colonies. Nerine has 24 species. Twenty-one of these are local endemics within South Africa, Lesotho and Swaziland. The other three are either widespread throughout southern Africa or are endemic or near endemic to Namibia and Botswana. Only four species are winter-growing, the rest are summer-growing, of which a subset are evergreen. In cultivation, Nerine has been widely hybridized.
Ecology
Ecology
Because these plants undergo a short dormant phase in winter, they are able to survive cold and dry spells.
Pollinators of N. undulata are unknown, but are likely to include bees. However, the flowers are at least partially self-fertile and set some seeds irrespective of pollinators. The seeds drop to the ground when ripe and germinate close to the mother plant.
Uses
Use
No medicinal uses are recorded for Nerine undulata. The horticultural value of this species cannot be over-emphasized as it makes extraordinary colour displays in the garden or in pots. N. undulata can easily be grown in the open garden,in summer rainfall areas, provided the bulbs do not receive much general garden irrigation during the dormant period.
Growing Nerine undulata
Grow
The easiest way to propagate most forms of Nerine undulata is by way of seeds and offsets. The form of N. undulata previously known as N. alta does not multiply vegetatively and must be grown from seed. Seeds need to be sown in deep seed trays in a well-drained mixture such as equal parts of river sand, silica sand, and finely sifted compost. Sprinkle seeds evenly over the surface and cover them with a thin layer of the same mixture. Watering with a fine rose is ideal. When the first leaves appear water only once every two to three weeks. Remove offsets in spring before active growth begins and replant immediately.
Nerine undulata is particularly effective when planted in large groups in rockeries. It is best to leave established bulbs untouched for at least five years as they don't like to be disturbed. Only when plants have become overcrowded and the flowering has deteriorated do they need to be moved and divided. N. undulata can take full morning sun or light shade throughout the day.
References
Du Plessis, N.M. & Duncan, G.D. 1989. Bulbous plants of southern Africa, a guide to their cultivation and propagation. Tafelberg, Cape Town.
Duncan, G.D. 2002. Grow nerines. Kirstenbosch Gardening Series. National Botanical Institute, Cape Town.
Germishuizen, G. & Meyer, N.L. (eds) 2003. Plants of southern Africa: an annotated checklist. Strelitzia 14. National Botanical Institute, Pretoria.
Manning, J., Batten, A. & Bokelmann, H. 2001. Eastern Cape. South African WildFlower Guide 11. Botanical Society of South Africa, Cape Town.
Manning, J., Goldblatt, P. & Snijman, D. 2002. The color encyclopedia of Cape bulbs. Timber Press, Oregon, USA.
Smith, C.A. 1966. Common names of South African plants. Memoirs of the Botanical Survey of South Africa No. 35. Botanical Research Institute, Pretoria.
Zonneveld, B.J.M. & Du ncan, G.D. (2006). Genome size for the species of Nerine Herb. (Amaryllidaceae) and its evident correlation with growth cycle, leaf width and other morphological characters. Plant Systematics and Evolution 257: 251-260.
Credits
Stemmer Ngalo
( with additions by Dee Snijmann and Graham Duncan)
Free State National Botanical Garden
August 2011
Plant Attributes:
Plant Type: Bulb
SA Distribution: Eastern Cape
Soil type: Sandy, Loam
Flowering season: Late Summer, Autumn
PH: Neutral
Flower colour: Pink
Aspect: Full Sun
Gardening skill: Easy
Special Features:
Drought resistant
Good potplant
Feeds honeybees
Horticultural zones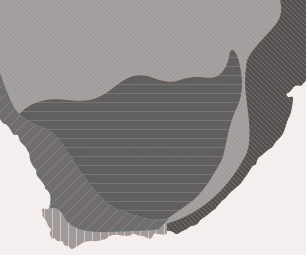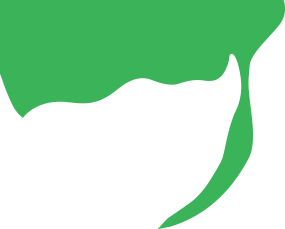 Zone 1 Coastal summer rainfall, frost free
Zone 2 Coastal winter rainfall, frost free
Zone 4 Summer rainfall Karoo and Highveld, Frost in winter
Zone 5 Bushveld summer rainfall, Light frost
Google QR Code Generator