Nymania capensis ( Thunb.) Lindb.
Family: Meliaceae
Common names: Chinese lanterns, Chinese lantern tree, kipkippers (Eng.); klapperbos, lanternbos, kiepkiepies, oumeidsbos, stuipebos (Afr.)
SA Tree No: 295
Introduction
A beautiful large shrub to small tree that produces attractive, pinkish, puffy seedheads. There is only one species occurring in South Africa and Namibia.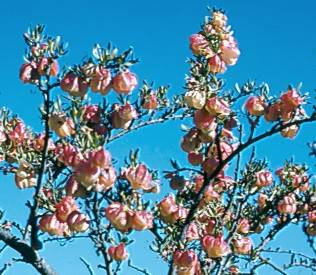 Description
Description
A rigid shrub, attaining heights of 6 m under ideal conditions. However, its normal height is not more than 3 m. The leaves are stiff and leathery in texture. The leaf is obolanceolate (almost spear-shaped), tufted, and is on a short shoot. The flowers are solitary and borne in the leaf axils. Flowers are dull red in colour; however, Nymania capensis from the Richtersveld often has bright red flowers. Seeds are produced in papery, inflated capsules, hence the common name, Chinese lantern. The seeds are pea-shaped, and brown in colour.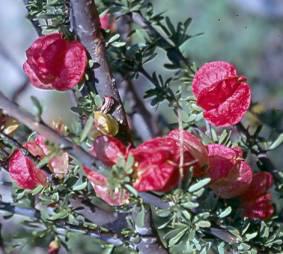 The plants generally grow slowly. Under ideal conditions it may take three years for a plant to reach a length of 1.5 m. They may live for more than twenty-five years in their natural habitat.
Distribution and habitat
Distribution description
Nymania capensis occurs in southern Namibia , the Richtersveld, Namaqualand , Ceres Tanqua Karoo, Bushmanland, Worcester Robertson Karoo and the Little Karoo. It favours hot, dry, rocky habitats, but also occurs near dry, sandy rivers. Like so many other xerophytic plants (plants adapted to dry conditions) in South Africa, they are water misers. They grow predominately in the winter rainfall areas that receive little more than 120 mm annually. They are relatively frost-tolerant, being able to survive temperatures of -4 °C. They can also survive in extreme heat, 44 °C and above!
Derivation of name and historical aspects
History
This genus is named after the Swedish botanist Carl Fredrik Nyman (1820-1893). The specific epithet capensis indicates that the plant comes from the Cape.
Ecology
Ecology
Nymania capensis is pollinated by bees and bumble bees. The seeds are carried in the puffy capsules some distance away from the parent plant, by the wind. In most cases they are blown under small karroid-like bushes where they will germinate once climatic conditions are suitable. Once sufficient rain has fallen, the plants begin life under the protection of the nurse plant which is a small shrub or bush that gives protection to the young seedling whilst it is vulnerable to harsh, exposed climatic conditions. As in many desert plants, out of the thousands of seeds that germinate, only a very small fraction will make it to adulthood.
Growing Nymania capensis
Grow
This can be accomplished by seed. Cuttings are not an option. Seed can be sown in late autumn or early spring. Seeds ripen in October and November of each year (southern hemisphere) and are contained in inflated, papery capsules. The capsules must be dry when harvesting the seeds. Sow the seeds about 1 cm deep. Cover with a layer of coarse, sieved sand. The soil medium in the flat sowing pan must be well-drained, sandy loam. Keep moist and well ventilated. Allow plenty of light. The seeds will germinate in one to two weeks.
Transplanting is very tricky. The seedlings should be transplanted once they are in their fourth leaf. Be very careful not to damage the fine roots in any way. They should be carefully potted up. Once again the fine, hair-like roots must not be damaged.
The potting-up medium should be sandy and well-drained loam. Once the young seedlings have successfully taken, they will grow rapidly. Move to a sunny, well-ventilated area.
When planting out, ensure the roots are not disturbed in any way. Perhaps the best solution is to cut the bottom of the plastic bag open and plant the Nymania capensis into the soil. Eventually the roots will break through the thin plastic bag.
References
Fraser, J.L. & Hemsley, A. 1938. Johnson's garden dictionary . De La Mare, London .
Germishuizen, G. & Meyer, N.L. 2003. Plants of southern Africa : an annotated checklist. Strelitzia 10. National Botanical Institute, Pretoria .
Goldblatt, P. & Manning, J. 2000. Cape plants. A conspectus of the Cape flora of South Africa . Strelitzia 9. National Botanical Institute, Cape Town .
Credits
Ian Oliver
Karoo Desert NBG
April 2005
Plant Attributes:
Plant Type: Shrub, Tree
SA Distribution: Eastern Cape, Northern Cape, Western Cape
Soil type: Sandy
Flowering season: Winter
PH: Neutral
Flower colour: Red
Aspect: Full Sun
Gardening skill: Challenging
Special Features:
Drought resistant
Feature plant
Feeds honeybees
Horticultural zones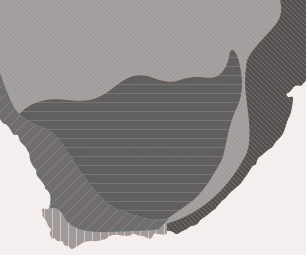 Zone 2 Coastal winter rainfall, frost free
Zone 3 Winter rainfall Karoo, light frost
Google QR Code Generator