Olea exasperata Jacq.
Family: Oleaceae
Common names: dune olive, coast olive (Eng.); duineolien, glashoutolien, slanghout, vlashoutolien, basterolienhout (Afr.)
SA Tree No: 619
Introduction
Olea exasperata, one of the wild olive trees of South Africa, is an ornamental shrub or small tree that generally occurs in coastal scrub, on sand dunes and is able to withstand the harsh conditions of the coast.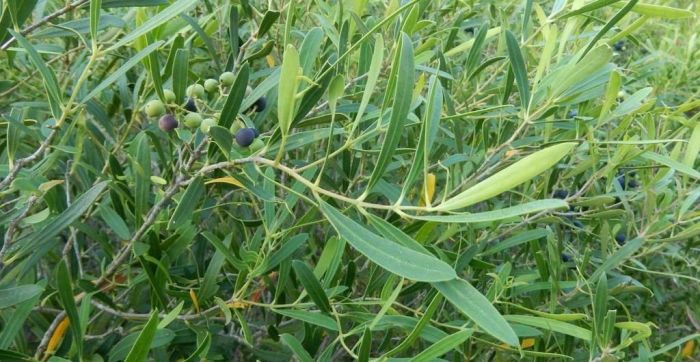 Description
Description
This is a bushy, evergreen, medium-sized shrub, 1–2 m tall, or small tree, with a rounded crown that can grow up to 7 m tall under favourable conditions. It is commonly multiple-stemmed, causing it to have a shrubby appearance. The leaves are opposite, linear-oblong in shape, 30–70 mm long and 3–10 mm wide, broadest in the upper two thirds, tending to curl downwards towards the midrib; with an entire margin. They are thinly leathery and glossy, dark green on the upper surface and dull green on the under surface, with tiny indentations on both surfaces of the leaf. The bark is greyish brown with young branchlets (a small branch or division of a branch) that are 4-angled, with very visible white lenticels (one of many raised pores in the stem of a woody plant) and prominent leaf scars.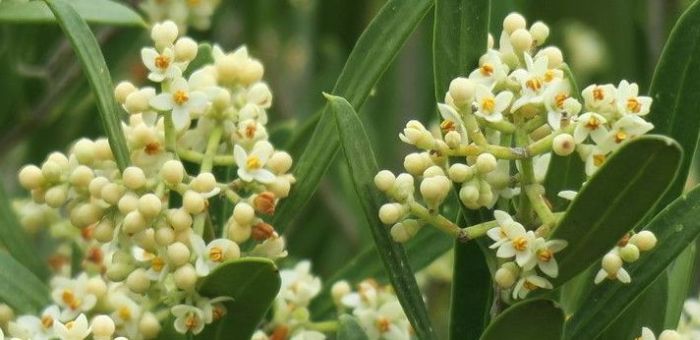 The flowers are sweetly scented, small, white and are borne in short, many-flowered, terminal heads, appearing from late winter to late spring (August to October).
Thin, ovoid, fleshy fruits up to 10 × 8 mm are produced after flowering and mature from green to yellowish to purplish black, in early summer (November).
The Dune Olive is easily confused with the Wild Olive (Olea europaea subsp. africana), however, the lower surface of its leaves lack scales and its flowers are in terminal sprays, whereas those of the Wild Olive are in the axils of the leaves.
Conservation Status
Status
Olea exasperata is assessed as of Least Concern (LC) according to the Red List of South African plants, with its population stable.
Distribution and habitat
Distribution description
This is a South African endemic plant, naturally occurring along the coast, in coastal bush on sand dunes and limestone hills, and in open grassland. It is found in the Western and Eastern Cape, in the mountainous areas of Paarl, on the Cape Peninsula and Cape Flats, to Mossel Bay, Knysna and Plettenberg Bay to East London.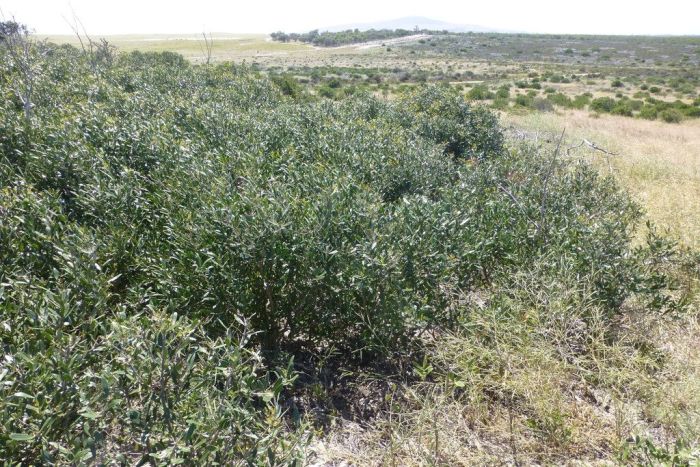 Derivation of name and historical aspects
History
The genus name Olea is the classical Latin name for the olive tree. The species name exasperata comes from the Latin word exasperatus, and means 'to roughen', referring to the roughened look of the stem and its branches.
There are 6 taxa of Olea found in South Africa with 2 endemic taxa: Olea capensis subsp. capensis and O. exasperata.
The Afrikaans name slanghout (snake wood), refers to its supposed abilities to treat snake bites.
Ecology
Ecology
The fruits of most of the South African wild olives are eaten by birds, animals, insects and humans, although the fuits may be found to be unpalatable when eaten raw.
According to observations done on a number of species of plants at Kirstenbosch National Botanical Garden, honeybees were found to visit the flowers of many shrubs, herbaceous perennials and trees, including species of Olea. However, that does not mean all flowers visited by honeybees are pollinated by them, and there maybe a number of other pollinators.
Olea exasperata is an important component of dune vegetation.
Uses
Use
The roots of Olea exasperata are used for medicinal purposes. In the 17th century it was used as an antidote for snakebite.
Olea exasperata is good for hedging and screening and a very useful plant for coastal gardens. It is not suitable for harvesting of fruits or for oil production. Where it is protected from wind, it can be encouraged to grow into a handsome specimen tree, and it will provide food for wildlife. It is also suitable for bonsai.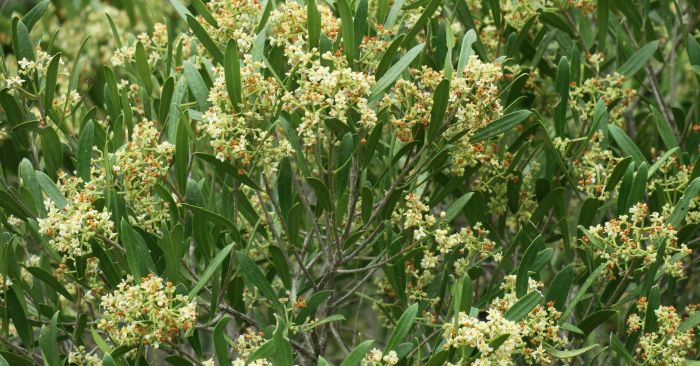 Growing Olea exasperata
Grow
Propagate by means of layering, cuttings and seed sowing. This is a plant that shoots out suckers which makes propagation from layering one of the easiest ways to grow O. exasperata. Layering is a method of propagating a plant in which a shoot is fastened down to form roots while still attached to the parent plant. O. exasperata may also be propagated from seed sown fresh, or from hardwood cuttings using rooting hormone number 2 and coarse river sand.
Grow Olea exasperata in full sun as they need at least 6 hours of direct sun daily.
References
Fernkloof Nature Reserve. Olea exasperata. http://fernkloof.org.za/index.php/all-plants/plant-families/item/olea-exasperata, accessed on 28 October 2019.
Foden, W. & Potter, L. 2005. Olea exasperata Jacq. National Assessment: Red List of South African plants version 2017.1. Accessed on 2019/10/28.
Coates Palgrave, K. 1997. Trees of southern Africa. Struik, Cape Town.
Palmer, E. & Pitman, N. 1972. Trees of southern Africa . Balkema, Cape Town.
Pooley, E. 1993. The complete field guide to trees of Natal, Zululand and Transkei. Natal Flora Publication Trust, Durban.
Stearn, W.T. 1992. Stearn's Dictionary of Plant Names for gardeners. A handbook on the origin and meaning of the botanical names of some cultivated plants. Cassell, UK.
Townsend, E. 2019. Olives – the beauty of age. Online. https://www.gardeningatleisure.co.za/gardening/olives-the-beauty-of-age/ Accessed on 28 October 2019.
Credits
Sisanda Velembo and Zikhona Menze
Kirstenbosch National Botanical Garden
November 2019
Plant Attributes:
Plant Type: Shrub, Tree
SA Distribution: Eastern Cape, Western Cape
Soil type: Sandy, Loam
Flowering season: Spring
PH: Acid, Alkaline, Neutral
Flower colour: White, Cream
Aspect: Full Sun
Gardening skill: Easy
Special Features:
Attracts birds
Attracts butterflies
Drought resistant
Fragrant
Hedge/screen
Medical plant
Useful plant
Feeds honeybees
Pioneer plant
Horticultural zones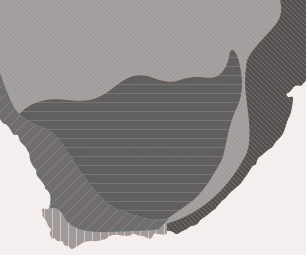 Zone 1 Coastal summer rainfall, frost free
Zone 2 Coastal winter rainfall, frost free
Google QR Code Generator