Otholobium fruticans (L.) C.H.Stirt.
Family: Fabaceae
Common names: Cape Town pea, roundhead otholobium
Introduction
An attractive, mat-forming groundcover or semi-shrub that bears beautiful sprays of pea-like, purple-blue flowers in spring.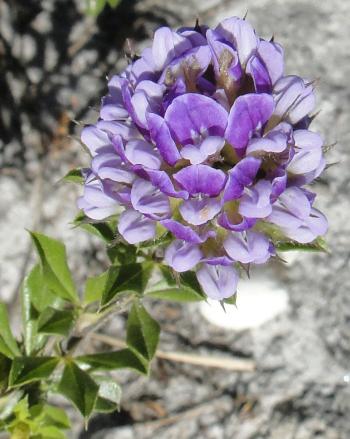 Description
Description
Otholobium fruticans is a trailing, semi-shrub that grows up to 400 mm high, with a spread of 500 mm to 1 m. It is a resprouter and has semi-prostrate branches that seem to spread out in all directions, from the centre of the bush. The leaves are trifoliate (a leaf that is divided into three leaflets), smooth on top and hairy on the undersides, with stipules at the base of the leaf stalk. The inflorescence is characterized by being bracteate (having bracts at the base of the pedicels), and having triplets of flowers, with each triplet subtended by a single variously shaped bract  The flowers are pea-like (with a banner-, keel- and wing petals), purple to violet, calyx thinly silky and glandular, with the lowest sepal larger and very prominent. Flowering is from spring to early summer (September to December). The fruits are stored in pods and usually follow after flowering.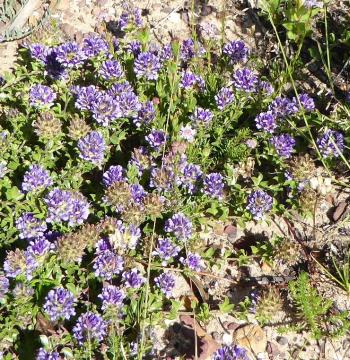 Conservation Status
Status
According to the Red List of South African plants, this species is Rare but not threatened.  Most populations of this species are protected in the Table Mountain National Park. There are no major threats to the species, except the possibility of too frequent fires on Table Mountain, but this species is well adapted to surviving fire. Only populations on the lower slopes have declined a bit, due to habitat loss. A species is Rare when it 'meets at least one of four South African criteria for rarity, but is not exposed to any direct or plausible potential threat and does not qualify for a category of threat according to one of the five IUCN criteria'. This species has a small natural range, but is common within its range.
Distribution and habitat
Distribution description
This species only occurs on the Cape Peninsula, in mountain fynbos on steep, rocky slopes, at 180–600 m altitude. Otholobium fruticans is easily confused with O. bracteolatum (skaapbostee or swawelbos) but they differ in flower colour, growth habit and habitat, with O. bracteolatum being a sprawling shrub about 1.5 m tall, with blue, white or violet flowers in summer, it has a much wider distribution and a different habitat, occurring in coastal sandveld and on limestone hills below 170 m altitude, from Saldanha to Grahamstown. Furthermore, in O. fruticans the calyx bract below the keel petal is larger and often purple or blackish.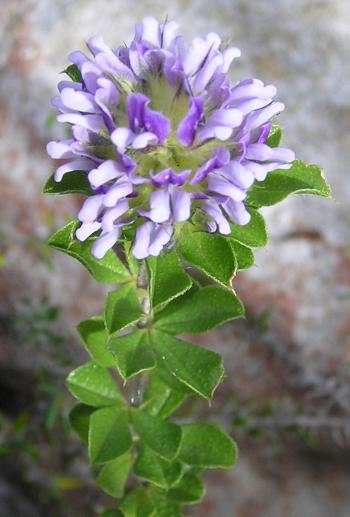 Derivation of name and historical aspects
History
This species was previously known as Psoralea fruticans. Otholobium is pronounced 'oh-tho-LOH-bee-um' with the name derived from the Greek otheo, meaning to 'burst forth' and lobion, which means 'small pod', because the fruit appears to be pushing out of the calyx. The species name fruticans comes from the Latin word frutex, and simply means 'becoming bushy, full of shoots'.
Otholobium is a genus of flowering plants in the legume family, Fabaceae, with 53 species in southern and East Africa.
Charles Stirton created the genus Otholobium in the 1980s to accommodate all of the 3-foliolate, recurved, mucronate-leaved, glandular psoraleas that also did not have the 2- or 3-lobed cupulate structure on the flower pedicel. Their chemistry, pollen and inflorescence structure also differs. Psoralea fruticans was one of the species that was transferred to Otholobium.
Ecology
Ecology
Otholobium fruticans is considered to be a food source for honey bees. The honey bees look for nectar and pollen, and transfer pollen from one flower to the next while foraging, providing the service of pollination, which allows the plant to reproduce. It is a resprouting shrublet, i.e. if a plant is burned the rootstock survives and the plant resprouts, which enables it to thrive in the fire-prone fynbos biome.
Uses
Use
Otholobium fruticans has great horticultural potential; its growth habit making it a lovely hanging basket plant, filler and a groundcover. Also well suited to rockeries, and to spill over retaining walls and terraces. For showy sprays of blue and purple colour in spring use, this plant in landscaping. It is ideal for fynbos gardens or water-wise, winter rainfall gardens and is suitable for containers.
Growing Otholobium fruticans
Grow
Grow Otholobium fruticans in full sun to semi shade, in well-drained, acidic soils. Feed with well-rotted compost applied as a mulch and if using chemical fertilizers, it is preferable to use a slow-release fertilizer or apply very low doses.
It may propagated from  seed or cuttings taken from new growth of the plant, and treated with a rooting hormone suitable for softwood cuttings. Sow seed in late summer to autumn (March to May), treating the seed with smoke extract should increase the number of seedlings, and treating with fungicide to combat pre- and post-emergence damping off will increase the number of surviving seedlings. Pot up into a sandy, acidic soil medium suitable for fynbos plants.
References
iSpot southern Africa, observations for Otholobobium fruticans, accessed 31 July 2017. https://www.ispotnature.org/communities/southern-africa/view/observation/325053/otholobium-fruticans-silvermine-tmnp
Manning, J. & Goldblatt, P. 2012. Plants of the Greater Cape Floristic Region 1: the Core Cape Flora. Strelitzia 29. South African National Biodiversity Institute, Pretoria.
National Red List Categories: http://redlist.sanbi.org/redcat.php, Accessed 31 July 2017.
Raimondo, D. 2011. Otholobium fruticans (L.) C.H.Stirt. National Assessment: Red List of South African plants version 2017.1. Accessed on 2017/07/31.
Wikipedia: Otholobium. https://en.wikipedia.org/wiki/Otholobium, Accessed 31 July 2017.
Credits
Sisanda Alakhe Velembo-Mhlauli
Kirstenbosch National Botanical Garden
August 2017
Acknowledgements: The author thanks Corinne Merry for allowing the use of her images to illustrate this article.
Plant Attributes:
Plant Type: Ground Cover, Shrub
SA Distribution: Western Cape
Soil type: Sandy, Loam
Flowering season: Spring, Early Summer
PH: Acid
Flower colour: Blue, Purple
Aspect: Full Sun, Morning Sun (Semi Shade), Afternoon Sun (Semi Shade)
Gardening skill: Average
Special Features:
Attracts butterflies
Good potplant
Feeds honeybees
Horticultural zones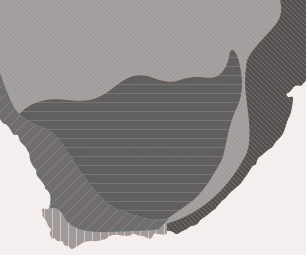 Zone 2 Coastal winter rainfall, frost free
Google QR Code Generator