Oxyanthus pyriformis subsp. pyriformis
Oxyanthus pyriformis (Hochst.) Skeels subsp. pyriformis ( = Oxyanthus natalensis Sond.)
Family: Rubiaceae
Common names: hatpins loquat, Natal loquat (Eng.); hoedespeldlukwart, Natallukwart (Afr.); isibinda esingakhali-amasi (isiZulu); umgungununu (siSwati)
SA Tree No: 696.2
Introduction
Medley Wood described this loquat-like shrub as 'an exceedingly handsome shrub of good habit, growing generally under large trees in those parts of the coastal bush which is free from scrub and undergrowth' (Palmer & Pitman 1972).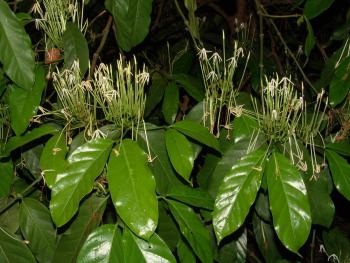 Description
Description
A usually multi-stemmed shrub or small tree,  3–10 m tall, occurring in the understory of moist evergreen forest. Bark is grey to brown. Branches are horizontal; the young branchlets are green. Leaves are ovate, 150–260 × 100–120 mm, hairless, the upper surface is shiny dark green with conspicuous net veining, the lateral veins are indented to give a quilted appearance, with paler green veining that is prominent below. The petiole is stout, 10 mm long, and the stipules are conspicuous, 10–30 mm long and up to 10 mm wide.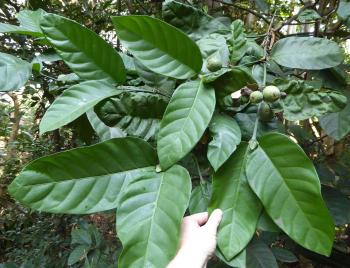 Flowers are white, scented and held erect in loose heads on branched stalks, in spring to summer (Sept.–Feb.). The calyx tube is 2–3 mm long, axillary. The corolla tube is very slender, up to 80 mm long, with lobes about 7 mm long, bending backwards, and a protruding style. Fruit is oblong, up to 40 × 25 mm, soft, yellow to pale red, crowned with persistent calyx lobes and containing many seeds, from midsummer to midwinter (Jan.–June). Seed is 5 mm long, pale brown, with obvious striations.
Oxyanthus pyriformis closely resembles O. speciosus subsp. gerrardii but its flower tubes are longer, up to 80 mm compared to 35 mm, and its area of distribution is much more limited.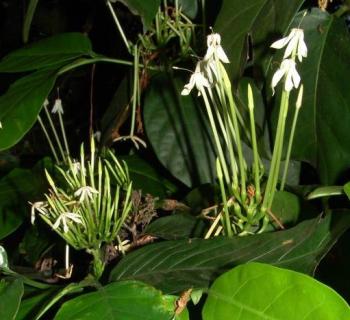 Conservation Status
Status
According to the website http://redlist.sanbi.org, checked on 7 December 2015, the conservation status of Oxyanthus pyriformis subsp. pyriformis is Least Concern (LC). In the 1980 assessment it was listed as Rare.
Distribution and habitat
Distribution description
Oxyanthus pyriformis subsp. pyriformis is endemic to southern Africa, with 3 other subspecies found in East Africa. It thrives in areas of deep shade in warm, frost-free, moist areas around Durban in KwaZulu-Natal, and the Gwalaweni and Ngoye forests in Zululand.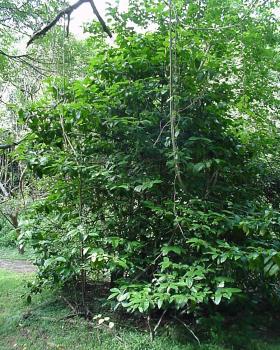 Derivation of name and historical aspects
History
The genus name Oxyanthus means 'sharp-pointed flower' and is derived from the Greek words, Oxys meaning 'sharp-pointed' and anthos meaning 'flower', in reference to the acute teeth of the calyx and segments of the corolla. The name pyriformis means 'pear-shaped', referring to the fruits.
Although this plant's common name implies that it is a kind of loquat, it is not related to the true loquat, Eriobotrya japonica, which belongs in the rose family (Rosaceae) and is indigenous to China.
Ecology
Ecology
Flowers are fertilized by hawk moths. Birds eat the fruits. There is no record of the fruits being eaten by people.
Uses
Use
There are no recorded cultural uses of Oxyanthus pyriformis. The slender branches of its close relative O. speciosus subsp. gerrardii was used to make whipsticks.
Growing Oxyanthus pyriformis subsp. pyriformis
Grow
This is a fast-growing, decorative garden shrub or small tree, with glossy dark leaves and fragrant white flowerheads, that is suitable for a position in shade that is sheltered from strong winds, in warm, frost-free, well-watered gardens.
Propagate this plant from fresh seeds. Clean the pulp from the fruits, sow the seeds in trays filled with seedling soil mix or a mixture of river sand and sifted compost (1:1) and keep shaded, warm and moist. Pot up when the seedlings are large enough to handle.
Take cuttings in summer. Remove leaves and buds from the lower third, treat with a suitable rooting hormone and place in a clean medium suitable for cuttings. Place in a warm, shaded, protected spot and keep moist.
References
Boon, R. 2010. Pooley's trees of eastern South Africa, a complete guide. Flora & Fauna Publications Trust, Durban.
Glen, H.F. 2004. What's in a name. Jacana, Johannesburg.
Coates Palgrave, M.C. & Coates Palgrave, K.C. 2002. Trees of southern Africa. Struik, Cape Town.
Palmer, E. & Pitman, N. 1973. Trees of southern Africa. Vol. 3. Balkema, Cape Town.
Smith, C.A. 1966. Common names of South African plants. Memoirs of the Botanical Survey of South Africa No. 35. Government Printer, Pretoria.
Van Wyk, B. & Van Wyk, P. 1997. Field guide to trees of southern Africa. Struik, Cape Town.
Credits
Alec Naidoo
Pretoria National Botanical Garden
January 2016
Plant Attributes:
Plant Type: Shrub
SA Distribution: KwaZulu-Natal
Soil type: Loam
Flowering season: Spring, Early Summer, Late Summer
PH: Neutral
Flower colour: White
Aspect: Shade
Gardening skill: Average
Special Features:
Attracts birds
Feature plant
Fragrant
Horticultural zones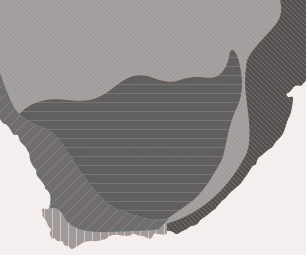 Zone 1 Coastal summer rainfall, frost free
Zone 2 Coastal winter rainfall, frost free
Google QR Code Generator