Paranomus bracteolaris Salisb. ex Knight
Family: Proteaceae
Common names: Bokkeveld sceptre, smooth-leaved tree-sceptre (Eng.); bokkeveld-septerboom, afveebos, balbyterbos, haakbos, heuningbos, kloofbesem, perdebos, sousbos, trosbos, vliegbos (Afr.)
SA Tree No: 72.3
Introduction
One of the common sceptres, it produces a single leaf form, a dissected leaf, over the entire plant, and purple to pink flowers with a faint sweet scent in winter–spring. Very attractive, pale, greyish, woolly hairs on the new growth brightens the fynbos garden.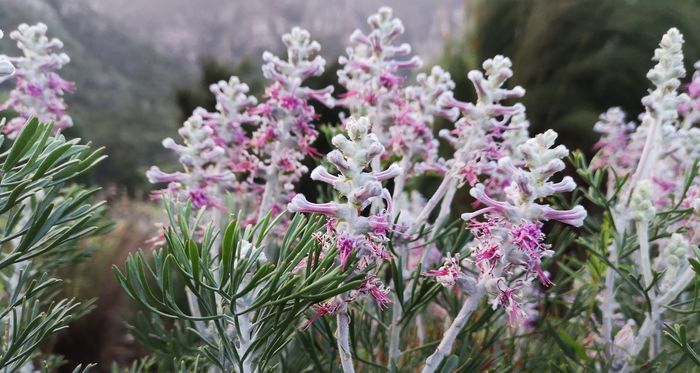 Description
Description
Paranomus bracteolaris is a well-branched shrub that grows 0.6–2 m tall, on a single, short trunk. The bark is slightly greyish and very bright on the new growth. The leaves are always slightly curled upward and end in a fine pale point. The new leaves are hairy, and hairless when mature, 30–60 mm long and dissected (having a deeply divided leaf blade).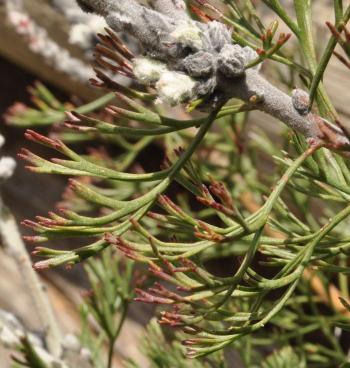 The purple-pink flowers are produced in dense spike-like flower heads, 40–90 mm long and 25–30 mm in diameter. The pollen presenters are 1 mm long, and are slightly wider than the styles, which are sparsely covered with short hairs. Flower stalk of a single flower is 20–50 mm long, more hairy at the tip and less so down the stalk. The perianth is 13–15 mm long, curling when the flower opens.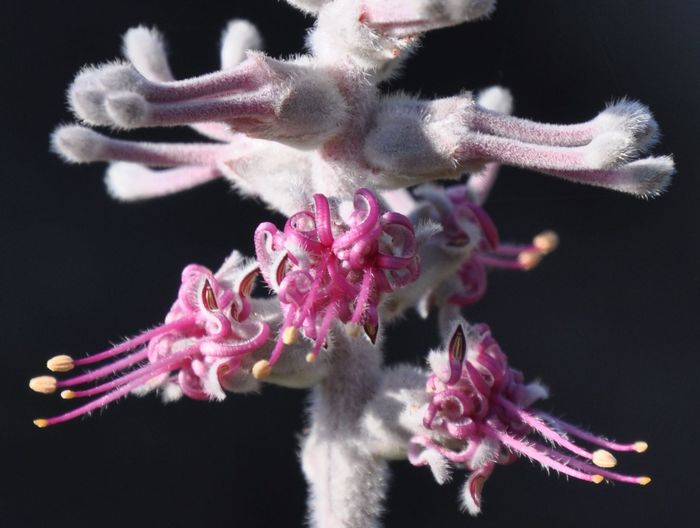 This plant begins to flower from late winter into spring (August to October). The seed is released 2 months after flowering. The seed is a black to brown, smooth nut still showing remains of a persistent style, surrounded by a ring of hairs at the base.
Conservation Status
Status
Paranomus bracteolaris is assessed as Least Concern (LC) on the Red List of South African plants. The population is stable.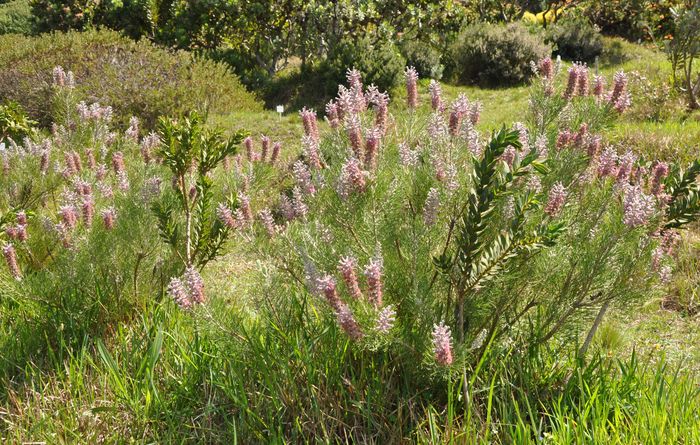 Distribution and habitat
Distribution description
Paranomus bracteolaris is endemic to the region between the Bokkeveld Escarpment to the Koue Bokkeveld and Olifants River Mountains, in the Western Cape. This species occurs widely over a large area, both as scattered individuals and in isolated, dense stands. It grows in sandstone sands in moist conditions of 1 300 mm rainfall annually.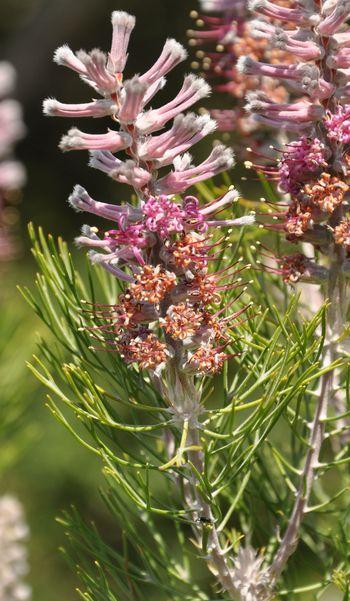 Derivation of name and historical aspects
History
The genus Paranomus comprises of 18 species and is one of 14 genera of the Proteaceae. Paranomus means 'illegal' or 'beside the custom', derived from the Greek words para, which means 'beyond' and nomus, which means 'custom', referring to the unusual leaves of scepters that do not have typical net veining of flowering plants, but have dichotomously branched veins, and leaves are both entire and dissected in the adult plant in many species. Bracteolaris means 'bearing bracts' and refers to its inflorescence.
The name Paranomus was given by Richard Salisbury in 1809. He published his work on the Proteaceae soon after the meeting of the Linnaean Society on 7 January 1809, where Robert Brown delivered the pre-publication of his work on Proteaceae. Robert Brown published his work in 1810. In it, Robert Brown named this genus Nivenia to honor David James Niven (1774–1823), a Scottish plant collector who sent much material for description to England. The botanists of the day accused Salisbury of plagiarising Brown's work and ignored Salisbury's publication. Thus, this genus was known by Brown's name, Nivenia, until the 1930s, when the rules of botanical nomenclature were enforced and Salisbury's work was recognized and his genus name, Paranomus, restored. Furthermore, the genus Nivenia had also been assigned to a group of irids in 1808, making Brown's name doubly invalid.
Ecology
Ecology
The leaves of Paranomus are sclerophyllous as are those of other proteas. Paranomus leaves are dissected (divided) and needle-like and its function is to increase the surface area of leaf while saving water, by preventing overheating; increase the surface area of leaf without preventing the sun to the lower leaves; make it difficult for diseases to spread on leaf; and preventing insects and animals from taking large mouthfuls of the leaf. Pollinators are carpenter, honey and monkey bees, wasps, beetles, butterflies, malachite sunbirds and flies.
Paranomus bracteolaris is killed by fire (reseeder) and reproduces by banked seed. This species produces smooth, nut seeds covered with an elaiosome, which ants feed on. The ants will carry the seeds to their nest underground and remove or eat the elaiosome and leave the seed undamaged in their nest, where it is also protected from fire and other animals. These ants do no harm to the seeds.  Rodents, korhaans, pigs and squirrels eat the seeds. Alien invader argentine ants also feed on the elaiosome, but they do not bury the seed in their nest and the exposed seeds are eaten by rodents, birds or burned by fire.
The hard seed coat restricts the penetration of oxygen to the seed embryo. This delays the germination of the seed. The stored or underground seeds will germinate after senescent plants are removed by fire, and when the soil temperature is cool during the night and hot during the day. This is typical of autumn and occurs with the first winter rains. Rodents and insects may eat the seedlings emerged in a burnt environment free of competition.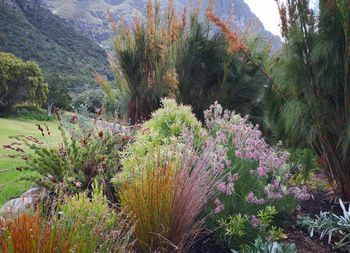 Uses
Use
Paranomus bracteolaris makes a good display in the fynbos garden. It has a very attractive, greyish green foliage and bright purple-pink flowers, which combines very well with restios, proteas, ericas and other fynbos shrubs and groundcovers. It also makes an excellent pot plant.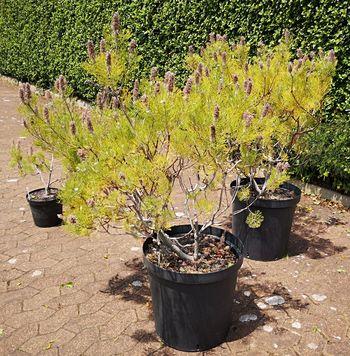 Growing Paranomus bracteolaris
Grow
Paranomus bracteolaris is propagated both by seed and cuttings, just as other common sceptres. Take semi-hardwood cuttings in autumn and spring and treat with a rooting hormone to stimulate rooting. Cuttings should be taken in the morning to prevent loss of moisture, and dip them in a diluted fungicide for 5 seconds. Dip the cuttings in the rooting hormone for at least 5 seconds. Place your cuttings in a well-drained and aerated sowing medium of 70% perlite and 30% fine bark or coarse sand and finely milled pine bark. Insert the cuttings in the multitrays with sufficient space between each cutting, to allow air circulation and place them on the heated benches of 25ºC, under intermittent mist.
Regularly treat the cuttings with a fungicide to prevent fungal infection. Remove the dead leaves and wilting cuttings until your cuttings are rooted. Move the rooted cuttings to the hardening-off house for about 2 weeks and transfer the cuttings into small, nursery bags/pots, using a fynbos soil mixture that is well drained and acidic.
Seed collecting is a bit challenging, and fruits harvested too early will result in unmatured embryos. Cover the flower heads after each individual flower has finished flowering, to prevent the seed from dropping, or being eaten by  rodents. Store the harvested seed in the cool room for 2 weeks prior to sowing. The seeds are hard and covered with an elaiosome. Soak the seed with 1% solution of hydrogen peroxide for twenty four hours to soften the seed coat and remove the elaiosome by rubbing on them. Treat the seed with fungicides before planting and once a week after planting, to prevent fungal infections.
The seed should not be allowed to dry out and must be sowed immediately after dusting it with the fungicide. Sow the seed in late summer to autumn (March to May) using a well-aerated growing medium and treat the seed with smoke to enhance germination. Use a smoking tent and burn the dry and green fynbos materials or use smoke packets to treat the seed. The seedlings are ready for potting-up after the first pair of true leaves have developed.
Place the seedlings or cuttings under the shade net in the nursery until they are ready to be planted into the garden, after a period of 2 to 3 years. Net shade reduces the direct sun which can dry out the soil in the plastic bags and can also prevent scorching. Plant the seedlings in acidic soil, preferably between 5–7 pH levels.
Keep the soil moist during the hot dry season, by mulching your bed about 5 mm thick. The mulch will keep the roots cool, keep moisture to the soil and reduce the growth of weeds. Chipping mulch is recommended, as they break down very slowly and also releases small amounts of nutrients to the plant. Paranomus bracteolaris requires less pruning and has a short lifespan in cultivation. Paranomus roots are susceptible to Phytophthora root rot.
References
Duncan, G., Brown, N. & Nurrish, L. 2013. Grow proteas. Kirstenbosch Gardening Series. South African National Biodiversity Institute, Cape Town.
Jackson, W.P.U. 1990. Origins and meanings of names of South African plant genera. University of Cape Town.
Nndanduleni, M. 2018. Paranomus longicaulis Salisb. Ex Knight. (Proteaceae). PlantZAfrica. http://pza.sanbi.org/paranomus-longicaulis
Protea Atlas Project. Meanings of scientific names. http://www.proteaatlas.org.za/meanings.htm
Protea Atlas Project. Paranomus Salisb. https://www.proteaatlas.org.za/Protea_Atlas_Paranomus.pdf
Rebelo, T. 2000. Proteas of the Cape Peninsula. Protea Atlas Project. National Botanical Institute, Cape Town.
Rebelo, A.G. 2001. Proteas. A field guide to the proteas of southern Africa. Fernwood Press, Vlaeberg, Cape Town.
Red list of South African plants. Paranomus bracteolaris Salisb. ex Knight. http://redlist.sanbi.org/species.php?species=803-4
Vogts, M. 1982. South African's Proteaceae: know them and grow them. Struik, Cape Town.
Credits
Mashudu Nndanduleni
Kirstenbosch National Botanical Garden
December 2018
 
Plant Attributes:
Plant Type: Shrub
SA Distribution: Western Cape
Soil type: Sandy
Flowering season: Spring, Winter
PH: Acid
Flower colour: Purple, White, Pink
Aspect: Full Sun
Gardening skill: Average
Special Features:
Drought resistant
Fragrant
Good potplant
Feeds honeybees
Horticultural zones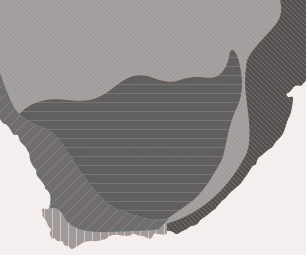 Zone 2 Coastal winter rainfall, frost free
Google QR Code Generator