Plants of the Week Advanced Search
Search results for "Urticaceae" (displaying 3 of 3 on page 1)
Refine your search
Sort by date added
Sort Alphabetically
Common names:
soap-nettle (Eng.); seepnetel, wildebraam (Afr.); isikukuku (IsiNdebele); nthadzwa (Setswana); muthanzwa, murovhadembe (Tshivenda); nthadzwa (Xitsonga
02 / 09 / 2013 | T.T. Masupa | Pretoria NBG
Read More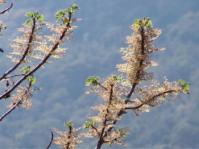 Common names:
mountain nettle, rock tree-nettle, tree nettle, giant nettle, stinging nettle tree (Eng.); bergbrandnetel, rotsbrandnetel (Afr.); lebati (Northern Sot
14 / 10 / 2019 | Sephatle Evans Molekoa | Lowveld NBG
Read More
Common names:
spotted nettle (Eng.); gevlekte brandnetel (Afr.); ubazi, ububasa (Xhosa); imbabazane, imbathi (Zulu)
... grossa means large. Laportea belongs in the nettle family (Urticaceae) and consists of ± 50 species, spread throughout ...
03 / 03 / 2008 | Alice Notten | Kirstenbosch NBG
Read More