Plants of the Week Advanced Search
Search results for "Pachypodium" (displaying 3 of 3 on page 1)
Refine your search
Sort by date added
Sort Alphabetically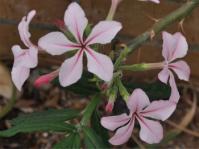 Common names:
thick foot, kambroo (Eng.); bergkambroo, bobbejaankambroo, ystervarkkambroo, dikvoet (Afr.)
... National Botanical Garden January 2019 Pachypodium succulentum is a dwarf shrub, which grows 0.6 to 1 m tall, ... the seed with a tuft of whitish hairs at one end. Pachypodium succulentum is endemic to South Africa. It occurs in rocky ...
07 / 01 / 2019 | Lufuno Nenungwi | Free State NBG
Read More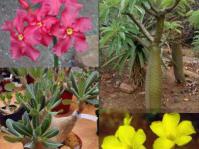 Common names:
P. baronii var. windsorii : none; P. * bispinosum : bobbejaankos, kragman, sterkman, kamoa (Afr.); P. densiflorum var. densiflorum, P. geayi, P. horom
... 1830, at the time on the basis of a single species. Today Pachypodium consists of about 20 species; five are native to continental ... even small rodents may also aid in the dispersal. Seeds of Pachypodium namaquanum in the wild are heavily parasitized, possibly adding ...
10 / 12 / 2007 | Stoffel Petrus Pieter Bester | National Herbarium Pretoria
Read More
Common names:
elephant's trunk (Eng.); halfmens (Afr.)
... Olivia Pekeur Kirstenbosch NBG June 2007   Pachypodium namaquanum, the halfmens (half plant, half human), is a ... attain an age of one hundred years or more. Pachypodium namaquanum  is found in dry rocky deserts at altitudes from ...
04 / 06 / 2007 | Olivia Pekeur | Kirstenbosch NBG
Read More