Pachypodium succulentum (Jacq.) Sweet
Family: Apocynaceae
Common names: star-flower thick-foot, porcupine-kambroo (Eng.); bergkambroo, bobbejaankambroo, bobbejaankos, ystervarkkambroo, ystervarkkos, dikvoet (Afr.)
Introduction
A slow-growing shrublet characterized by its unusual thickened, underground, water-storing, tuberous stem, which helps the plant to survive during drought periods. It is able to grow at subzero temperatures in winter.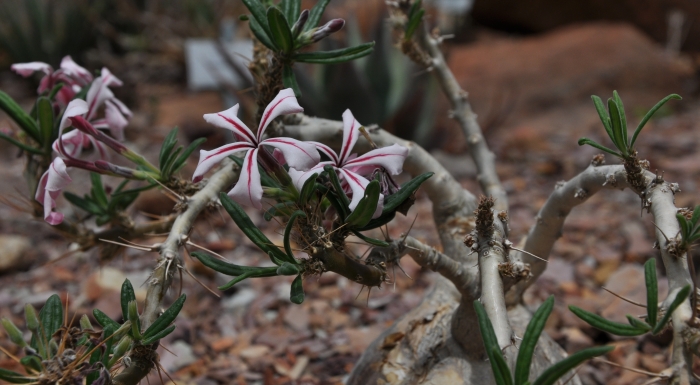 Description
Description
Pachypodium succulentum is a dwarf shrub, which grows 0.6 to 1 m tall, depending on the climate and conditions of the area. The stem is swollen at the base and turnip-shaped, up to ± 200 mm in diameter, and half buried. It produces several branches which grow between 150–600 mm long.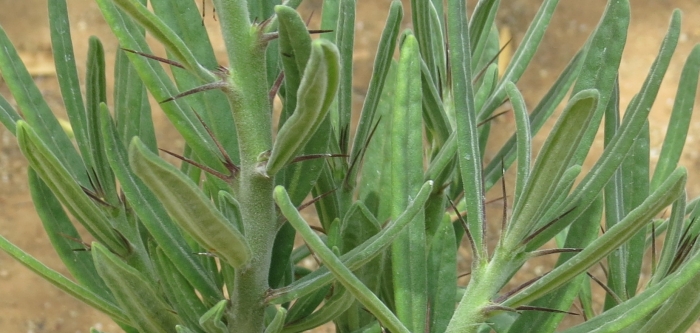 The narrow, dark green leaves are alternate, about 20–60 mm long and 10 mm broad, hairy underneath, with recurved margins. The leaves are borne towards the tips of the branches, among brownish spines, 10 mm to 20 mm long. The spines are modified stipules at the base of the leaves, and persist after the leaves have fallen. It has 3 spines, 2 are nearly equal in size, and one is smaller.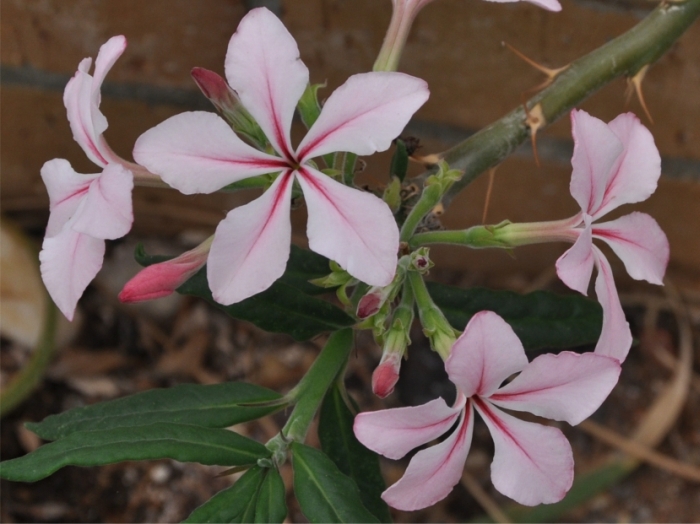 It produces white to crimson, star-shaped flowers at the tips of the branches in spring and early summer, between September and December. The flowers have a long, nearly cylindrical tube, 10–80 mm long and up to 2 mm in diameter, opening to 5 spreading lobes, 8–18 mm long, the middle of each petal marked with a darker stripe. Many seeds are produced in paired seed pods, the seed with a tuft of whitish hairs at one end.
Conservation Status
Status
According to the Red List of South African plants website, the conservation status of Pachypodium succulentum is Least Concern (LC). This species is listed on Appendix II of CITES (the Convention on International Trade in Endangered Species of Wild Fauna and Flora).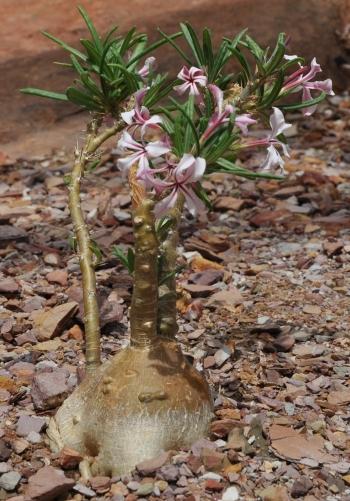 Distribution and habitat
Distribution description
Pachypodium succulentum is endemic to South Africa. It occurs in rocky grassland, koppies, steep hills and succulent scrub vegetation in the Western, Eastern and Northern Cape and western Free State, at altitudes up to 1 400 m.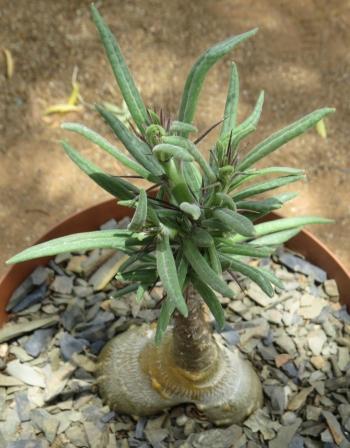 Derivation of name and historical aspects
History
The name Pachypodium means 'thick foot'. The name is derived from the Greek word pachy, which means 'thick' and podus, which means 'foot'. The species name succulentum means 'succulent', referring to its swollen stem.
The genus Pachypodium belongs in the Apocynaceae family and has 23 species, of which 18 are found in Madagascar and 5 are found in the southern part of the African continent. P. succulentum has been described under different names: as P. griquense, P. tuberosum, P. tomentosum and P. jasminiflorum, but these species were revealed by L.E Codd in 1963 to be forms of P. succulentum and are now synonyms for this species.
Most of plants of the Apocynaceae family are succulent or shrub-like, have milky white sap and many are poisonous, containing alkaloids in the plant tissues.
Pachypodium succulentum can be confused with P. bispinosum when not flowering, but the flowers are different: the corolla tube and sepals are pubescent in P. succulentum and glabrous in P. bispinosum, and P. bispinosum flowers have a wider, funnel-shaped corolla tube and shorter, rounder petals only 5-7 mm long. Both P. succulentum and P. bispinosum were discovered in the Eastern Cape by Carl Thunberg in 1770. Out of all Pachypodium species, P. succulentum is the most widely distributed species.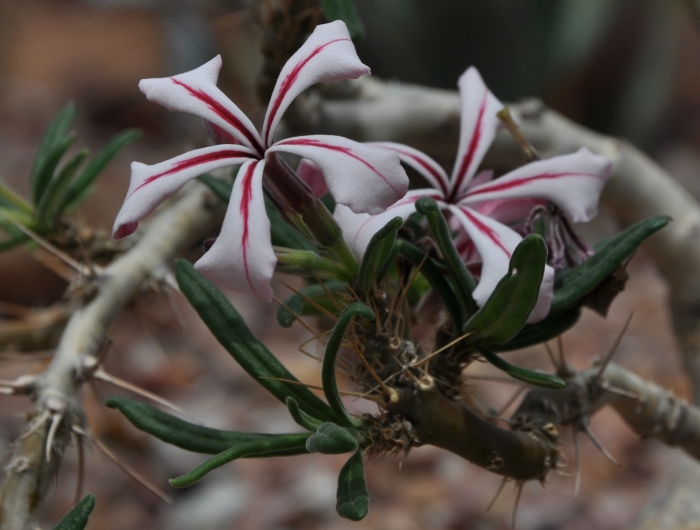 Ecology
Ecology
Pachypodium succulentum grows in hot, sunny, rocky places and with its succulent, water-storing stem, it is well adapted to these harsh conditions and to survive long periods without any water.
Not much is known about the pollination biology of this species, but out of habitat, in the absence of its specialized pollinators, the flowers must be hand-pollinated in order to produce viable seeds. The seeds are dispersed by wind.
The large tubers are eaten by porcupine (ystervark) and baboon (bobbejaan). The hollowed out shells of decayed tubers frequently serve as nests for bees.
Uses
Use
A soaked piece of root in warm water is a traditional treatment for stomach ulcers. The caudex was an important source of food and yeast for making bread in the past.
This species is a decorative and sought-after ornamental plant, and wild specimens have been collected and exported for the horticultural trade, but it is important to note that this is illegal and unethical, and that all international trade of this plant requires CITES permits.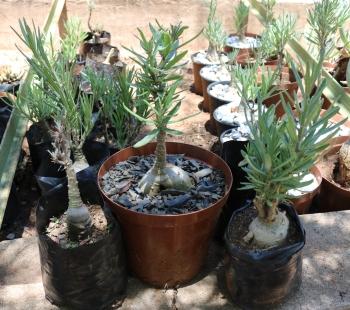 Growing Pachypodium succulentum
Grow
Pachypodium succulentum is easy to cultivate, and can be propagated by stem cuttings and by seeds. Cuttings should be taken while in active growth during the summer growing season, for the best chance of successful rooting. Allow the cutting to dry out for 5 days, before placing them in rooting medium. Sow seeds in spring or early summer, in well-drained soil, and keep warm and damp until germination.
Grow Pachypodium succulentum in a full sun position in well-drained soil and take care not to overwater or let it become waterlogged. It is best suited to a region with a dry winter, or it must be kept dry in winter to allow the soil to dry out during its dormant season. It is best suited to sunny, warm, dry and rocky gardens, and in rockeries, and is suitable for containers. This spelucies is not suitable for cold, wet gardens, although it will survive subzero winter temperatures.
Companion plants for Pachypodium succulentum can include: Kalanchoe thyrsiflora, Aloe broomii, Euphorbia enopla, Adromischus trigynus and Aloe maculata.
References
Bester, S.P. 2007. Pachypodium Lindl. (Apocynaceae). PlantZAfrica. http://pza.sanbi.org/pachypodium
Court, D. 1981. Succulent flora of southern Africa. Balkema, Cape Town.
Manning, J. 2001. Eastern Cape. South African Wild Flower Guide 11. Botanical Society of South Africa, Cape Town.
Nichols, G. 2005. Growing rare plants: a practical handbook on propagating the threatened plants of southern Africa. Southern African Botanical Diversity Network Report No. 36.
Rapanarivo, S.H.J.V. 1999. Pachypodium (Apocynaceae). Balkema, Rotterdam.
Smith, C.A. 1966. Common names of South African plants. Memoirs of the Botanical Survey of South Africa No. 35. Government Printer, Pretoria.
Credits
Lufuno Nenungwi
Free State National Botanical Garden
& Alice Notten
Kirstenbosch National Botanical Garden
January 2019
Plant Attributes:
Plant Type: Shrub, Succulent
SA Distribution: Eastern Cape, Free State, Northern Cape, Western Cape
Soil type: Sandy, Clay, Loam
Flowering season: Spring, Early Summer
PH: Acid, Neutral
Flower colour: White, Pink
Aspect: Full Sun
Gardening skill: Easy
Special Features:
Drought resistant
Feature plant
Good potplant
Medical plant
Horticultural zones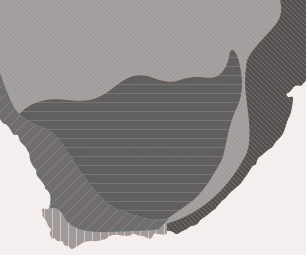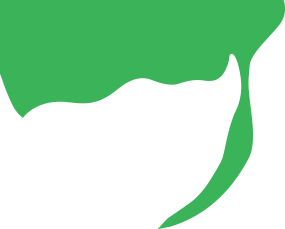 Zone 2 Coastal winter rainfall, frost free
Zone 3 Winter rainfall Karoo, light frost
Zone 4 Summer rainfall Karoo and Highveld, Frost in winter
Zone 5 Bushveld summer rainfall, Light frost
Google QR Code Generator