Plants of the Week Advanced Search
Search results for "Pyrrosia" (displaying 2 of 2 on page 1)
Refine your search
Sort by date added
Sort Alphabetically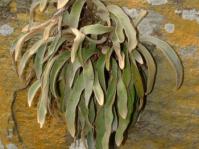 Common names:
canyon fern (Eng.); afgrondvaring (Afr.)
... and Conservation, University of the W. Cape March 2017 Pyrrosia schimperiana is cluster-forming, with creeping ... and rooting where the rhizome touches a crevice. Pyrrosia Pyrrosia schimperiana is easily grown as a pot plant and a ...
27 / 03 / 2017 | Ernst van Jaarsveld | Kirstenbosch NBG
Read More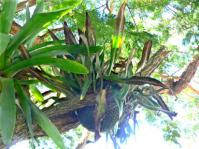 ... Roux Compton Herbarium J P Roux Compton Herbarium May 2005 Pyrrosia is a fern genus belonging to the family ... The most striking feature supporting the affinity between Pyrrosia  with its simple fronds, and Platycerium  which ... the stellate (star-shaped) hairs occurring on the fronds. Pyrrosia, a genus of 51 species, is confined to the ...
02 / 05 / 2005 | Koos Roux | Compton Herbarium
Read More