Plants of the Week Advanced Search
Search results for "Scabiosa" (displaying 4 of 4 on page 1)
Refine your search
Sort by date added
Sort Alphabetically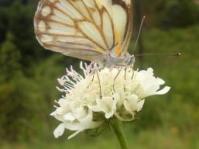 Common names:
wild scabious (Engl.); bitterbos (Afr.),tlhako- ea- pitsi, selomi, mamokhale, moholungoane (South Sotho); isilawu, esikhulu, makgha (isiXhosa); ibheka
... or pink, appearing in spring  and throughout summer. Scabiosa columbaria   occurs mostly in grasslands, rocky ... insects, bees and butterflies that act as pollinators. Scabiosa columbaria is very hardy and cold resistant, and ... Seed of this species set profusely, if left undisturbed. Scabiosa Scabiosa columbaria prefers growing in a sunny ...
20 / 04 / 2015 | Azwinndini Mudau | Free State NBG
Read More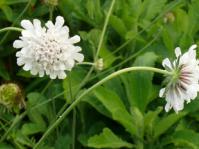 Common names:
Drakensberg scabious, pincushion (Eng.); koringblom (Afr.)
... and somewhat less rough to the touch than in other scabiosa plants, and their margins are coarsely toothed with ... apart as the seeds ripen to be blown away by the wind. Scabiosa drakensbergensis occurs naturally in rocky places, ... ornamental purposes as the other better known species of Scabiosa. A lovely aspect of the plant is that it bears buds, ...
23 / 01 / 2012 | Cherise Viljoen | Kirstenbosch NBG
Read More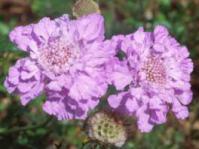 Common names:
coast scabious (Eng.), koringblommetjie (Afr.), isilawu esikhulu, iyeza lamehlo (Xhosa)
... seeds ripen and are ready to be blown away by the wind. Scabiosa incisa occurs naturally in the coastal sands from Piketberg to Grahamstown. The best-known locality for Scabiosa incisa is at Bokbaai, a farm along the West Coast, ... number of other beautiful forms are grown at Kirstenbosch. Scabiosa incisa 'White Carpet' has a smaller white flower ...
08 / 12 / 2003 | Liesl Van der Walt | Kirstenbosch NBG
Read More
Common names:
Cape Scabious, Pincushion, Koringblom
... NBG Liesl van der Walt Kirstenbosch August 2000 Scabiosa africana grows fast, forming evergreen mounds of ... tight, bristly balls that fall apart as the seeds ripen. Scabiosa Scabiosa africana is easy to grow in the garden and is a ...
04 / 12 / 2000 | Liesl Van der Walt | Kirstenbosch NBG
Read More