Plectranthus ecklonii Benth.
Family: Lamiaceae
Common names: tall spurflower, Ecklon's plectranthus (Eng.); groot spoorsalie, Ecklon spoorsalie (Afr.)
Introduction
A fast-growing shrubby perennial with showy spikes of pink, blue or white flowers in autumn, ideal for shade or semi-shade.
Description
Description
Plectranthus ecklonii is a soft, erect, fast growing shrub to 3 m tall. The leaves are arranged in opposite pairs on the square stems, the latter with tufts of purplish hairs along the nodes. The ovate to ellilptical leaves are fairly large 74-190 x 35-115 mm bearing a wedge shaped base and acute apex.
The inflorescence is a terminal panicle to 370 mm long. The two-lipped corolla is 15-24 mm long, bluish-purple, rarely pink or white with a straight tube. Plants flower during autumn, from March to May with a peak in April. The fruit is a small nutlet, 2 mm long, black or dark brown.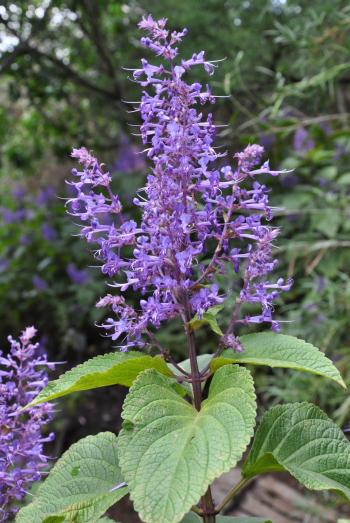 Conservation Status
Status
Least Concern (LC), Plectranthus ecklonii is not threatened.
Distribution and habitat
Distribution description
Plectranthus ecklonii has a wide distribution from Somerset east in the Eastern Cape to Barberton in Mpumalanga. It is confined to moist coastal subtropical and afrotemperate Forest and forest margins. It is common in the under-storey at forest margins or on wooded stream banks. Rainfall is mainly during summer ranging between 1 000 and 1 750 mm per annum.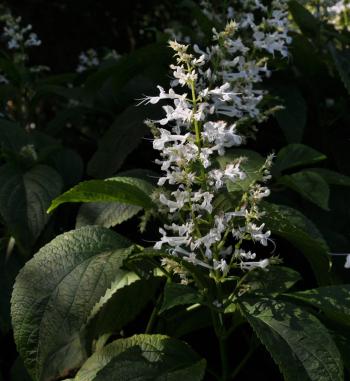 Derivation of name and historical aspects
History
The name Plectranthus is from the Greek plektron, a spur and anthos, flower; referring to the spur that is found at the base of the corolla tube of the type species for the genus, P. fruticosus. This species is named after Christian Friedrich Ecklon (1795 – 1868), Danish pharmacist, plant collector and traveller in South Africa.
Plectranthus ecklonii was first collected in 1813 by William Burchell, however Bentham described the species in 1848 based on a specimen collected by Ecklon and was unaware of the earlier collection. John Medley Wood introduced it to the Durban Botanical Gardens towards the end of the nineteenth century. It is thought that Ecklon sent seed of it to Baron Von Ludwig in Cape Town. It was the first plectranthus to be introduced to Kirstenbosch and has been growing there since 1914, shortly after the Garden was established.
Uses
Use
Plectranthus ecklonii is not known to be used in traditional medicine. It is a popular and well-known garden plant. The leaves are unusual in that they leave a nicotine-like stain on the skin if they are crushed and rubbed.
Growing Plectranthus ecklonii
Grow
One of the showiest and most attractive plectranthus in the garden, Plectranthus ecklonii is a popular garden subject. Mass planting of the blue, white and pink cultivars are very striking. P. ecklonii is best grown in partial shade. It is recommended for gardens where frost is not too severe. In colder climates it can be grown as a container house plant indoors. P. ecklonii is a fast growing pioneer shrub and very suited for shady gardens. It will flower profusely the first season after planting. Plant about 60 cm apart. Prune back hard after flowering during midwinter.
There are three available cultivars.
P. ecklonii 'Medley-Wood' the common garden cultivar with blue flowers. Named after John Medley-Wood who introduced the species into cultivation.
P. ecklonii 'Tommy', with white flowers. Named after Tommy Sardien, head gardener of the Succulent Section at Kirstenbosch for many years.
P. ecklonii 'Erma', with pink flowers, and the leaves and stems are tinged with pink. Named after Erma van Jaarsveld, the author's wife.
P. ecklonii is easily propagated from cuttings or seed. Cuttings can be planted like perennial grass in situ. Cuttings should be about 150-200 mm long, with only the topmost leaves kept. Keep moist and rooting is rapid. Cuttings can also be rooted in sand or other appropriate cutting medium. The best time to take cuttings is spring or summer. Keep them in a shady, but well lit terrain.
Seeds can be planted in a shallow standard seed tray in standard soil. Cover with a thin layer of sand (1-2 mm) and keep moist. Keep in a shady but well lit environment. Germination is rapid and the seedlings can be planted out in individual bags as soon as they are large enough to handle.
References
Raimondo, D. et al. 2009. Red list of South African plants. Strelitzia 25. SANBI (South African National Biodiversity Institute), Pretoria.
Van Jaarsveld, E. 2006. The southern African Plectranthus and the art of turning shade to glade. Fernwood Press, Vlaeberg, Cape Town.
Credits
Ernst van Jaarsveld
Kirstenbosch National Botanical Garden
February 2001
updated February 2016
Plant Attributes:
Plant Type: Perennial, Shrub
SA Distribution: Eastern Cape, KwaZulu-Natal, Mpumalanga
Soil type: Sandy, Loam
Flowering season: Autumn
PH: Acid, Neutral
Flower colour: Blue, White, Pink
Aspect: Shade, Morning Sun (Semi Shade), Afternoon Sun (Semi Shade)
Gardening skill: Easy
Special Features:
Good potplant
Indoor plant
Horticultural zones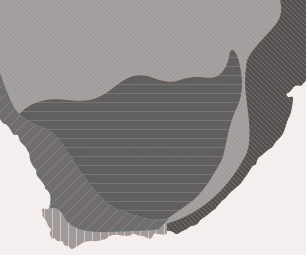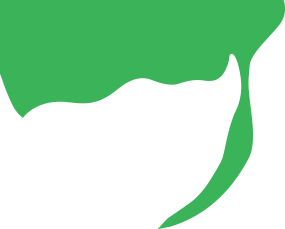 Zone 1 Coastal summer rainfall, frost free
Zone 2 Coastal winter rainfall, frost free
Zone 3 Winter rainfall Karoo, light frost
Zone 5 Bushveld summer rainfall, Light frost
Google QR Code Generator