Plectranthus hilliardiae Codd subsp. hilliardiae
Family: Lamiaceae
Common names: Pondo spurflower (Eng.); pondospoorsalie (Afr.)
Introduction
One of the most attractive of the Plectranthus, with glossy, dark green leaves and purple-blue autumn flowers, it is best suited to moist, subtropical forest gardens.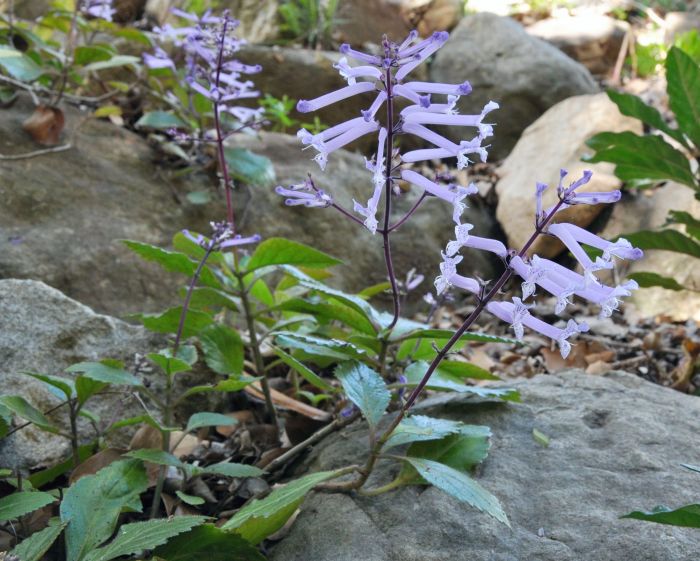 Description
Description
Plectranthus hilliardiae is an erect to horizontal, semi-succulent, branched herbaceous perennial, 200–400 mm tall. Branches are hairy, with long purple hairs at the nodes. Leaves are semi-succulent, 25–100 × 15–55 mm, have shallowly toothed margins in the upper half, are dark green, with prominent veins, on the upper side, and are whitish green underneath.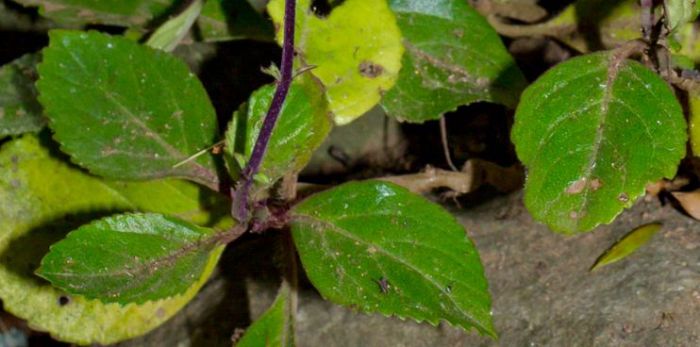 Flowers are tubular, 27–40 mm long, parallel sided, laterally compressed and expanding at the base, bi-labiate (have an upper and lower lip) in the flower apex. The corolla is pale purplish blue with purple spotting, making it look entirely purple. They are presented in loose, branched, terminal inflorescences 80–180 mm long. Flowering is in late summer to autumn into winter (December to June). At Kirstenbosch National Botanical Garden, their maximum flowering is in mid-April. Fruit is a 2 mm diameter, black or dark brown nutlet.
Two subspecies are recognised: subsp. hilliardiae, and subsp. australe, which has elliptical leaves that usually have dark purple veins on the undersides.
Conservation Status
Status
Plectranthus hilliardiae is assessed as Least Concern (LC) according to Red List of South African plants. The wild population is not suspected to be declining as there are no known threats towards it.
Distribution and habitat
Distribution description
Plectranthus hilliardiae is only found in Pondoland, growing in the deep forests of Magwa Falls to north of Fraser Gorge and to the northern Eastern Cape as far as the Mtamvuna River, which is the southern border of KwaZulu-Natal. This species occurs on deeply shaded river banks on margins of scrub forest, often among rocks, within moist subtropical forest, where there are often plenty to find.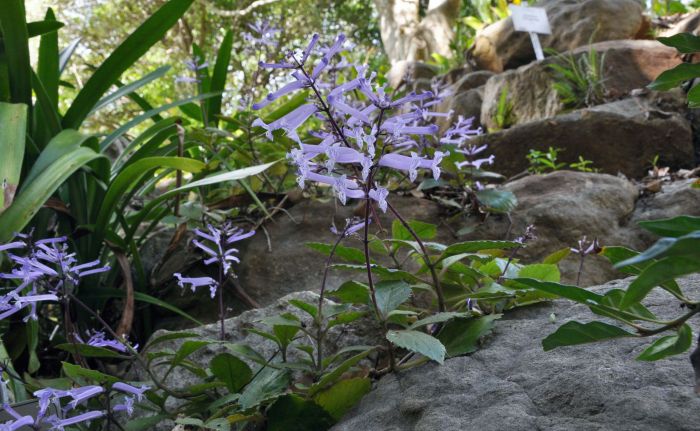 Derivation of name and historical aspects
History
The name Plectranthus means 'spurflower' and was described by the French botanist L'Heritier. Plectranthus hilliardiae was first collected in 1919 at Mpahlane River west of the Mzamba by a botanical explorer named H.J. Thode (1859–1932) who was originally from Germany. However, his specimen was unnoticed until after this species was discovered again by Olive Hilliard and Bill Burrt in the Mtamvuna Gorge in 1971. In 1974, Codd named this species after Olive Hilliard (1925– ), who was formerly Professor of Botany at the University of Natal. It was first introduced to Kirstenbosch in 1979.
Plectranthus is one of the largest genera in the Lamiaceae, consisting of about 350 species, of which 53 occur in South Africa. Other ornamental South African genera in the Lamiaceae include Stachys, Leonotis (lion's ear) and Syncolostemon (sagebushes). The genus Plectranthus, which enjoys warm climates, is widely distributed in Africa, and is also found in India, Australia and Japan.
Plectranthus hilliardiae was used to breed Plectranthus 'Mona Lavender' when it was crossed with Plectranthus saccatus in the late 1990s and 'Mona Lavender' has been in the horticultural trade since then.
Ecology
Ecology
Plectranthus species vary greatly in flower shape, size and colour and both bees and flies with sucking mouthparts of varying length are the main pollinators of this group. Plectranthus hilliardiae has long, straight-tubed flowers, and a variety of pollinators including sunbirds, flies with elongated sucking mouthparts and day-flying hawkmoths are active on this species. The purple speckles on the flowers act as nectar guides. A study conducted by Christina Johanna Potgieter, who was a doctorate student at the University of KwaZulu-Natal (UKZN), showed that P. hilliardiae has a narrow entrance to the corolla, more narrow than their closely related genus, Syncolostemon, which makes it difficult to suit certain pollinators, especially sunbirds. However, their bright purple flowers attract insect pollinators easily. Their main pollinator appears to be a Nemestrinid fly with mouthparts the same length as the corolla tube.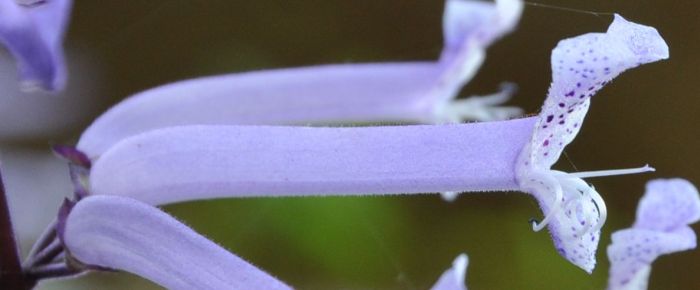 This species enjoys moist conditions, as it is adapted to the warm climates of KwaZulu-Natal and the Eastern Cape, with rainfalls occurring almost throughout the year.
Uses
Use
Its large, attractive, bright purple, tubular flowers and compact growth habit, make it an ideal ornamental plant and pot plant for shade, and a good houseplant. In South Africa this plant is not used in any traditional medicine or cultural practices.
Growing Plectranthus hilliardiae
Grow
Plectranthus hilliardiae is a decorative plant and could become a popular plectranthus in the horticultural trade, but it is not as easy to grow as many other species of Plectranthus. It requires high humidity and warm, subtropical temperatures to thrive. This plant can be grown in light or deep shade with moderate watering and can be either planted in the garden or as potted specimens. Plant them densely together for thick and compact foliage in garden beds. This species performs very well in well-drained, composted soil and requires occasional water in summer. Feed with an organic fertilizer to improve the plant quality. Pinch out spent inflorescence to encourage new growth and buds in late winter. Prune the tips of the branches to control and encourage growth. Few pests attack these plants.
Plectranthus hilliardiae is best propagated vegetatively by means of tip and stem cuttings, in summer. Take cuttings from a healthy and disease-free mother stock at the coolest time of the day, preferably morning, when the plant is fully vigorous. Use a well-drained soil mix, such as 2 parts sifted fine bark, 3 parts perlite and 1 part sifted compost (2:3:1); add a thin layer of coarse bark at the bottom of your seed tray for better drainage. Prepare the cuttings by cutting under the nodes of the stem at 70 to 100 mm, remove a third of the leaves from the bottom to reduce loss of water while rooting. Rooting hormone is necessary to promote root growth, apply it at the bottom of the node. Keep the cuttings in a warm, humid area with good air movement and keep the soil moist, but not wet. Rooting will take place after 3–4 weeks and once well-established, transplant cuttings into containers and water regularly until they are fully grown. Established plants can be transplanted into bigger containers or into the garden.
References
Codd, L.E. 1985. Plectranthus hilliardiae. The Flowering Plants of Africa 48: t. 1904.
Johnson, S.D., Edwards, T.J., Carbutt, C. & Potgieter, C.J., 2002. Specialization for hawkmoth and long-proboscid fly pollination in Zaluzianskya section Nycterinia (Scrophulariaceae). Botanical Journal of the Linnean Society 138: 17–27.
Pooley, E. 1998. A field guide to wild flowers Kwazulu-Natal and the eastern region. Natal Flora Publications Trust, Durban.
Potgieter, C.J., Edwards, T.J., Miller, R.M. & Van Staden, J. 1999. Pollination of seven Plectranthus spp. (Lamiaceae) in southern Natal, South Africa. Plant Systematics and Evolution 218: 99–112.
Van Jaarsveld, E. 1987. The Plectranthus handbook. National Botanical Gardens, Cape Town.
Van Jaarsveld, E. 2006. The southern African Plectranthus and the art of turning shade to glade. Fernwood Press, Vlaeberg, Cape Town.
Credits
Ayanda Komanisi and Mpendulo Gabayi

Kirstenbosch National Botanical Garden

April 2020
Plant Attributes:
Plant Type: Perennial
SA Distribution: Eastern Cape, KwaZulu-Natal
Soil type: Loam
Flowering season: Late Summer, Autumn
PH: Acid
Flower colour: Blue, Purple
Aspect: Shade, Morning Sun (Semi Shade)
Gardening skill: Average
Special Features:
Good potplant
Horticultural zones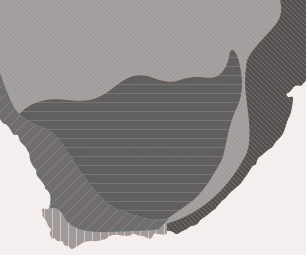 Zone 1 Coastal summer rainfall, frost free
Zone 2 Coastal winter rainfall, frost free
Google QR Code Generator