Plectranthus lucidus Van Jaarsv. & T.J.Edwards
Family: Lamiaceae
Common names: shiny spurflower (Eng.); blinkblaar spoorsalie (Afr.)
Introduction
A fast-growing, resilient, shade-loving groundcover, recommended for coastal gardens.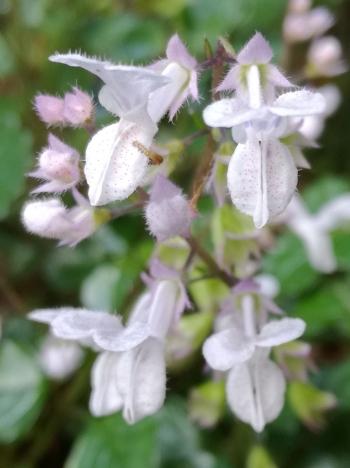 Description
Description
Procumbent, mat-forming, herbaceous perennial, up to 150 mm high. Purplish to green, square stems are covered in very fine hairs. Fast-growing once established and stems training along the soil, form roots at the nodes. The glossy leaves are oppositely arranged along the stem and ovate (oval-shaped), with paired, toothed margins. The undersides of the leaves are slightly hairy and the prominent veins more densely covered in fine white hairs.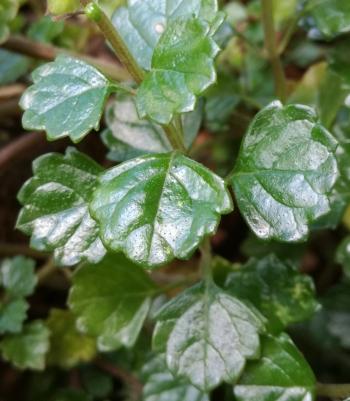 Individual racemes, which very rarely produce paired side-branches, bear white to mauve flowers on a terminal inflorescence in autumn. The tubular flowers are 9 to 11 mm long. Nutlet seeds are produced and usually dark brown to black.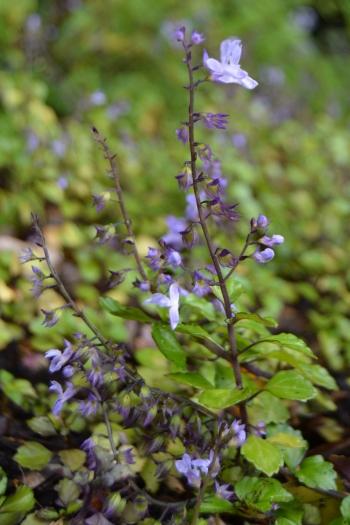 Currently there are two named cultivars in cultivation. P. lucidus 'Albert' is a white flowering form with pale green foliage and P. lucidus 'Bulolwe' is a robust mauve flowering form with lovely purple colouration to parts of the stem.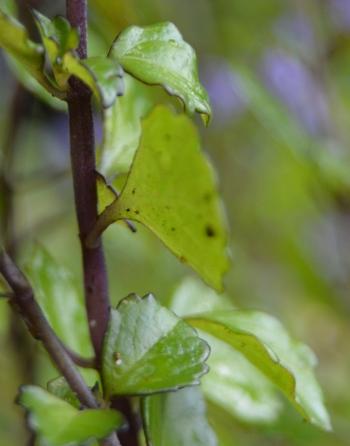 Conservation Status
Status
According to the Red List of South African plants, checked on 5/04/2018, the conservation status of this species is Least Concern (LC).
Distribution and habitat
Distribution description
Endemic to South Africa and restricted to coastal sand dunes from Bathurst to Port St. Johns in the Eastern Cape, where they establish themselves, along with other shade-loving plants, in stabilized dunes under trees.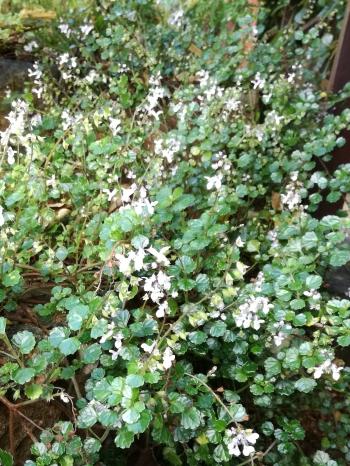 Derivation of name and historical aspects
History
The genus Plectranthus was established in 1788 by a French botanist and magistrate Charles Louis L'Héritier de Brutelle (1746–1800). He centred his description of the new genus on the spur present at the base of the corollas of the specimens he had available of Plectranthus fruticosus and P. punctatus. Plectron meaning 'spur' and anthos, 'flower'. Unfortunately, unbeknownst to him, most Plectranthus do not have a spur on their corolla, however, once officially described and published the name Plectranthus was accepted and used. The epithet lucidus means 'shiny', and refers to the glossy leaves.
Plectranthus lucidus was initially collected near Bathurst by the naturalist William John Burchell (1781–1863) and first described by George Bentham (1800–1884) in 1848 as Plectranthus strigosus var. lucidus. During a later revision of the genus in 1997 by E.J. van Jaarsveld and T.J. Edwards, it was recognised as its own species under Plectranthus.
Ecology
Ecology
Plectranthus is primarily pollinated by insects and many beneficial insects such as bees and butterflies are attracted to the flowers. However, a myriad of insects are pollinators to Plectranthus depending on the length of their tubular flowers.
The jutting teeth of the persistent calyx are thought to aid in seed dispersal.
Plectranthus lucidus is known to have a 'chameleon nature' as referred to by E.J. van Jaarsveld and its vegetative parts are able to adapt to changing environmental conditions. The plants can change their leaf size to adapt to varying light intensity e.g. leaves will be larger and flatter in deep shade and display smaller and tighter growth in higher lit areas. The plant will produce a purple colouration when under stress of drought, space restriction or too much sun. The purple colour comes from the presence of the chemical anthocyanin. This chemical assists the plants by blocking out excessive sunlight.
Uses
Use
The shiny spurflower makes an attractive mat-forming groundcover for shady Mediterranean gardens, and can be used as a container plant. It does require water in summer and although it can be considered water-wise, it is not entirely drought tolerant. This species is remarkably tolerant of salt-spray and useful in coastal gardens. This species is sensitive to frost.
Growing Plectranthus lucidus
Grow
Species of Plectranthus  are generally easy to propagate and will root from tip or stem cuttings in a warm environment and can be propagated throughout the year. Propagate Plectranthus lucidus cuttings by using a basic propagation media, in a glass of water or even just placing cuttings directly into the garden area you wish them to grow.
Sow seeds in a well-drained loam mix in spring. Seeds should readily germinate within 3 weeks. Transplant seedlings as soon as they are easy to handle. A growth media of well-drained sandy loam or compost-rich soil, produces lush vigorous plants.
Plants can be pruned to shape if they are over-reaching their boundaries.
Plants are best grown in areas of shade to semi-shade with good light, but not necessarily direct sunlight.
Plectranthus species do get pests and diseases, such as nematodes, caterpillars, aphids, white fly, scale, red spider mite and snails. However, in general, Plectranthus species are quite hardy and rarely any trouble to a gardener.
References
Van Jaarsveld, E. 2006. The southern African Plectranthus and the art of turning shade to glade. Fernwood Press, Vlaeberg, Cape Town.
Credits
Monique McQuillan
Kirstenbosch National Botanical Garden
April 2018
Plant Attributes:
Plant Type: Ground Cover, Perennial
SA Distribution: Eastern Cape
Soil type: Sandy, Loam
Flowering season: Autumn
PH: Acid, Neutral
Flower colour: White, Mauve/Lilac
Aspect: Shade, Morning Sun (Semi Shade), Afternoon Sun (Semi Shade)
Gardening skill: Easy
Special Features:
Attracts butterflies
Good potplant
Feeds honeybees
Horticultural zones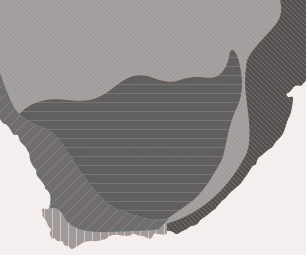 Zone 1 Coastal summer rainfall, frost free
Zone 2 Coastal winter rainfall, frost free
Google QR Code Generator