Plectranthus zuluensis 'Lupatana'
Plectranthus zuluensis T.Cooke 'Lupatana'
Family: Lamiaceae
Common names: Lupatana spurflower (Eng.); Zoeloewitspoorsalie, Zoeloemuishondblaar (Afr.)
Introduction
Plectranthus zuluensis 'Lupatana' is a white-selected cultivar of Plectranthus zuluensis. It is an excellent pot plant and flowers from late summer to late autumn.
Description
Description
Plectranthus zuluensis 'Lupatana' is a soft, erect or sprawling perennial shrub that grows up to 0.8 m high with much-branched, four-angled hair-covered stems. The soft leaves are smaller but otherwise typical of P. zuluensis, ovate with coarsely toothed margins and with minute colourless glands on the leaf surface.
The distinctively white inflorescence is about 80-100 mm long with mauve-blue dots on the upper petal of the otherwise white flowers. As with P. zuluensis, the flowers are borne in whorls of six and, unusual for Plectranthus, the upper pair of stamens is sterile. Fruit are small, dark brown nutlets.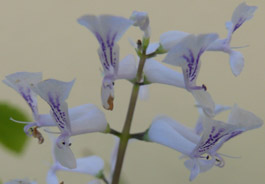 Flowers most of the year, from October to June with peak flowering time February to April.
Other attractive cultivated forms at Kirstenbosch include 'Umgai' (mis-spelling of uMgazi), an erect 2-m shrub, and 'Sky', a low-growing 1-m shrub, both with dark purple-blue flowers.
Conservation Status
Status
Plectranthus zuluensis 'Lupatana'is not threatened.
Distribution and habitat
Distribution description
Plectranthus zuluensis 'Lupatana' occurs in sub-tropical coastal forest in Lupatana Gorge, Pondoland, Eastern Cape.
Derivation of name and historical aspects
History
Plectranthus is derived from the Greek plektron meaning spur, and anthos meaning flower. The specific name zuluensis refers to Zululand (part of KwaZulu-Natal), from where it was first described. 'Lupatana' is a selection made in the wild by the author and Ms Karen Wall (a Kirstenbosch Scholar at the time) in October 2009 in the Lupatana Gorge in the Eastern Cape. Some 48 of the 300-odd described species of Plectranthus occur in the eastern half of South Africa. The genus belongs in the mint family, Lamiaceae, well-known for its highly aromatic essential oils. Members of the family include the well-known culinary herbs, rosemary and thyme, and also lavender.
Ecology
Ecology
Plectranthus zuluensis 'Lupatana' is found growing in the wild on the forest floor.
Uses
Use
There are no known specific recorded traditional or cultural uses for Plectranthus zuluensis 'Lupatana'. However, like with most Plectranthus species, fresh leaves can be used traditionally to instantly counteract the itchy irritation caused by stinging nettles like Laportea peduncularis and L. grossa.
Growing Plectranthus zuluensis 'Lupatana'
Grow
Plectranthus zuluensis 'Lupatana' is best propagated from tip cuttings, from spring to summer. Cuttings can be treated with a rooting hormone for fast rooting. Cuttings can be placed in sand or any other similar rooting medium that is well-drained and allows rapid air flow. Intermittent mist-spray facilities will hasten root development and reduce excessive transpiration. Alternatively one can root the cutting in humus-rich, well-drained soil in a shaded area. Once established they need little watering. Prune annually after flowering to remove dead or diseased plant material. Pot plants should be watered twice a week and should be given a liquid fertilizer feed every fortnight.
As with most Plectranthus species, soil-living eelworms which infest plant roots can be a problem. Take cuttings of the plants and remove and burn roots of affected plants. Nematicides are available commercially, but handle these with care as they are usually highly poisonous. Most insects avoid Plectranthus plants, possibly because the high essential oil content of the leaves makes them unpalatable. Fungal diseases such as rust and blight occasionally attack the plants, but can be controlled by spraying with appropriate fungicides.
References
Hutchings, A, Scott, A.H., Lewis, G. & Cunningham, A.B. 1996. Zulu medicinal plants: An inventory. University of Natal Press, Pietermaritzburg.
Manning, J. 2001. Eastern Cape. South African Flower Guide 11. Botanical Society of South Africa & National Botanical Institute, Cape Town.
Pooley, E. 1998. A field guide to wild flowers of KwaZulu-Natal and the Eastern Region. Natal Flora Publications Trust, Durban.
Van Jaarsveld, E. 2006. The South African Plectranthus and the art of turning shade into glade. Fernwood Press, Cape Town.
Credits
Phakamani Xaba
Kirstenbosch National Botanical Garden
May 2012
Plant Attributes:
Plant Type: Perennial, Shrub
SA Distribution: Eastern Cape
Soil type:
Flowering season: Late Summer, Autumn
PH:
Flower colour: White
Aspect:
Gardening skill:
Special Features:
Good potplant
Horticultural zones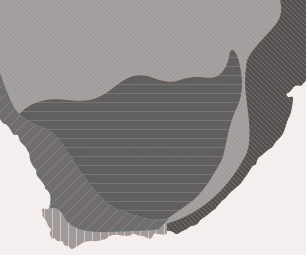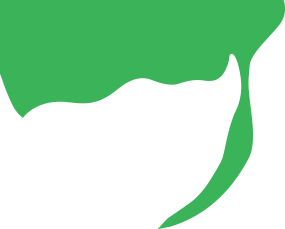 Zone 1 Coastal summer rainfall, frost free
Zone 2 Coastal winter rainfall, frost free
Zone 5 Bushveld summer rainfall, Light frost
Google QR Code Generator