Pterodiscus luridus Hook.f.
Family: Pedaliaceae
Common names: lurid flowered pterodiscus
Introduction
Pterodiscus luridus has a large swollen caudex aboveground that resembles a miniature baobab, particularly noticeable when the stems die back in winter and expose the swollen caudex.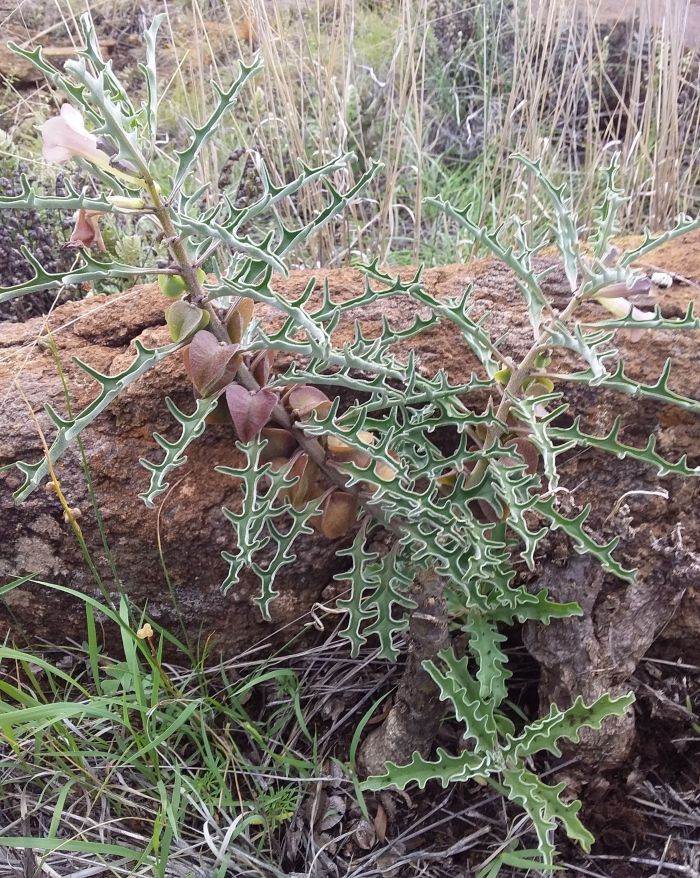 Description
Description
The caudex (stem-base) of Pterodiscus luridus is fleshy, conical, with smooth, grey bark, and can grow about 300 mm tall and about 60 mm diameter at the base and 15 mm at the crown. In spring, herbaceous annual stems grow from the crown of the caudex; they are stout, spreading and develop numerous sets of opposite leaves. Leaves are simple, pinnatifid (cleft almost to the midrib), green on the upper surface, grey on the underside; with dentate margins. There are extrafloral nectaries at the base of the petioles, which attracts ants; these can be seen as small black dots.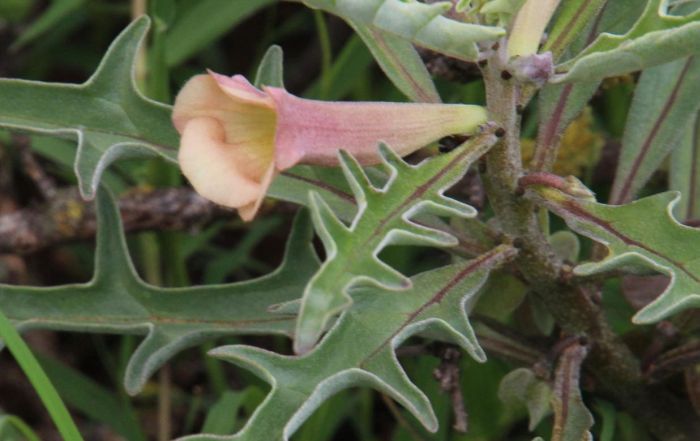 It produces a trumpet-like flower, pale purple with a purple-yellow tube, in mid to late summer (from December to March). The fruits are rounded, and 4-winged, similar looking to those of the bushwillows (Combretum spp.).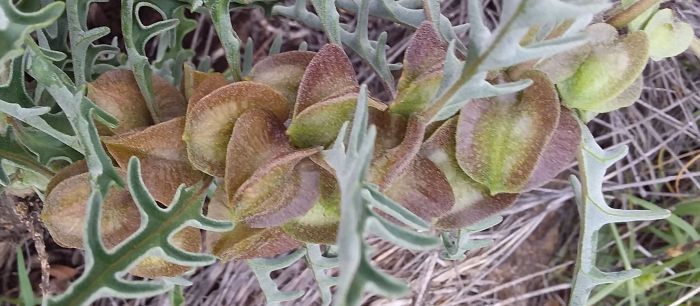 The stems, leaves and flowers are mealy (have a granular texture) and are covered with glands. When the leaves or fruits are rubbed or crushed, they produce a strongly scented mucilage which has soap-like properties in water. 
Conservation Status
Status
According to the Red List of South African plants website, the conservation status of Pterodiscus luridus is assessed as Least Concern (LC).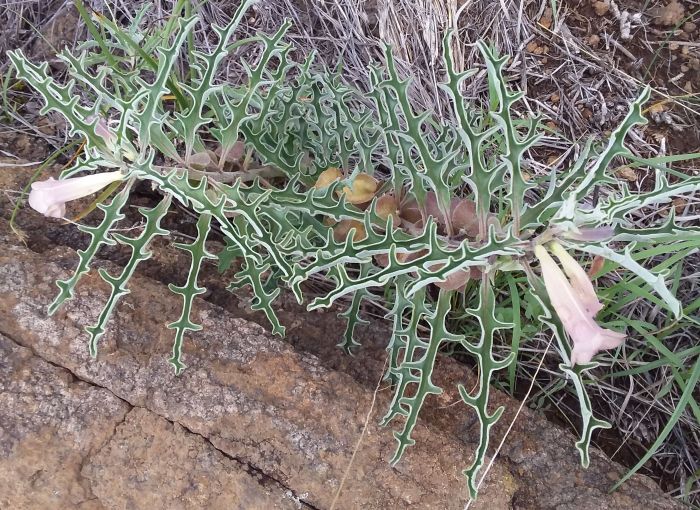 Distribution and habitat
Distribution description
Pterodiscus luridus grows among rocks in low-lying areas where the soil is sandy, in the Kalahari region and in the Karoo, with herbarium specimens from near Kimberley and De Aar in the Northern Cape and near Cradock in the Eastern Cape.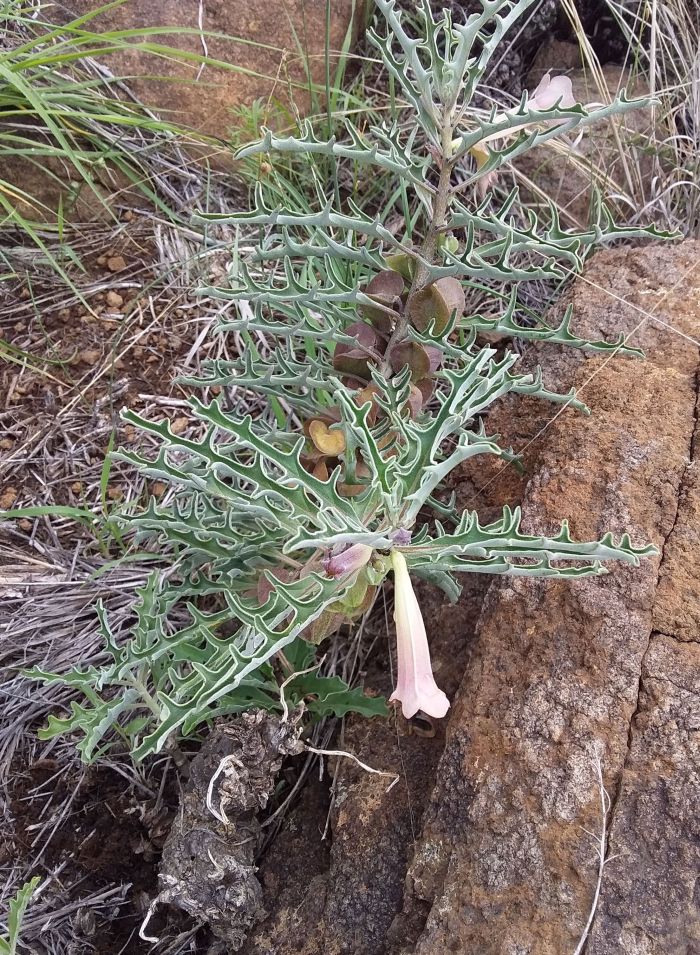 Derivation of name and historical aspects
History
Species in the genus Pterodiscus all have the following characteristics: tuberous roots or a swollen caudex above the ground, strongly scented leaves when rubbed and 4-winged fruits. The genus was named for its fruits: in Greek pteron means 'wing' and diskos means 'disc'. This species was described by Joseph Dalton Hooker in 1869, the species name luridus is Latin and means 'drab yellow' or 'dirty brown', referring to the flower colour.
The genus Pterodiscus occurs in tropical and southern Africa. It is confirmed to be found in Namibia, Botswana and South Africa. There are 5 species in South Africa, which occur in the Northern and Eastern Cape, North West, Gauteng, Limpopo, Mpumalanga and in the Free State Provinces.
The genus Pterodiscus belongs to the sesame family, Pedaliaceae, which also contains Harpagophytum, known as Devil's Claws, which have similarly shaped flowers.
Ecology
Ecology
The swollen, fleshy stem stores water, which helps this plant to survive in semi-arid regions. The winged seeds are dispersed by wind. Extrafloral nectaries at the base of the leaves attract ants, which may protect the plant or pollinate the flowers.
Uses
Use
An infusion made from the whole plant is given to cows to remove retained placenta after delivery.
Pterodiscus luridus can be planted in small gardens and in rockeries, even in bonsai collections. It is the perfect plant for water-wise gardens because of its drought resistance, and it is a rewarding container plant.
Growing Pterodiscus luridus
Grow
Propagation can be done by seeds. Sow Pterodiscus luridus seeds on the surface of a well-drained, seed sowing mix, at about 22ºC. Seeds will usually germinate in 30 to 60 days, depending on the climatic conditions of the area. When germination is successful, seedlings will grow rapidly.
Grow in well-drained soil and it requires plenty of water while in active growth, in summer, but take care not to overwater. Keep it dry in winter, when the annual stems die back, until the next growing season. This plant should be grown in a semi-shaded to full sun position.
References
Foden, W. & Potter, L. 2005. Pterodiscus luridus Hook.f. National Assessment: Red List of South African plants version 2017.1. Accessed on 2020/01/23.
Hyde, M.A., Wursten, B.T., Ballings, P. & Coates Palgrave, M. 2020. Flora of Zimbabwe: Species information: Pterodiscus ngamicus. https://www.zimbabweflora.co.zw/speciesdata/species.php?species_id=152470 , retrieved 22 January 2020.
LLIFLE - Encyclopedia of living forms, The Encyclopedia of succulents, Pterodiscus luridus Hook.f. http://www.llifle.com/Encyclopedia/SUCCULENTS/Family/Pedaliaceae/32407/Pterodiscus_luridus. Accessed 22 Jan 2020.
New POSA online, Pterodiscus species search. Accessed 27 January 2020. http://posa.sanbi.org/sanbi/Explore
Peckover, R.G. 2015. Pterodiscus species in southern Africa, an asset for the waterwise garden. Veld & Flora 101(2): 74–76.
Peckover, R.G. 2016. Two new species of Pterodiscus (Pedaliaceae) from southern Africa. Aloe 52(1): 10–14.
Stapf, O. 1904. Pterodiscus luridus Hook.f. in Flora capensis 4(454) accessed via JSTOR https://plants.jstor.org/stable/10.5555/al.ap.flora.floc011266
Credits
Lufuno Nenungwi
Free State National Botanical Garden
and Alice Notten
Kirstenbosch National Botanical Garden
February 2020
Plant Attributes:
Plant Type: Perennial, Succulent
SA Distribution: Eastern Cape, Free State, Northern Cape
Soil type: Sandy, Loam
Flowering season: Early Summer
PH:
Flower colour: Pink, Yellow
Aspect: Full Sun
Gardening skill: Easy
Special Features:
Drought resistant
Feature plant
Fragrant
Medical plant
Horticultural zones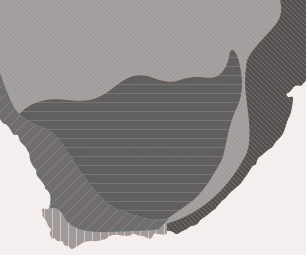 Zone 4 Summer rainfall Karoo and Highveld, Frost in winter
Google QR Code Generator