Restio similis Pillans
Family: Restionaceae
Common names: slender blobs (Eng.)
Introduction
A compact, medium-sized, reed-like perennial that makes a wonderful border plant, suitable for planting in groups in the fynbos garden.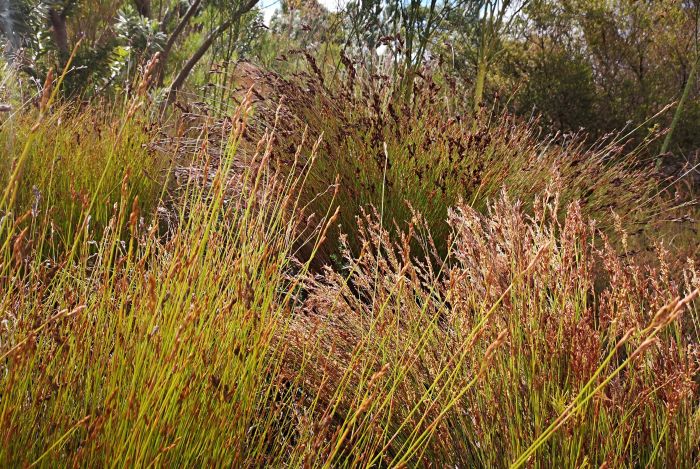 Description
Description
Restio similis is a reed-like, evergreen perennial that grows up to 0.7 m high and 0.3 m in diameter. Plants produce stolons or rhizomatous roots and dark green culms. The culms are sparsely branched, rounded, with persistent, pale brown to grey sheaths.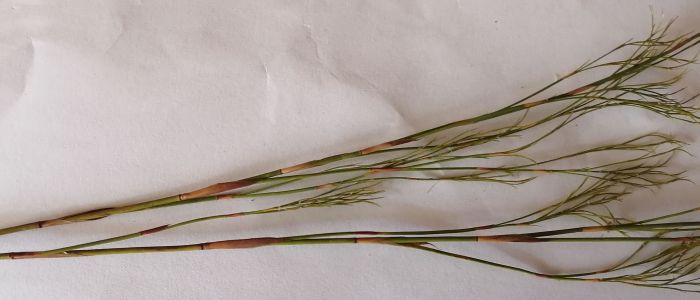 Restio similis begins to flower in autumn (March), and releases small, rounded, white seeds, 1.7 × 1.1 mm, in spring (September). At Kirstenbosch National Botanical Garden, the cultivated plants have also been seen flowering in midsummer, in January and February and can release the seeds from spring to late summer (September to January), until the beginning of the next cohort of flowers.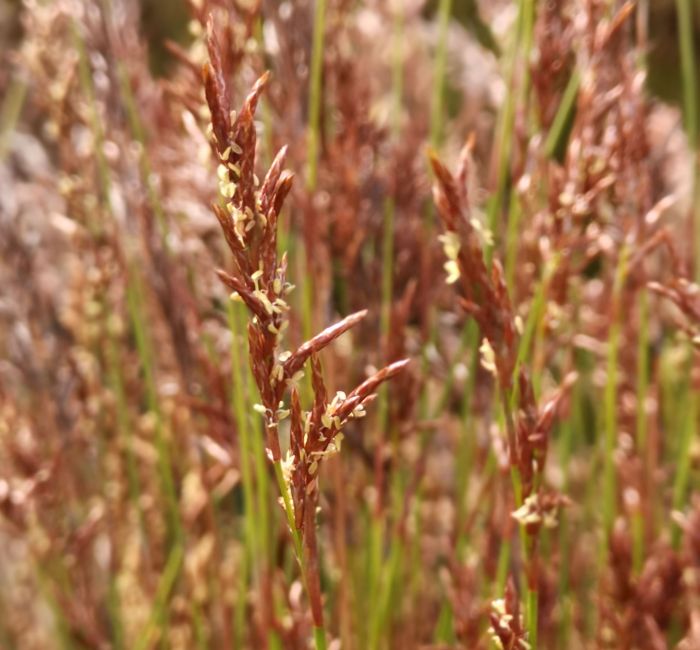 Restio similis is most similar to R. bolusii, but they can be differentiated by the presence of the combination of a single spikelet, a 3-locular ovary and the branching of culms in R. similis.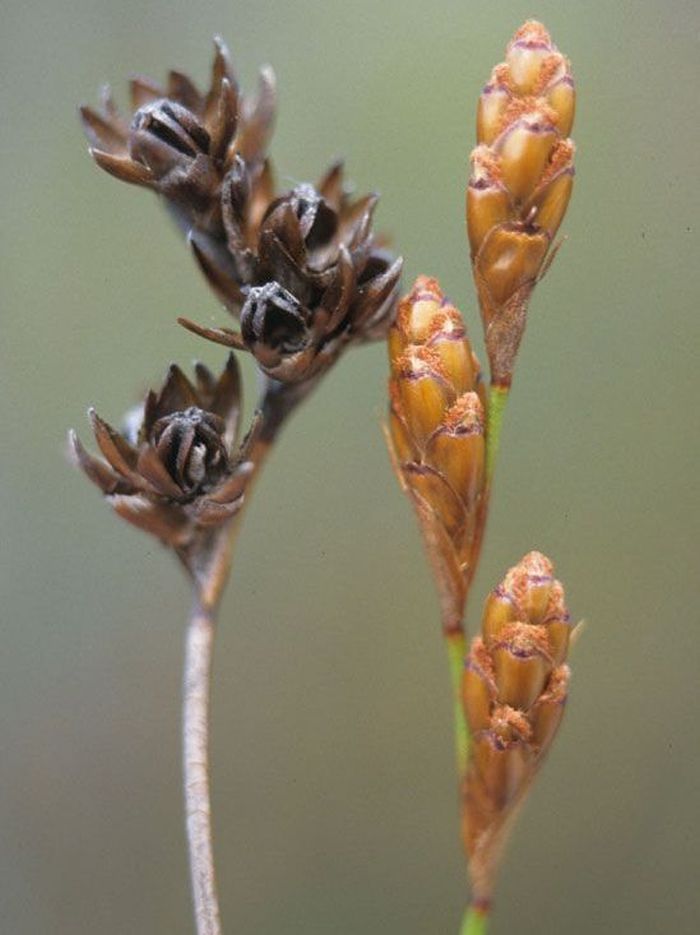 Conservation Status
Status
Restio similis is assessed as Least Concern (LC) on the Red List of South African plants. The threats to the species are currently unknown.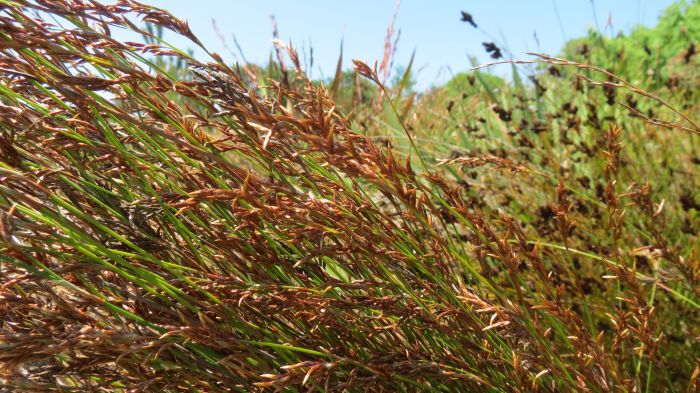 Distribution and habitat
Distribution description
Restio similis naturally occurs in the Western Cape, in the northern and southwestern mountains of the Cape Floristic Region, and on the Bredasdorp plains. The extant populations are between Rooiels and Kleinmond, northwards to Mostert Hoek Twins, inland to Jonaskop and eastwards to Viljoenshof. This species is found growing in well-drained, sandy to stony and rocky soil, that is derived from Peninsula Formation Sandstone, between the altitudes of 50–1500 m.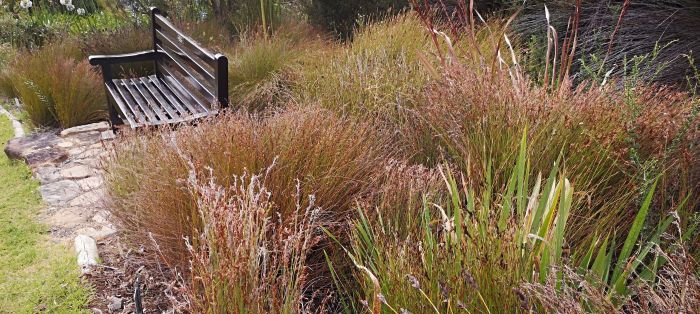 Derivation of name and historical aspects
History
Restio is the type genus of the family of Restionaceae. The name restio is derived from the Latin restis, which means 'rope' or 'cord' and alludes to the use of these plants in southern Africa. The species name similis is derived from the Latin simile, which means 'similar', 'like' or 'resembling'. This could be because of its similarity to Restio bolusii.
Restionaceae has approximately 400 species, 40 genera and most of the species occur in the winter rainfall region, on poor sandy soils in South Africa and Australia, with a few outliers in the north of Africa, Madagascar, Indo-China and Chile.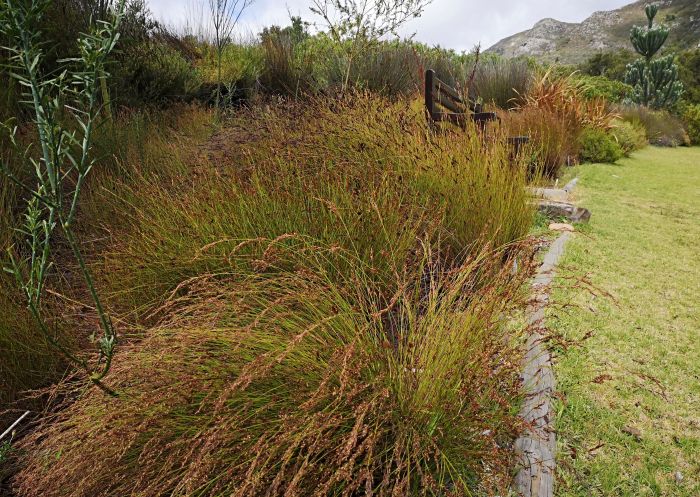 Ecology
Ecology
All restio seedlings look different from the adult plants. In the first year, and second year for most species, they have numerous fine branches and sterile branches, and reach the adult stage in the third year.
Restios do not have leaves, as other plants do. Their leaves are reduced and form leaf-like structures, called sheaths. Restios produce cylindrical stems, called culms, which are the only green part of the plants, and perform a photosynthetic function.
Restios are dioecious (female and male plants are borne on separate plants). Their flowers are wind-pollinated. The male and female plants in the natural habitat grow in groups. This means that the pollen from a male plant must be carried by wind, find the female flower, and drop and settle on the feathery styles for fertilization to occur. The male plants produce masses of pollen for effective pollination. Even though bees are not the pollinators, they are seen visiting the plants, and collecting pollen while the male plants are producing it.
The rhizomes or stolon roots are shallowly rooted and do not go deep into the soil.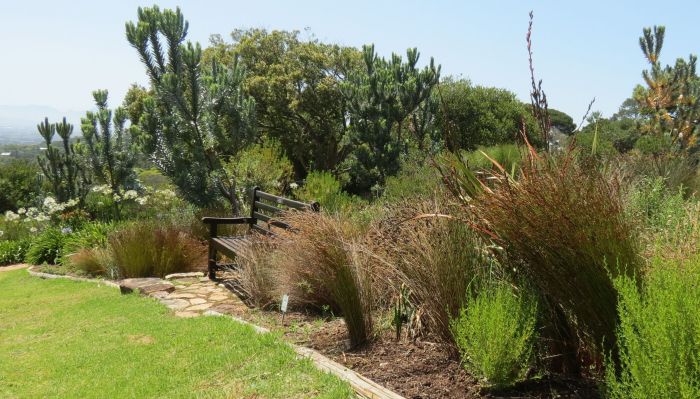 Uses
Use
Restios are architectural plants. They are used where vertical accent plants are needed and bring texture, shape and beautiful bract colours to the garden. Restio similis can be planted with a variety of flowering plants and grasses. They create beautiful borders and give a wonderful, slightly moving effect when planted in an area that receives wind. A mixed group of male and female plants brings the best texture when the species is in flower. At Kirstenbosch it is planted beside benches, as a border, or mixed with other fynbos plants such as Felicia filifolia, Watsonia borbonica, Aristea capitata, Erica mammosa, with Leucadendron argenteum at the back to give the silvery foliage and white to lilac and pink flowers.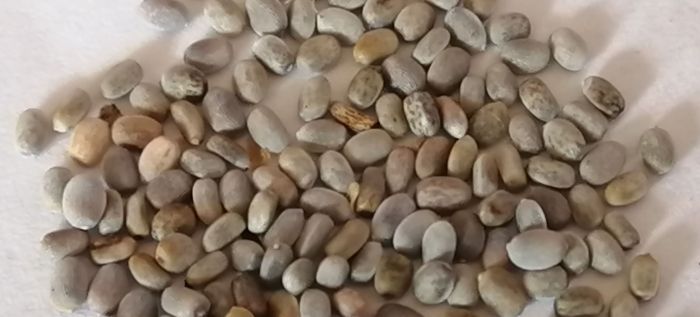 Growing Restio similis
Grow
Restio similis is best propagated by seed. Sow the seed in early winter (May–June) when the temperatures drop to 5–10ºC at night and 15–20ºC in the day. Treat the seed with smoke derived from burning dry and wet fynbos plant material to break seed dormancy and stimulate the germination. Treatment can be done in a smoking tent or use the smoke packets. Soak the seed or dust them with fungicide, and water the sowed seeds with fungicide once a week to prevent fungal infection.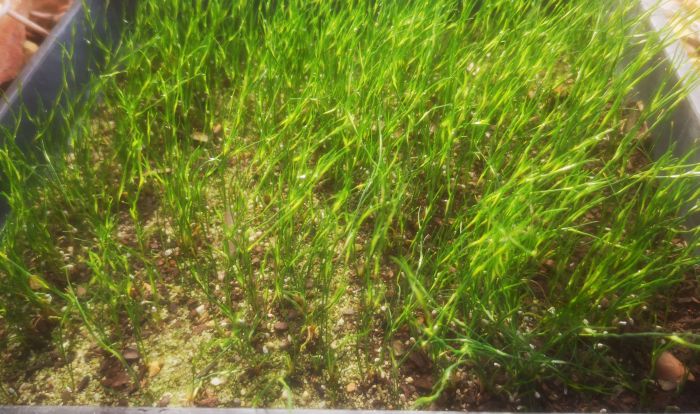 Lay the seed on the well-drained fynbos soil and cover with a fine-sieved fynbos soil mixture. The seeds are very small, handle them gently when laying them on the prepared soil. Use a fine rose watering can or fine hose nozzle when watering. The seed takes about 4 weeks to germinate. Feed the seedlings with organic fertilizer during the growing season to prevent yellowish and unhealthy plants. Keep your seedlings moist, not dry or too wet.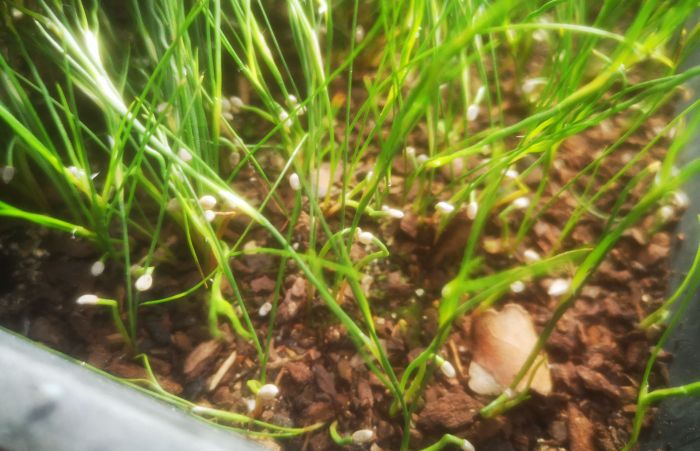 When the seeds have germinated, the first leaf-like, green cotyledon lifts the seed coat above the ground. The seedlings grow very fast and will need to be potted to reduce the food competition and prevent them from becoming yellowish. The seedlings become ready to plant in the open ground after a period of 2 years. They are plants that resist garden pests. Plant your restios in the garden during a normal growing season at the beginning of the rainy season; this applies for winter and summer rainfall areas. Plants prefer full sun in a well-drained, acidic soil and plenty of air movement. Mulch the bed to reduce water evaporation, keep the roots cool and prevent weed growth. Once the plants are established, they will need less water and they will grow to fill up the area.
References
Brown, N.A.C. & Duncan, G.D. 2006. Grow fynbos plants. Kirstenbosch Gardening Series. South African National Biodiversity Institute, Cape Town.
Brown, N., Jamieson, H. & Botha, P. 1998. Grow restios. Kirstenbosch Gardening Series. National Botanical Institute, Cape Town.
Foden, W. & Potter, L. 2005. Restio similis Pillans. National Assessment: Red List of South African plants version 2017.1. Accessed on 2020/01/17.
Gardeners World Magazine. Restio similis. https://www.gardenersworld.com/plants/restio-similis/ Accessed 17 Jan 2020.
Gardening in South Africa. Restio similis. Gardening in South Africa https://www.gardeninginsouthafrica.co.za/medium-sized-plants/restio-similis Accessed 17 Jan 2020.
Dorrat-Haaksma, E. & Linder, H.P. 2012. Restios of the fynbos. Struik Nature, Cape Town.
Jamieson, H. 2016. Restio subverticillatus (Steud.) Mast. (Restionaceae). PlantZAfrica. Online. http://pza.sanbi.org/restio-subverticillatus
Linder, H.P. 2011. The African Restionaceae: an IntKey identification and description system. Version 6. Contributions from the Bolus Herbarium 19.
Credits
Mashudu Nndanduleni
Kirstenbosch National Botanical Garden
February 2020
Plant Attributes:
Plant Type: Restio
SA Distribution: Western Cape
Soil type: Sandy, Loam
Flowering season: Late Summer
PH: Acid
Flower colour: Brown
Aspect: Full Sun
Gardening skill: Average
Special Features:
Drought resistant
Feature plant
Horticultural zones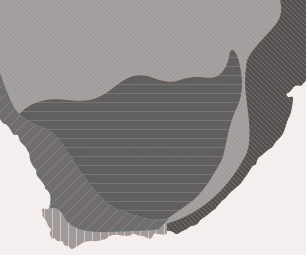 Zone 2 Coastal winter rainfall, frost free
Zone 3 Winter rainfall Karoo, light frost
Google QR Code Generator