Rhodocoma gigantea (Kunth) H. P. Linder
Family: Restionaceae
Common names: dekriet, olifantsriet (Afr.)
Introduction
With its upright growing stems and arching, bright green feathery foliage, Rhodocoma gigantea is one of the tallest and most attractive of the restios.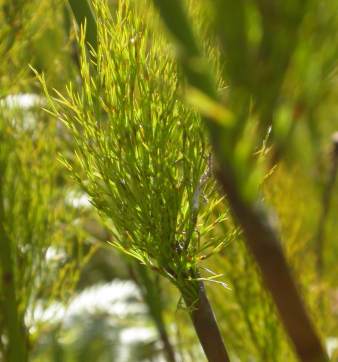 Description
Description
Rhodocoma gigantea is a compact, tufted plant which can grow to a height of 2 to 3 m, with a basal diameter of 0.1 to 0.5 m and a crown diameter of 0.5 to 1.5 m. Upright flowering stems rise and droop over the bright green, lush foliage. The male and female plants occur separately.
The fertile culms, which are deep green, smooth or finely wrinkled. They can grow 2 to 4 m tall with a basal diameter of 5 to 7 mm. The sterile branches form one or more whorls at the nodes and are present after flowering.
The sheaths are dark brown and have entire margins, 25 to 60 mm long. They are persistent, and have no abscission line. There is more than one leaf sheath per culm.
Both male and female inflorescences consist of 101 to 500 spikelets. The male stems carry many dangling, dark brown spikelets.
The female flowers have pink, hairy styles protruding from each spikelet.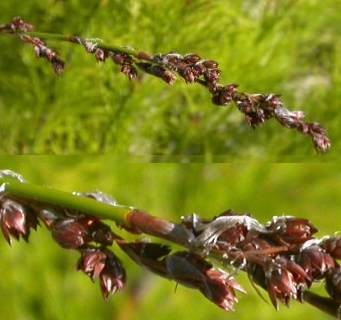 The male inflorescence is 250-500 x 60-100 mm, and the female inflorescence is 180-400 x 20-40 mm. The spathes of both male and female spikelets are paper-like, persistent and shorter than the spikelets. Flowering time is in June or July. The rigid, brown or grey seeds are released in November, before the next flowering season.
Conservation Status
Status
Distribution and habitat
Distribution description
Occurring at altitudes of 100-400 m, Rhodocoma gigantea is distributed in the coastal mountains in the eastern part of the Western Cape and stretches to Port Elizabeth in the Eastern Cape. It is found mainly on the coastal mountains from George to Port Elizabeth and is rarely found on the inland slopes of the Tzitzikamma Mountains. It usually occurs in deeper soils, on the wet coastal slopes of the mountains that receive a mean annual precipitation of 394-1032 mm.
Derivation of name and historical aspects
History
The genus name Rhodocoma is derived from the Greek word rhodo, meaning rose or red, and kome meaning hair, and refers to the terminal clusters of the reddish inflorescence. The Latin species name, gigantea, meaning giant or very large, describes this restio perfectly since this is the tallest species in the genus Rhodocoma.
According to Linder (2001)R. gigantea is closely related to R. foliosa, but can be distinguished by several features: the plants are taller, the flowers are bigger, the plants are killed by fire, and flower in autumn rather than spring. The two species are also allopatric (occur in separate habitats) separated by the Gouritz River gorge with this species occuring to the east, and R. foliosa to be found west of the river. More about the taxonomy of this plant and its related species can be found on the page describing Rhodocoma foliosa.
Ecology
Ecology
As with all restios, Rhodocoma gigantea is wind pollinated. The tall, pendulous male spikelets are blown by the wind, allowing the pollen to be carried away and deposited onto the delicate pink styles of the female plant. Plants are regenerated from seed since fires kill the mature plants.
Uses
Use
These tufted, reed-like perennials have great horticultural value as they are becoming more popular in Cape gardens. This elegant, large, grass-like plant with its lush foliage will make a focal feature in any fynbos garden. It grows easily in well-drained soils and does not require excessive watering.
Growing Rhodocoma gigantea
Grow
It is best to grow this plant from seed. The seed is collected from November to January. Determining the seed ripeness is rather tricky, so it is best to buy seed from a reliable source. The seed should be cleaned of any chaff.
Sow into seed trays, which have been prepared with a fynbos mix: 1 loam : 8 bark : 3 river sand : 2 bags fern fibre : 200 g ammonium sulphate. Cover the seeds with a thin layer of milled bark. Germination will only occur if seeds receive a smoke treatment. In a large-scale sowing, the seed trays are placed in a polyethylene tent and fynbos smoke is channeled into it. Smoke treatment has been made available to the public by capturing the active ingredients in the form of Smoke Primer. Soak the seeds in the water for 24 hours before sowing. Water lightly the day after sowing. Keep the seeds moist and under 20% shading.
Germination occurs after three weeks. The seeds should be given a light watering every second day. Soil should be kept moist, not wet. Once the seedlings have produced two culms, they can be pricked out into the same mix as sown in and given a light watering every second day. Keep the seedlings indoors r to harden off for the next six weeks and then they can be moved outside. After another six weeks, they can be planted into 1 kg bags and watered every third day, weather depending.
Once the seedlings are strong and growing vigorously, they can be planted into the garden. Planting can be done just before the rainy season since the plants need regular watering for the first few weeks until they have become established. The highest death rate in restios is usually caused by overwatering. Rhodocoma gigantea prefers acidic soils, and should be spaced 1 m apart. These plants are not suitable for growing in containers.
Acknowledgements:
Victor Julies, Restio specialist, Kirstenbosch Botanical Garden, for generously sharing information from his own observations, experience and research.
References
Brown, N., Jamieson, H. & Botha, P. 1998. Grow restios. Kirstenbosch Gardening Series. National Botanical Institute, Cape Town.
Haaksma, E.D. & Linder, H.P. 2000. Restios of t he fynbos. Botanical Society o f South Africa, Cape Town.
Linder, H. P. 2006. African Restionaceae v.4. CD, Bolus Herbarium, Department of Botany, University of Cape Town, Rondebosch.
Trinder Smith, T.H. 2003. The Levyns guide to the plant genera of the southwestern Cape. University of Cape Town.
Van Jaarsveld, E.J. 2000. Wonderful water-wise gardening. A regional guide to indigenous gardening in South Africa.Tafelberg, Cape Town.
Credits
Karen Wall
Kirstenbosch National Botanical Garden
March 2007
Plant Attributes:
Plant Type: Restio
SA Distribution: Eastern Cape, Western Cape
Soil type: Sandy, Clay, Loam
Flowering season: Winter
PH: Acid, Neutral
Flower colour: Brown
Aspect: Full Sun
Gardening skill: Average
Special Features:
Feeds honeybees
Horticultural zones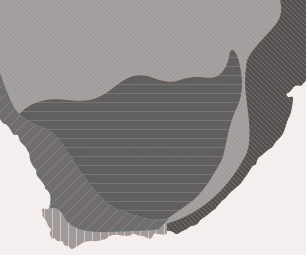 Zone 2 Coastal winter rainfall, frost free
Zone 3 Winter rainfall Karoo, light frost
Google QR Code Generator