Rhoicissus tridentata (L.f.) Wild & R.B.Drumm.
Family: Vitaceae
Common names: northern Bushman's grape, bitter grape, wild grape (Eng.); noordelike boesmansdruif, bitterdruif, droog-my-keel, wildedruif (Afr.); isaqoni, umnxeba, ulatile, uchithibhunga (isiXhosa); isinwazi, umthwazi (isiZulu); lumbu (Xitsonga); morara-oa-thaba (Sesotho); murumbula-mbudzana (Tshivenda)
SA Tree No: 456.7
Introduction
This shrubby climber has many features that make it an ideal garden subject; it is fast growing, hardy, drought tolerant and deciduous, with decorative leaves, flowers and red to purplish black fruits, that are edible and attract birds and humans.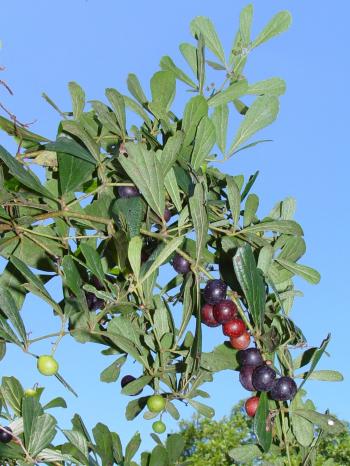 Description
Description
Rhoicissus tridentata is a deciduous, scrambling, shrubby creeper, that has tendrils and can grow up to 3 m high; spreading up to 1.5 m, it also occasionally grows into a shrub or a small tree. It has trifoliate leaves that are a fresh green when they appear, maturing to a shiny, dark or bluish green, leathery. New branches of the plant are usually covered in rusty or velvety greyish hairs. The leaflets are obovate (teardrop-shaped/reversed ovate) with dentate (toothed) margins.
The flowers are small, greenish yellow and appear in clusters on a densely hairy inflorescence in summer. The flowers are followed by very decorative clusters of red to black, edible, grape-like berries in summer, from September to June. The fleshy fruits are near round and 15–20 mm in diameter.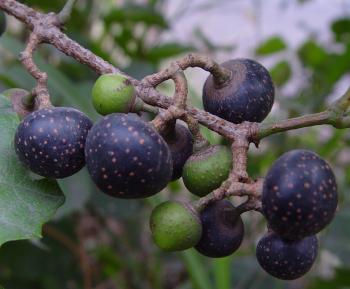 Conservation Status
Status
According to the Red List of South African plants, as assessed on 2008/01/15, this species is not threatened and the status it falls in is Least Concern (LC).
Distribution and habitat
Distribution description
Rhoicissus tridentata is not endemic to South Africa, it is widely distributed across the following Provinces: Eastern Cape, Free State, Gauteng, KwaZulu-Natal, Limpopo, Mpumalanga, Northern Cape and North West. It occurs in a variety of habitats, but is mostly found in savanna or open grassy woodland, forest margins and rocky outcrops. It also occurs north of South Africa, in tropical Africa and the Middle East.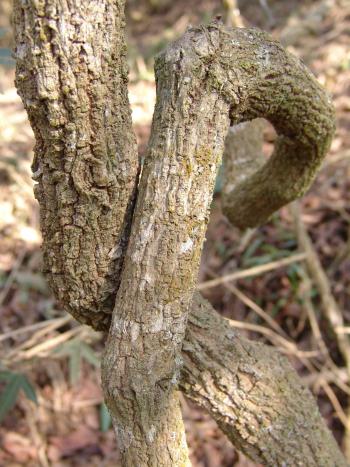 Derivation of name and historical aspects
History
The name Rhoicissus is derived from the Greek words rhoia, meaning 'a pomegranate' and kissos, for 'ivy', the significance of the pomegranate is not known. The species name tridentata, simply means three-toothed and is a combination of two Latin words tri, from trēs, which is a combining form meaning 'three' and is used in the formation of compound words. Dentata, is Latin for 'toothed'.
Rhoicissus is a small plant genus of mainly climbers and comes from the grape family, Vitaceae. There are ±11 species that occur in Africa and southern Africa, and 5 species that are endemic to South Africa.
The tuberous roots are red when fresh, and are depicted in San (also known as Bushman) rock paintings.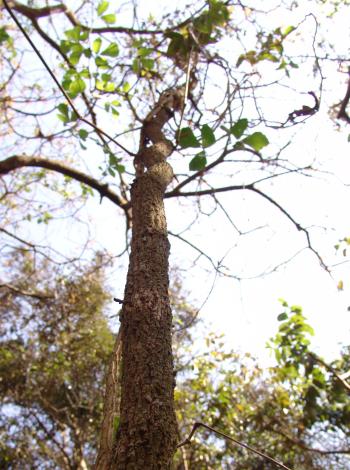 Ecology
Ecology
The fleshy, grape-like fruits attract birds and mammals, which eat them and assists with seed dispersal. The flowers attract insects, such as flies, bees, butterflies and sunbirds, which will assist in pollination. The leaves are eaten by caterpillars of the Silver-striped Hawkmoth and also browsed by game. Tubers are eaten by bushpig, porcupine and baboons.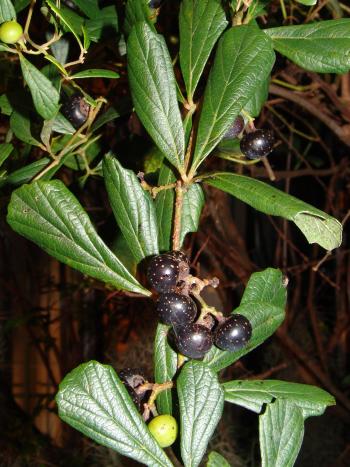 Uses
Use
The plant is used medicinally and the part of the plant that is used, is the tuberous rootstock. It is rich in flavonoids (flavonoids are a large group of chemical compounds produced in plants that are beneficial to people when ingested). The tuberous rootstock is used for infertility, stomach, kidney and bladder complaints, as well as dysmenorrhea (a medical term for pain with menstruation). The tuber of the plant is also used to make a decoction to tone the uterus and also to facilitate delivery, and to expel a retained placenta. The leaves have also been used to wipe babies' bottoms. The tuberous roots are reported to be poisonous if eaten.
The fruits are edible, but sour, and can be eaten raw.
Growing Rhoicissus tridentata
Grow
Rhoicissus tridentata can be propagated by seed, sown in spring to summer, or by stem cuttings, also taken in spring to summer. Use a general soil mixture, such as one made up of 4 parts compost, 3 parts milled bark and 1 part sand. Dip the cutting wound in rooting hormone suitable for semi-hardwood. When the plants are still young, water them regularly and apply compost in order to retain moisture until the plant is well established.
Plants do well in full sun to semi-shade, and can also handle shade.
This is an ideal plant for a cascading wall, large hanging baskets, screening a fence or wall. Its tendrils mean that this plant will easily cling or hang on anything close to it, therefore trellis support or anything similar can be used to help it climb, especially to cover a wall. It can also be used as an indoor plant, as well as a groundcover in shady patios and under pergolas. It is also an ideal bird attractor, because of its fruit. This is a drought tolerant plant, so it will be a good subject in a waterwise garden.
References
African medicinal plants. http://www.ethnobotany.co.za/index.php/ethnobotany/african-medicinal-plants, accessed 4 Sept. 2017.
Germishuizen, G. & Fabian, A. 1997. Wild flowers of northern South Africa. Fernwood Press, Vlaeberg, Cape Town.
Grow wild: Rhoicissus digitata. http://growwild.co.za/trees/rhoicissus-tridentata, accessed 4 Sept. 2017.
Pooley, E. 2003. Mountain flowers, a field guide to the flora of the Drakensberg and Lesotho. Natal Flora Publications Trust, Durban.
Succulents.co.za. http://www.succulents.co.za/medicinal_succulents/medicinal_succulents.shtml, accessed 4 Sept. 2017.
Van Wyk, B.E. & Gericke, N. 2000. People's plants. Briza Publications, Pretoria.
Wikipedia: flavonoids. https://en.wikipedia.org/wiki/Flavonoid, accessed 4 Sept. 2017.
Wikipedia: Rhoicissus. https://en.wikipedia.org/wiki/Rhoicissus, accessed 4 Sept. 2017.
Williams, V.L., et al. 2008. Rhoicissus tridentata (L.f.) Wild & R.B.Drumm. National Assessment: Red List of South African plants version 2017.1. http://redlist.sanbi.org/species.php?species=4094-4001, Accessed on 2017/09/04.
Credits
Sisanda Alakhe Velembo
Kirstenbosch National Botanical Garden
September 2017
Acknowledgements: Images by Geoff Nichols.
Plant Attributes:
Plant Type: Climber, Shrub, Tree
SA Distribution: Eastern Cape, Free State, Gauteng, KwaZulu-Natal, Limpopo, Mpumalanga, North West, Northern Cape
Soil type: Sandy, Loam
Flowering season: Spring, Early Summer, Late Summer, Autumn
PH:
Flower colour: Green, Yellow
Aspect: Full Sun, Shade, Morning Sun (Semi Shade), Afternoon Sun (Semi Shade)
Gardening skill: Average
Special Features:
Attracts birds
Attracts butterflies
Drought resistant
Good potplant
Indoor plant
Hedge/screen
Edible plant
Medical plant
Useful plant
Horticultural zones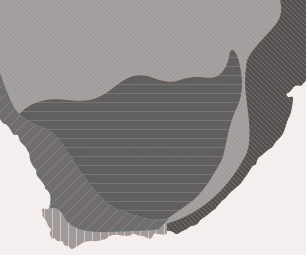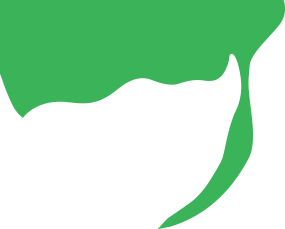 Zone 1 Coastal summer rainfall, frost free
Zone 2 Coastal winter rainfall, frost free
Zone 3 Winter rainfall Karoo, light frost
Zone 4 Summer rainfall Karoo and Highveld, Frost in winter
Zone 5 Bushveld summer rainfall, Light frost
Google QR Code Generator