Sagittanthera mzimvubuensis
Sagittanthera mzimvubuensis (Van Jaarsv.) Mart.-Azorín, M.B.Crespo, A.P.Dold & Van Jaarsv.
Family: Hyacinthaceae
Common names: Mzimvubu-ruby (Eng.); kransrobyn (Afr.)
Introduction
Sagittanthera mzimvubuensis is a geophyte with decorative club-shaped, ruby-green bulb scales and pendent, terete leaves, growing on cliffs along the Mzimvubu River of the Eastern Cape. The ascending inflorescence has drooping white flowers of which the pollen is released by buzzing of bees (vibrating wings of certain bees). S. mzimvubuensis is one of two species in the genus confined to the Eastern Cape.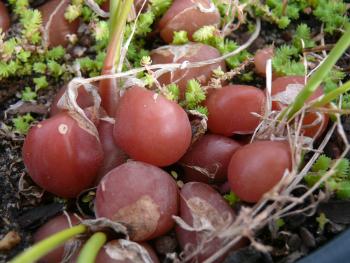 Description
Description
Evergreen bulbous plants, proliferating from the base to form loose clusters. Roots are white, fleshy, 2 mm in diameter. Bulbs ovoid, up to 50 mm high with loose club-shaped bulb scales, 18–30 mm long and up to 23 mm in diameter, exposed and above the substrate. The bulb scales are succulent, reddish to brownish green, stalked and rounded at the tip; stalk flattened, up to 4 mm in diameter. Leaves 1–3, linear, almost rounded (subterete), 47–50 mm long and 3–5 mm in diameter, leathery, dark green; the upper surface shallowly channelled, the lower surface with 12–14 grooves.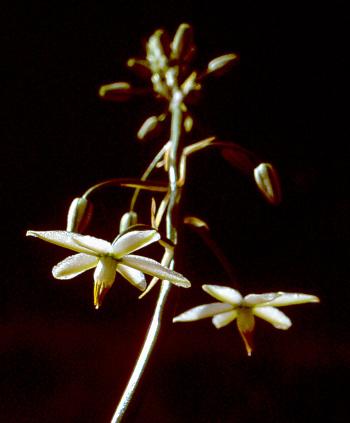 The inflorescence is 340–380 mm long; the raceme 60–120 mm long, bearing 20–30, drooping, white flowers on pedicels 15–18 mm long; The bracts with a basal spur (caudate). The lobed, star-shaped flowers, are 22–24 mm in diameter. The anthers are spear-shaped and the filaments fused into a central staminal column, 2.5 mm high and 2 mm wide. The ovary is green, egg-shaped and 6-grooved, 3 mm high and 1.5 mm in diameter and with a style 4.5 mm long. The capsule is 3-locular, 10 mm long and 7.5 mm in diameter. The seed are flattish and oblong, 7 × 3 mm, with a black angular surface.  Flowering time is spring.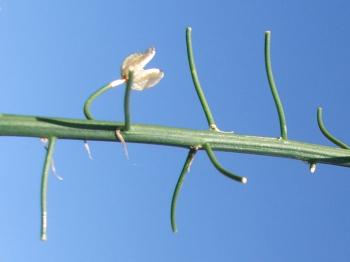 Conservation Status
Status
Sagittanthera mzimvubuensis is endemic to the Mzimvubu River and thus has a restricted distribution, but it is not threatened. This recently described species has not yet been evaluated by the Red List of South African Plants.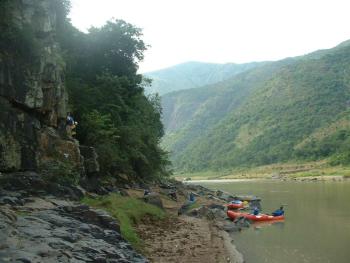 Distribution and habitat
Distribution description
Sagittanthera mzimvubuensis is only known from the Mzimvubu River in the Eastern Cape inSouth Africa. The vegetation where it occurs, consists of Eastern Valley Bushveld (Savanna Biome) (Mucina 2006). The climate is subtropical with rain in summer, 600–700 mm per annum, but dry in winter. The habitat is free from frost. The average daily maximum temperature is about 23°C and the average daily minimum about 15°C. Associated succulent species on the Ecca Shale (Karoo Supergroup) cliff face habitat, includes Crassula orbicularis, C. multicava and C. spathulata, Peperomia blanda, Albuca longibracteata, Rhipsalis baccifera, Aloe pluridens, Cyanotis speciosus, Plectranthus madagascariensis, Cotyledon orbiculata var. flanaganii, Haemanthus albiflos, Petopentia natalensis and Gerrardanthus macrorrhizus.
Derivation of name and historical aspects
History
The genus Sagittanthera was named by the Spanish botanist, Mario Martinez Azorin  and his co-workers in 2013, in the botanical magazine, Phytotaxa, for two species, S. mzimvubuensis and S. cyanelloides. The genus name Saggitanthera is Latin, sagitta, -ae = 'arrowhead'and anthera, -ae = 'anther', pertaining to its spear-shaped anthers.
Sagittanthera mzimvubuensis was discovered by the author and his botanical party, Adam Harrower, Davis Styles and Phakamani Xaba, on a rubber canoe expedition down the Mzimvubu River, examining the cliff face and other flora. Dense clusters were encountered on 27 August 2002, near Lutengela on the Mzimvubu River. The plant was named by the author as Drimia mzimvubuensis in the Aloe magazine (Van Jaarsveld & Van Wyk 2005).
Ecology
Ecology
Sagittanthera mzimvubuensis forms dense clusters, growing on sheer cliffs (Ecca Formation), in crevices. The linear, semi-rounded leaves hang down from the cliff face. The reddish to brownish green, club-shaped, succulent bulb scales are exposed, and act like assimilating organs. These scales, when detached and placed in a sandy medium, root rapidly in cultivation, forming new plants, and in habitat would act as vegetative propagation back-up. The bulb scales are semi-translucent, and unlike the fibrous nature of the scales of Sagittanthera cyanelloides, the scales have sap which causes the softer part of the skin to itch.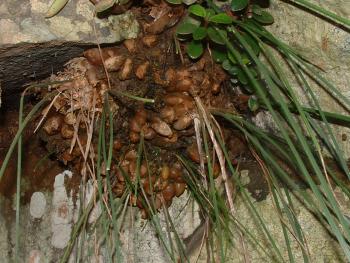 Uses
Use
No cultural uses are known.
Growing Sagittanthera mzimvubuensis
Grow
The Mzimvubu-ruby grows well in cultivation and is best grown as a pot plant. The rounded reddish bulb scales are decorative. It is best to grow the plants in semi-shade and keep dry in winter. They can be grown on rockeries in dry bushveld and thicket gardens (Van Jaarsveld 2010). This plant is ideal for a small greenhouse or as a pot plant on the window sill or verandahs. Plants grow well in any potting mixture, however a recommended growing medium is a sandy loam, more sand can be added improve drainage.
This plant is easily propagated from division, or detached bulb scales which can be placed in moist sand. The scales root rapidly forming new plantlets. Keep in semi-shade and best propagated in spring or summer.
Credits
E.J. van Jaarsveld
Kirstenbosch National Botanical Garden
Babylonstoren Farm, P.O Box 167, Simondium, 7670
Extraordinary senior lecturer and researcher, Department of Biodiversity and Conservation, University of the W. Cape. Private Bag X17, Bellville, 7535 South Africa
January 2016
Plant Attributes:
Plant Type: Bulb
SA Distribution: Eastern Cape
Soil type: Sandy, Loam
Flowering season: Spring
PH: Acid, Neutral
Flower colour: White
Aspect: Morning Sun (Semi Shade)
Gardening skill: Easy
Special Features:
Good potplant
Indoor plant
Horticultural zones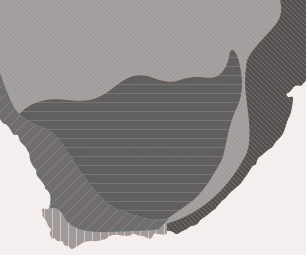 Zone 1 Coastal summer rainfall, frost free
Google QR Code Generator