Salpinctium natalense (C.B.Clarke) T.J.Edwards (=Asystasia natalensis C.B.Clarke)
Family: Acanthaceae
Common names: none
Introduction
Salpinctium natalense is a lovely and rare herbaceous perennial that is known from only one site in  KwaZulu-Natal; it is well suited to cool, shady gardens and patios.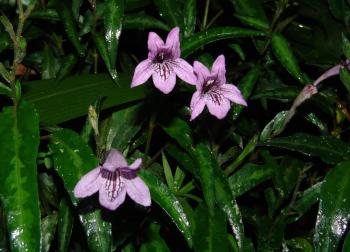 Description
Description
This is an erect, herbaceous perennial, 100–500 mm high, and often climbing. The stems branch from the base and become smooth as they mature and are sparsely pubescent at the nodes. The leaves are entire, elliptic to trowel-shaped, and petiolate with widely rounded bases, 15–65 × 9–20 mm. The inflorescence is a terminal, rarely branched spike of 5–20 flowers, up to 90 mm long, in decussate or crossing pairs. The flowers are mauve, lilac to white, with a narrow cylindrical tube slightly longer than the calyx and strongly 2-lipped. The upper lobes widen to a narrow funnel. The sepals and corolla are covered in glandular hairs. The seed capsule is 4-seeded, on a solid stalk and densely pubescent. It flowers from the end of spring until the middle of winter (October–June).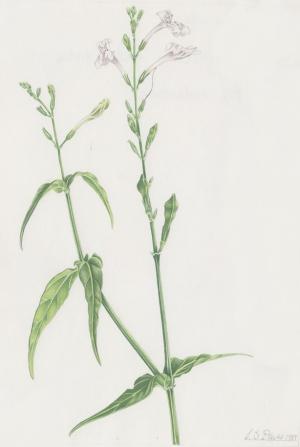 Conservation Status
Status
According to the website http://redlist.sanbi.org, checked on 02 December 2015, the conservation status of this plant is Rare. It is known from only one site inside a nature reserve, its population is stable and there are no known threats to the species.
Distribution and habitat
Distribution description
Salpinctium natalense is endemic to South Africa. This species is known from only a handful of localities at one site in KwaZulu-Natal. It occurs naturally in the Savanna Biome, in partial shade on the margins of Acacia scrub.
Derivation of name and historical aspects
History
The genus name Salpinctium means 'trumpet like' and comes from the Greek word salpinx meaning 'a trumpet', referring to the flowers. The specific name natalense means 'from Natal' which is now KwaZulu-Natal.
Salpinctium is a small genus of 3 species, endemic to southern Africa, that are found in Mpumalanga, Swaziland, KwaZulu-Natal and Eastern Cape.
Ecology
Ecology
Like most species in the Acanthaceae, Salpinctium natalense is pollinated by insects. Its narrow, linear corolla tube suggests that it is more likely a butterfly or moth, rather than a bee, wasp or fly.
Uses
Use
There are no recorded medicinal uses for Salpinctium natalense, although many plants of the Acanthaceae family are used in traditional medicine. It is mainly the leaves that are used externally for wounds. Research shows that Acanthaceae possess antifungal, cytotoxic, anti-inflammatory, anti-pyretic, antioxidant, insecticidal, hepatoprotective, immunomodulatory, anti-platelet aggregation and anti-viral potential.
Growing Salpinctium natalense
Grow
Salpinctium natalense is a good garden subject and does well in most shady parts of the garden. It prefers a cool spot in light shade, dappled shade or deep shade that is protected from wind, and needs plenty of leaf litter or well-rotted compost applied as mulch, and plenty of moisture and humidity. It is also best grown in a well-drained, loamy soil that is not too rich. It looks good planted en masse or grouped with other shade-loving species such as asparagus, clivia, streptocarpus, etc. It is also suitable for containers and hanging baskets. It is prone to Red Spider. It can be tricky to keep in cultivation.
This plant can be easily grown from cuttings and seeds. Like all other species from the Acanthaceae family, the seeds are dehiscent and burst open as they dry. To prevent the seeds from being lost, they should be collected as soon as the seed capsules turn brown. Sow the seeds on the surface, pressing them down a little. The seed germinates well on a mist bed. Once germinated, the seeds should be transplanted in a mixture of good soil, compost and river sand and placed in a shady spot and watered once a week with a fine sprinkler. Sow the seeds in late spring (October).
Cuttings can be taken during late spring or early summer (October and November), they root better when the air temperature has warmed up. Use stems of the previous season's growth. The cuttings should be about 120 mm long and treated with a rooting hormone suitable for soft herbaceous stems. Place the cuttings in a mixture of good soil and river sand in equal parts. Ideal temperature for rooting is between 15–25ºC. After rooting, transplant the cuttings into a good general soil mixture and place them in 60% shade and water 2 to 3 times a week.
This plant also roots easily at the nodes and can thus be propagated by layering, or by finding rooted stems, removing them from the mother plant and potting them up.
Acknowledgements: Thanks to Geoff Nichols for advice on the propagation and cultivation of Salpinctium natalense.
References
Edwards, T.J. & Getliffe Norris, F.M. 1993. Flowering Plants of Africa, vol. 52, plate no. 2077. SANBI, Pretoria.
Pooley, E. 1998. A field guide to wild flowers Kwazulu-Natal and the eastern region. Natal Flora Publications Trust, Durban.
Quattrocchi, Umberto. 2000. CRC World Dictionary of plant names, common names, scientific names, eponyms, synonyms and etymology. Volume IV R-Z, CRC Press, Florida, USA.
Wikipedia page on Acanthaceae accessed 7 Dec 2015 https://en.wikipedia.org/wiki/Acanthaceae
Credits
Sisanda Velembo    
Kirstenbosch National Botanical Garden
January 2016
Plant Attributes:
Plant Type: Ground Cover, Perennial
SA Distribution: KwaZulu-Natal
Soil type: Sandy, Loam
Flowering season: Early Summer, Late Summer
PH: Acid, Neutral
Flower colour: White, Mauve/Lilac
Aspect: Shade, Morning Sun (Semi Shade)
Gardening skill: Average
Special Features:
Good potplant
Indoor plant
Horticultural zones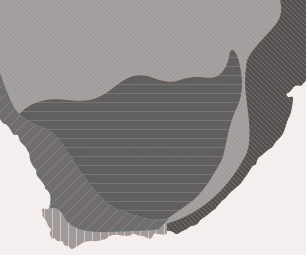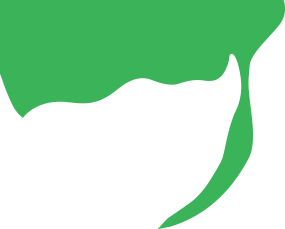 Zone 1 Coastal summer rainfall, frost free
Zone 2 Coastal winter rainfall, frost free
Zone 5 Bushveld summer rainfall, Light frost
Google QR Code Generator