Senecio coronatus (Thunb.) Harv.
Family: Asteraceae
Common names: woolly grassland senecio (Eng.); sybossie (Afr.); lehlomanyane/lehlomane, moremoholo, motabo (Southern Sotho); ikhubalo lesikhova, indlebe yebokwe (isiXhosa); izonkozonko, ubulibazi (isiZulu)
Introduction
Senecio coronatus is one of the most common spring-flowering grassland herbs and is often the first species to flower after a burn. It is easily recognized by the dark green, broad leaves, silky-haired leaf bases and relatively large yellow flower heads. From the numerous common names it is obvious that this plant is widely known and used.
Description
Description
Senecio coronatus is an erect perennial herb with annual flowering stems from an underground rootstock, growing up to 0.75 m tall. All plant parts may be sparsely hairy, and may be slightly woolly below the flower heads. The leaves are 100-400 mm long, mostly concentrated around the base, large, broadly elliptical and leathery, leaf margins are finely serrated; surfaces are sparsely hairy or smooth. Young plants often have only 1-4 leaves while older plants have many leaves. The crown (growth tip) and leaf bases are very characteristically covered in dense silky hairs.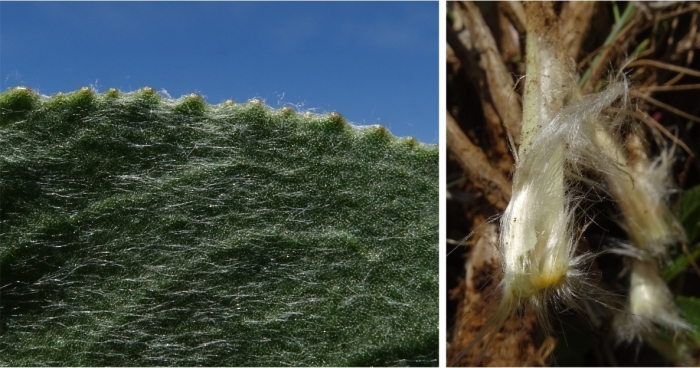 Flowering stems are robust and topped with an inflorescence of up to 20 flower heads. Flower heads are relatively large, with bright yellow ray and disc florets; bracts are 16-20, 8-10 mm long. Fruits are covered in sparse white hairs. Plants flower in spring and early summer, from August to December.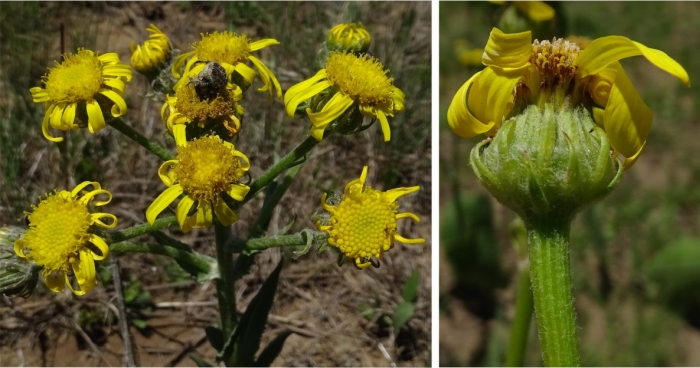 Conservation Status
Status
Distribution and habitat
Distribution description
Senecio coronatus is widely distributed in southern Africa, most commonly found in KwaZulu-Natal, Mpumalanga, Gauteng, Eastern Cape and Limpopo, but also in Free State, North-West and Western Cape. Outside southern Africa it is found in Mozambique, Zimbabwe, Zambia, Malawi, Tanzania and Angola. Senecio coronatus is common in the grassland biome but also found in transitional areas with other biomes. It is noticed in abundance in burnt areas.
Derivation of name and historical aspects
History
The genus Senecio is one of the largest in Asteraceae, with 1 250 species in the world and 281 species in southern Africa. The name Senecio means 'old man' and coronatus means 'crowned'.
Ecology
Ecology
Senecio coronatus is common and frequent in areas that were recently burnt and one of the first plants to flower in early spring. Therefore, it provides nectar and pollen to a wide spectrum of insects. The bright yellow flowers are often covered in small beetles, which also feed on the seeds. Many insects deposit their eggs inside the flower heads to ensure food for their larvae. The fruit of Senecio species is generally dispersed by wind, with assistance from the pappus, acting as a parachute.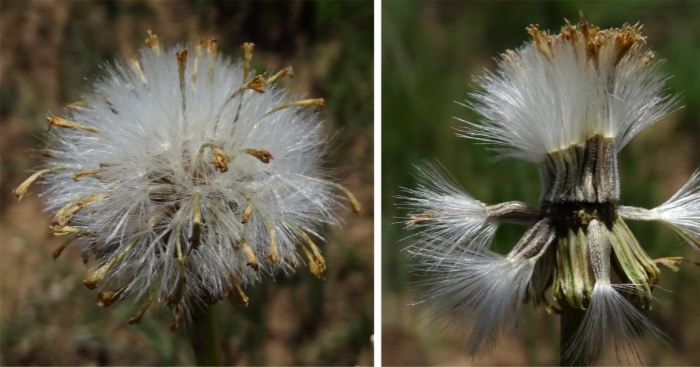 Uses
Use
Senecio coronatus leaves and roots are commonly used in traditional medicine in South Africa as purification purgatives and enemas for infants during weaning. In traditional medicine the roots of the species are used. A suppository of the aqueous extract is given to infants to confer strength to the child during weaning. The species is commonly traded on the muthi market under the Zulu common names izonkozonko and ubulibazi.
Leaves of Senecio coronatus can be eaten as a vegetable.
Senecio coronatus was implicated in the illness and death of a number of babies a few years ago, but upon closer investigation it was found that the toxic pyrrolizidine alkaloid that is present in other species of Senecio (e.g. S. latifolius) was absent from S. coronatus. It was therefore concluded that the S. coronatus concoction used to treat the babies contained some leaves of the toxic Senecio species, which lead to the death of the babies.
Growing Senecio coronatus
Grow
The plants can be a valuable addition to a natural garden in many areas of the country. It flowers before many others and creates bright yellow displays. The leaves are large and attractive. One consideration to keep in mind is that the plants die back in winter. The bright flowers attract many insects to a garden. If rootstocks can be rescued from construction sites, it will be the easiest way to establish plants. Seeds should germinate easily if care is taken to harvest seeds that are not predated.
References
Boyd, R.S., Davis, M.A., Wall, M.A. & Balkwill, K. 2002. Nickel defends the South African hyperaccumulator Senecio coronatus (Asteraceae) against Helix aspersa (Mollusca: Pulmonidae). Chemoecology 12:91–97.
Hilliard, O.M. 1977. Compositae in Natal. University of Natal Press, Pietermaritzburg.
Hyde, M.A., Wursten, B.T., Ballings, P. & Coates Palgrave, M. 2023. Flora of Zimbabwe: Senecio coronatus (Thunb.) Harv. https://www.zimbabweflora.co.zw/speciesdata/species.php?species_id=161120. Accessed on 2023/02/27.
Moteetee, A. & Van Wyk, B. 2011. The medicinal ethnobotany of Lesotho: a review. Bothalia 41(1): 209–228.
Hyde, M.A., Wursten, B.T., Ballings, P. & Coates Palgrave, M. 2023. Flora of Zimbabwe: Senecio coronatus (Thunb.) Harv. https://www.zimbabweflora.co.zw/speciesdata/species.php?species_id=161120. Accessed on 2023/02/27.
Raimondo, D., Von Staden, L., Foden, W., Victor, J.E., Helme, N.A., Turner, R.C., Kamundi, D.A. & Manyama, P.A. (eds) 2009. Red list of South African plants. Strelitzia 25. South African National Biodiversity Institute, Pretoria.
Sadgrove, N.J. 2022. Comment on Pyrrolizidine Alkaloids and Terpenes from Senecio (Asteraceae): Chemistry and Research Gaps in Africa. Molecules 27(24):8868. doi: 10.3390/molecules27248868.
Steenbok Nature Reserve. Senecio coronatus. https://www.steenboknaturereserve.org.za/flora/plants/senecio-coronatus/. Accessed on 2023/02/27.
Van Schalkwyk, F.J., Stander, M.A., Nsizwane, M., Mathee, A. & Van Wyk, B.-E. 2021. Fatal pyrrolizidine alkaloid poisoning of infants caused by adulterated Senecio coronatus. Forensic Science International 320:110680.
Credits
Katlego Molele & Marinda Koekemoer
Foundational Biodiversity Research
National Herbarium, Pretoria
June 2023
Images by M. Koekemoer
Plant Attributes:
Plant Type: Perennial
SA Distribution: Eastern Cape, Free State, Gauteng, KwaZulu-Natal, Limpopo, Mpumalanga, North West, Western Cape
Soil type: Sandy, Clay, Loam
Flowering season: Spring, Early Summer
PH:
Flower colour: Yellow
Aspect: Full Sun
Gardening skill: Easy
Special Features:
Attracts butterflies
Edible plant
Medical plant
Horticultural zones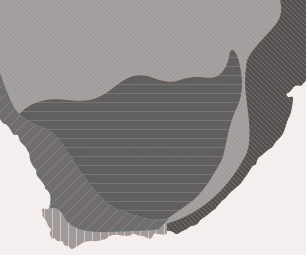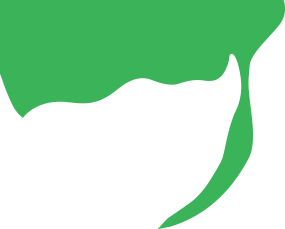 Zone 1 Coastal summer rainfall, frost free
Zone 2 Coastal winter rainfall, frost free
Zone 3 Winter rainfall Karoo, light frost
Zone 4 Summer rainfall Karoo and Highveld, Frost in winter
Zone 5 Bushveld summer rainfall, Light frost
Google QR Code Generator