Senecio oxyriifolius DC.
Family: Asteraceae
Common names: false nasturtium (Eng.); kappertjieblaar (Afr.); idumbe, idumbe lasendhle, ihlula (isiZulu)
Introduction
An unusual succulent herb with ornamental nasturtium-like leaves that is a rewarding, low maintenance and water-wise garden plant or container plant for full sun or semi-shade.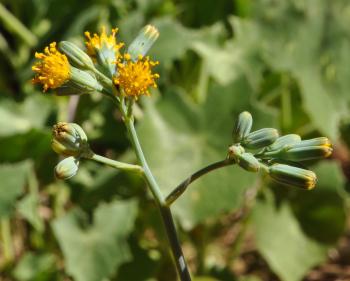 Description
Description
Senecio oxyriifolius is a fleshy, perennial herb, 0.3–1 m high, with a creeping tuberous rhizome. Stem is erect, smooth and hairless (glabrous), fleshy with leaves crowded towards the base. The leaves are rounded and resemble those of nasturtium, fleshy or somewhat fleshy, with a rubbery texture and about 50–90 mm in diameter, on long, ± 150 mm long stalks, pale green or grey-green. The leaves have serrated margins that are thick and leathery and the veins are green-yellow. Each stem ends in a tall, slender, branched flowering stem (peduncle) that is topped with a lax panicle of bright yellow, discoid flower heads. It is a prolific bloomer producing abundant flowers in spring and summer (Sep.–May).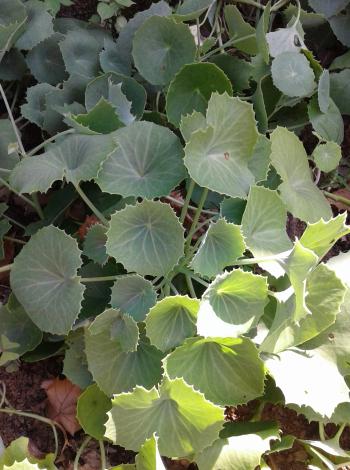 Senecio oxyriifolius is very similar to, and often confused with, S. tropaeolifolius, also known as false nasturtium. S. tropaeolifolius has been treated as a subspecies of S. oxyriifolius, but recent molecular studies show, that although closely related, they differ enough to be treated as separate species. The most obvious difference is in their flowers, where S. tropaeolifolius has ray florets.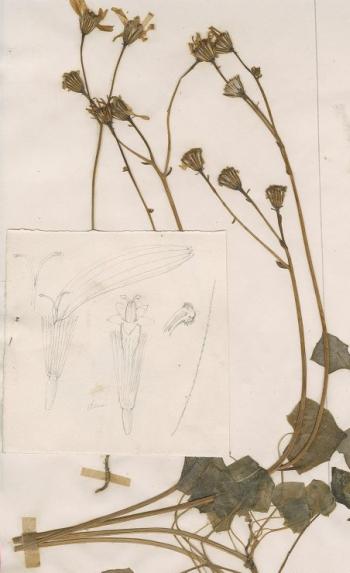 Conservation Status
Status
According to the website http://redlist.sanbi.org accessed on 15 March 2016, the conservation status of Senecio oxyriifolius is Least Concern (LC).
Distribution and habitat
Distribution description
It is not endemic to South Africa, but also occurs in Angola, the DRC, Tanzania, Malawi, Mozambique, Zambia, Zimbabwe and Swaziland. In South Africa it grows in the Eastern Cape, Gauteng, KwaZulu-Natal, Limpopo, Mpumalanga and North West Provinces, where it is found from the coast to 2 300 m, often among rocks.
Derivation of name and historical aspects
History
The name Senecio means 'old man' from the Latin, senex, and refers to the whitish grey, hairy pappus. The species name oxyrifolius, means 'with leaves like Oxyria digyna', a European species known as Alpine sorrel, that also has broadly rounded leaves arising from the base.
The common names false nasturtium and kappertjieblaar refer to the resemblance of this plant's leaves to those of nasturtium (Tropaeolum majus), but it is a superficial resemblance and they are not related. Our plant belongs in the daisy family, Asteraceae, whereas, the true nasturtium belongs in the nasturtium family, Tropaeolaceae, which is allied to cabbages and watercress in the order Brassicales.
Ecology
Ecology
Senecio oxyrifolius flowers attract insects, such as bees.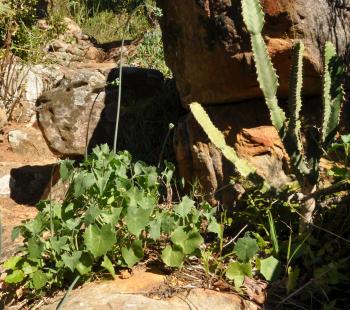 Uses
Use
Senecio oxyriifolius is used to treat fever, barrenness in women, and prevent sorcery or evil. Zulu people use it to reduce swelling in animals.
This plant and its close relative, S. tropaeolifolius, are grown as pot plants in many parts of the world.
Growing Senecio oxyriifolius
Grow
Grow Senecio oxyriifolius in a sunny position with well-drained soil. It is drought tolerant and water-wise, requiring little care, and suitable for arid gardens and rockeries. It can also be grown in semi-shade, but plants exposed to less sunlight tend to have more elongated, lanky growth. It is moderately frost hardy and should survive outdoors in USDA zone 10 (-10C). It also does well in the winter-rainfall 'Mediterranean' climate of Kirstenbosch National Botanical Garden, and survives the wet winters, provided it is in a position that drains well. It is also a good container plant.
Propagate Senecio oxyriifolius by dividing the rhizomes. When cut into pieces, each piece of the rhizome can potentially grow into a new plant when planted into suitable soil or rooting media and kept moist. It is also easily propagated by stem cuttings, dipped in a suitable rooting hormone and planted in a rooting medium with good aeration.
References
Beentje, H.J. & Ghazanfar, S.A. (eds.) 2005. Compositae (Part 3). Flora of Tropical East Africa, accessed via JSTOR.
Fabian, A. & Germishuizen, G. 1997. Wild flowers of northern South Africa. Fernwood Press, Vlaeberg.
Flora of Zimbabwe: http://www.zimbabweflora.co.zw/speciesdata/species.php?species_id=161280 (Accessed 15 March 2016)
Harvey, W.H. 1894. Flora capensis, vol. 3, page 44, accessed via JSTOR.
iSpot Southern Africa: https://www.ispotnature.org/species-dictionaries/sanbi/Senecio%20oxyriifolius
MacOwan, P. 1867. Senecio tropaeolifolius. Journal of Botany British and Foreign 5: 242, accessed via BiodiversityLibrary.org
Malenkova, E.K., Ozerova, L.V., Schanzer, I.A. & Timonin, A.C. 2014. Re-considerations on Senecio oxyriifolius DC. and S. tropaeolifolius MacOwan ex F.Muell. (Asteraceae: Senecioneae). Wulfenia 21: 111–118.
Pooley, E. 2003. Mountain flowers, a field guide to the flora of the Drakensberg and Lesotho. Natal Flora Publications Trust, Durban.
Pooley, E. 2005. A field guide to wild flowers KwaZulu-Natal and the eastern regions. The Flora Publications Trust, Durban.
Wikipedia: https://en.wikipedia.org/wiki/Oxyria_digyna, accessed 15 March 2016
Credits
Lungani Mlaba and Sthembile Zondi, KwaZulu-Natal NBG
and Alice Notten, Kirstenbosch NBG
June 2016
 
Plant Attributes:
Plant Type: Perennial, Succulent
SA Distribution: Eastern Cape, Gauteng, KwaZulu-Natal, Limpopo, Mpumalanga, North West
Soil type: Sandy, Loam
Flowering season: Spring, Early Summer, Late Summer, Autumn
PH: Neutral
Flower colour: Yellow
Aspect: Full Sun, Morning Sun (Semi Shade), Afternoon Sun (Semi Shade)
Gardening skill: Easy
Special Features:
Drought resistant
Good potplant
Medical plant
Useful plant
Feeds honeybees
Horticultural zones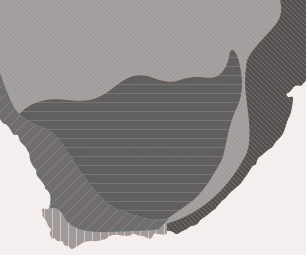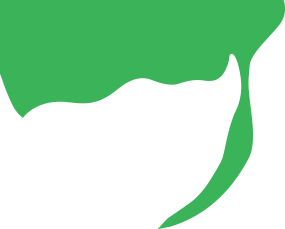 Zone 1 Coastal summer rainfall, frost free
Zone 2 Coastal winter rainfall, frost free
Zone 3 Winter rainfall Karoo, light frost
Zone 4 Summer rainfall Karoo and Highveld, Frost in winter
Zone 5 Bushveld summer rainfall, Light frost
Google QR Code Generator